If you like wine, actress Tamera Mowry-Housley is living the dream.
"The Real" co-host and former "Sister, Sister" star invited TODAY West Coast anchor Natalie Morales to see her gorgeous, newly redecorated Napa Valley home for our series "At Home with Natalie."
Mowry-Housley started the tour in her living room that's stocked with original artwork and vintage pieces, including a mirror that survived the 1906 San Francisco earthquake.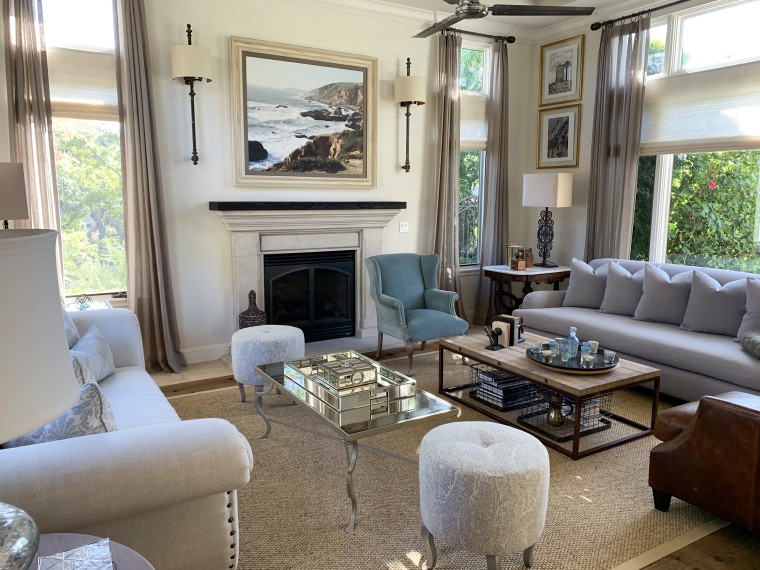 "He is a collector, he absolutely loves things," Mowry-Housley said of husband Adam Housley. "I'm the opposite. But I knew that I wanted to make our home work for the both of us."
Mowry-Housley was able to incorporate her husband's tastes with her own minimalist style by making sure that each item is meaningful, like the collage of family photos in the foyer.
"This explains who we are right when people walk in," she said. "Every home I've had, I've always loved a collage of family."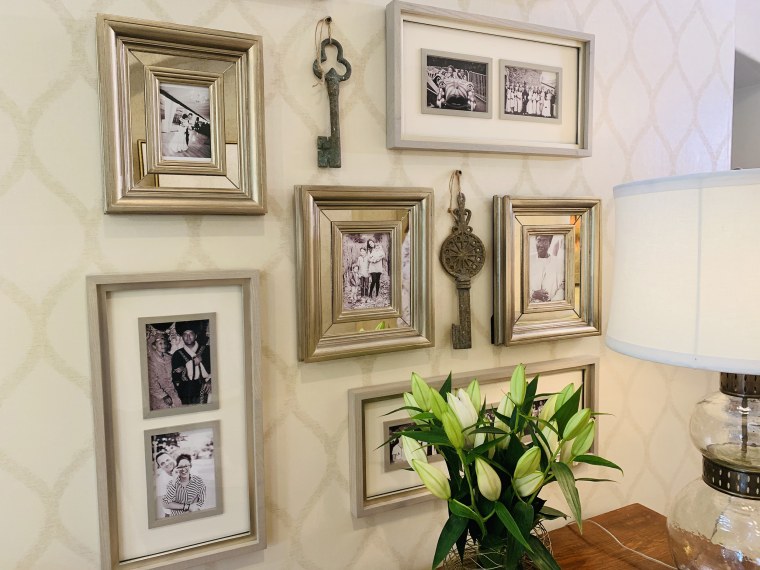 Mowry-Housley pointed out a particularly meaningful photo of Alaina Housley, her niece who was killed in the Borderline Bar and Grill shooting on Nov. 7, 2018. The framed photograph was a surprise from her husband, which she called "the sweetest thing."
"It's a moment in time I will never forget," the mom of two explained. "And what it teaches me is that you never know when God is going to call you. You never know when it's time to be called home, so really love on your loved ones in the moment."
The next stop on the tour was a space that Natalie called "Adam's room" — a man cave where Mowry-Housley's husband, a former professional baseball player, stores plenty of knickknacks and collectibles.
"These chairs are actually from baseball stadiums in the country," Mowry-Housley said.
While her husband did most of the decorating, including some elaborately decorated shelves full of memorabilia, Mowry-Housley made a few changes of her own.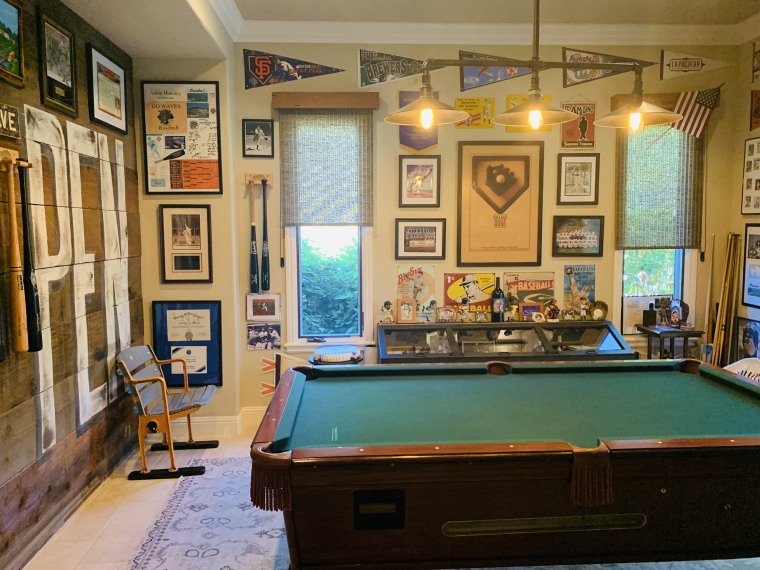 "I wanted to change the paint (on the walls) after he put everything up and I asked him if I could do it," she said. "He was like, 'No, Tamera, no,' and I said, 'But babe, it doesn't match the rest of the house!' So he went away. I had somebody take pictures of how everything was placed. I painted over it — and he had no idea!"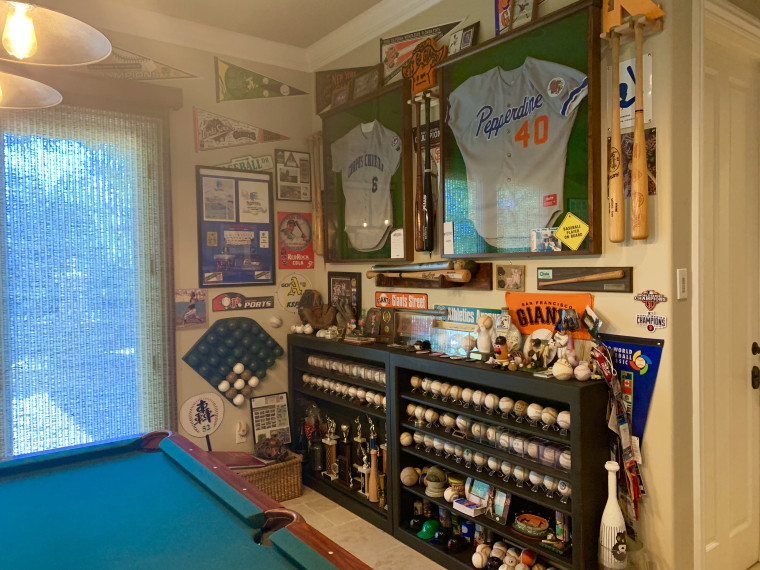 Asked for her own favorite room in the house, Mowry-Housley's said there's no question it's the sweeping, open kitchen that everyone "naturally gravitates" to.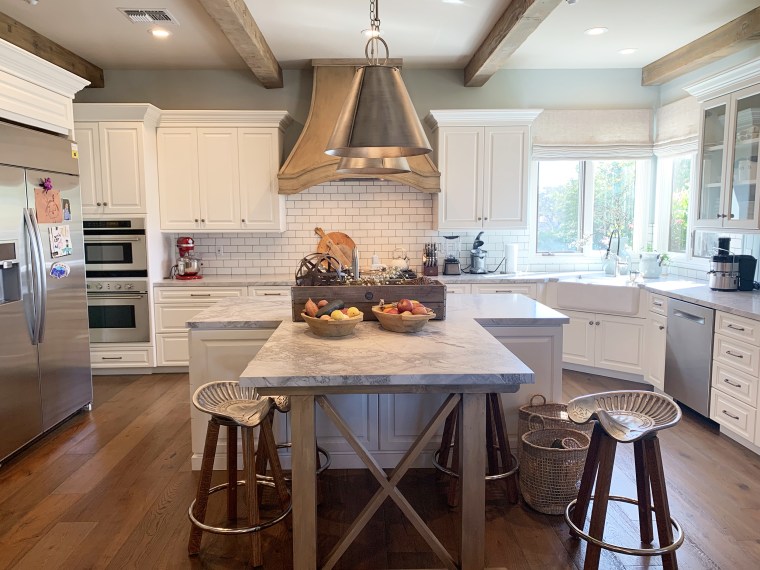 Mowry-Housley said she spends plenty of time cooking, and even pitched a cooking show with her twin, Tia Mowry.
"When we lived together, she would always cook the meal, I would always bake. And then we invite our friends, celebrity friends, over and just have a great dinner," she said.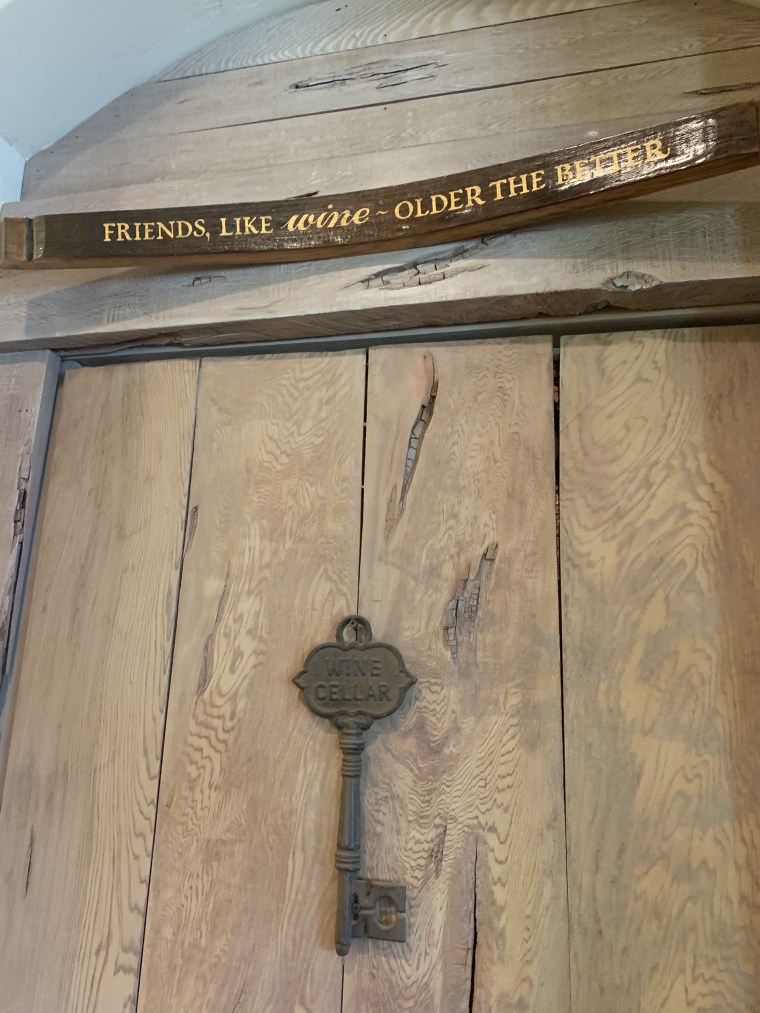 The tour wouldn't be complete without appreciating the sun-soaked backyard, complete with a pool and brick oven.
"This is the spot in the summer," she said. "The kids play, I, you know, lay on the lounge chairs, read a book, have a glass of wine ... "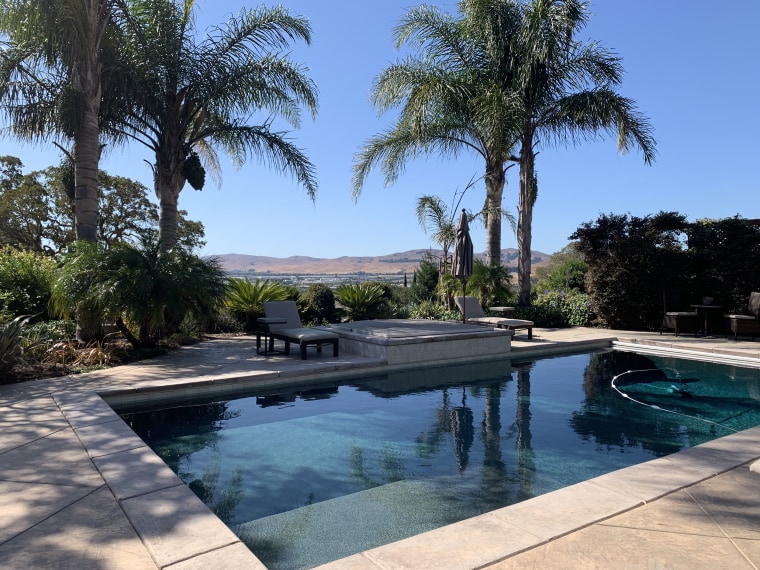 Naturally, the next stop on the tour was visiting the family's vineyard, Century Oak Winery, about an hour away in Lodi, California.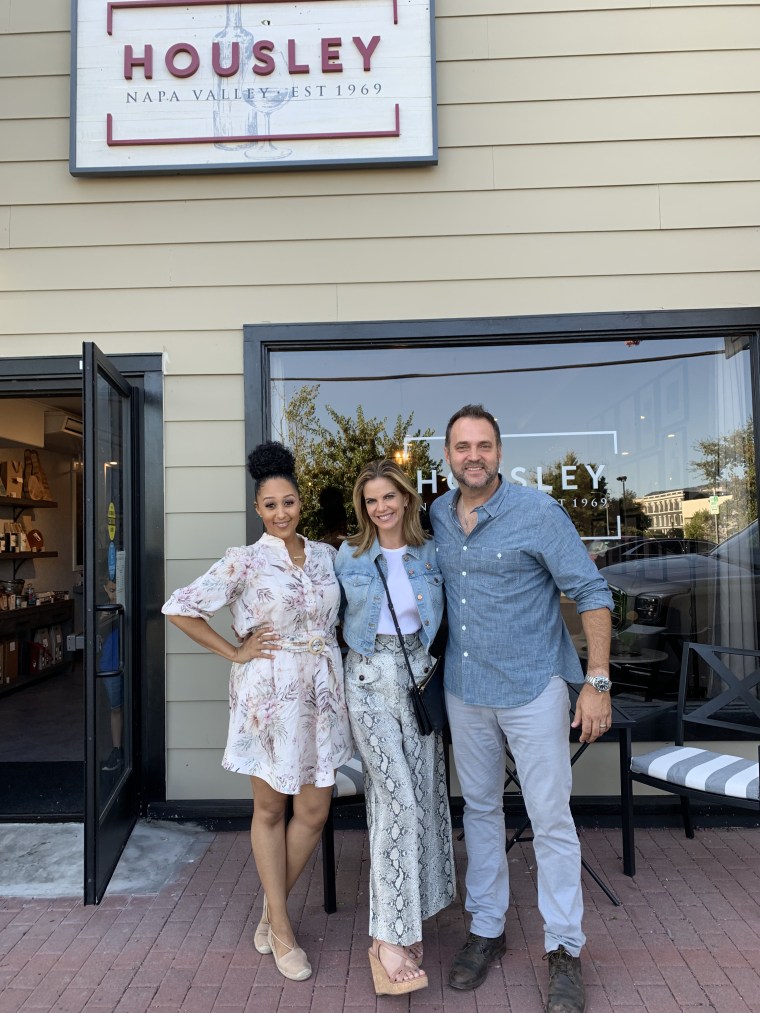 "Do you have the best office or what?" Natalie asked the couple after being joined by Housley.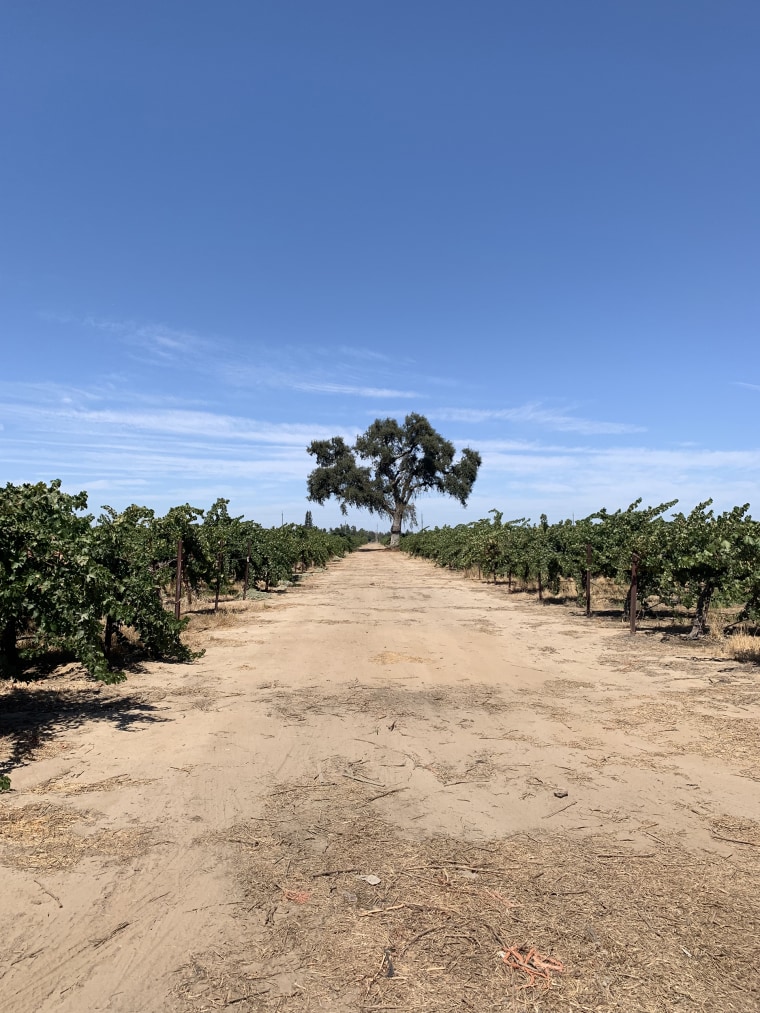 The three walked around the vineyard, tasting grapes and talking about the differences between Lodi and Napa wine, before heading into the vineyard's tasting room, which Mowry-Housley designed with the help of friend and former costar, Alexis Fields.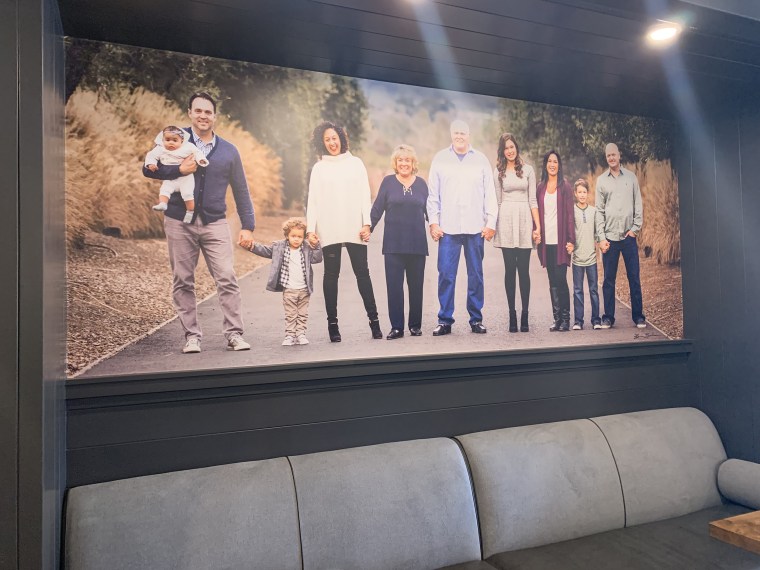 Before wrapping up the tour, Natalie asked Mowry-Housley if staying at the vineyard is her retirement plan.
"I can stay behind this counter, meet amazing people, talk, eat chocolate, drink wine, for the rest of my life," she said.