Jenna Wolfe welcomed you into daughter Harper's nursery last fall — before second daughter Quinn made her debut — as part of TODAY's original series "At Home with TODAY," and we have been craving a playdate in the space ever since. If you loved the playful room as well, here's how you can create a similar look in your own home!
Chevron rug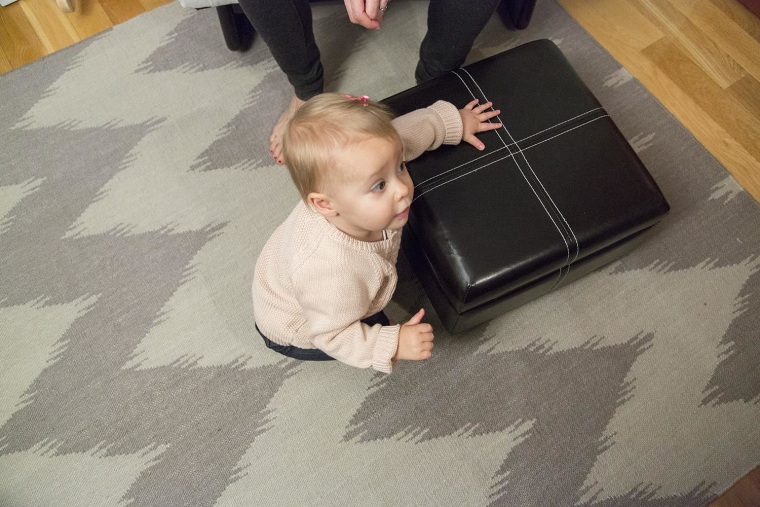 Complementing the room's lavender color scheme is the gray and taupe rug that sits in the center of the room, and is a popular playtime spot for Harper. You can pick up this Chevron Stripe Dhurrie Rugor a very similar look, or you can make your own with this DIY tutorial.
Metal letters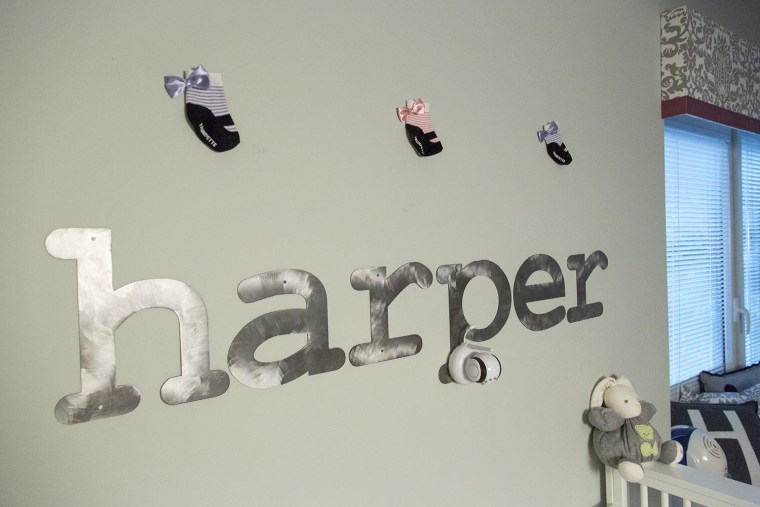 We can't help but love the personal touch of Harper's name hanging above her crib. Make your own with this easy DIY project that only takes an afternoon to complete!
Ivory rocker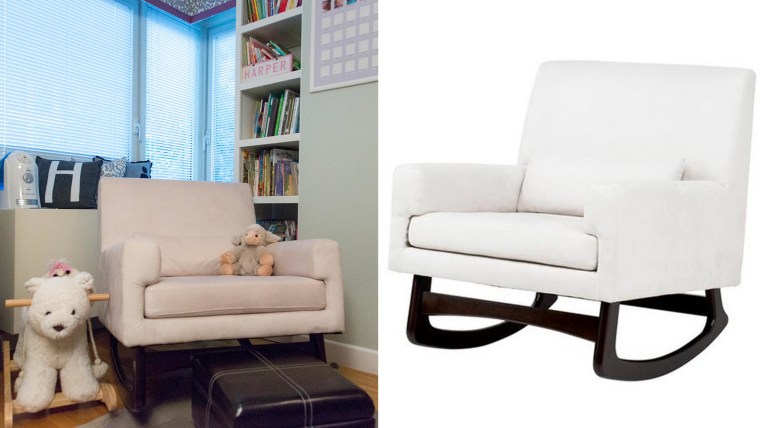 Jenna has spent many, many hours rocking Harper in the ivory modern rocker that sits between the crib and the closet. This Sleeptyime Rocker not only has the same aesthetic, but it also comes in a variety of colors so you can pick the perfect one of your nursery.
Contemporary crib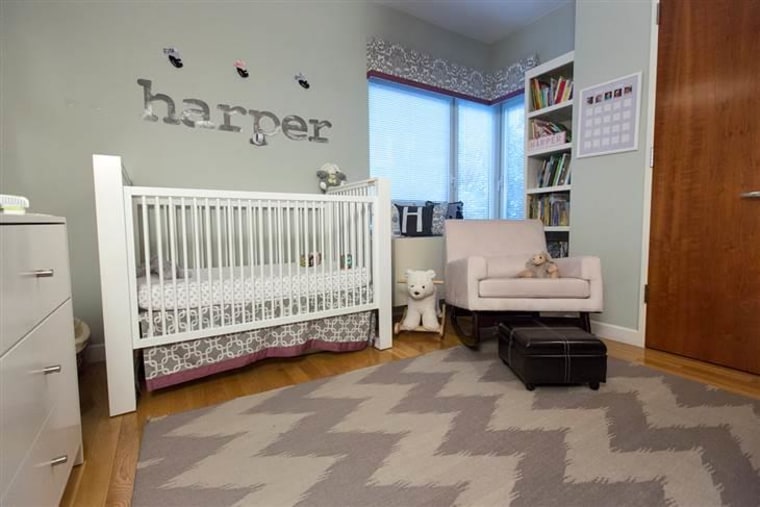 Harper's white crib is one that would fit in in nearly any nursery, and fortunately they aren't hard to find. Babyletto's 3-in-1 Convertible Crib not only has the same modern look, but it also can adapt from a crib to a toddler bed as your little one grows.
Balloon lamp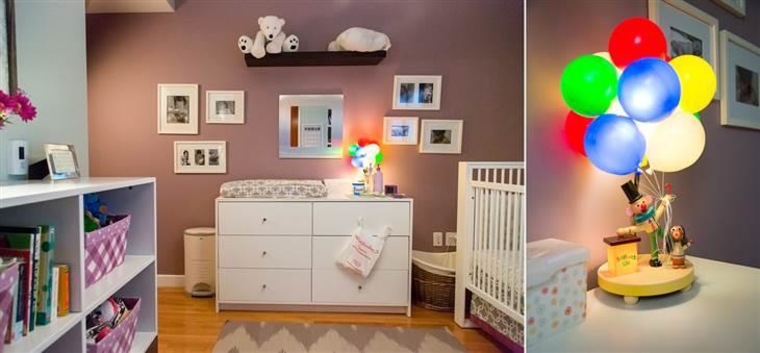 The most memorable piece in Harper's room is the one thing that doesn't look like it quite fits in: the balloon lamp. The piece is similar to one that Jenna had in her own childhood nursery in Jamaica.
"Of all the memories I had for the first couple of years that I lived there, the one that stood out more than anything was this ridiculous balloon lamp in my bedroom," Jenna said.
To find a similar lamp for your room, try what Jenna did: Keep a close eye on eBay. Happy bidding!
"Love to You" print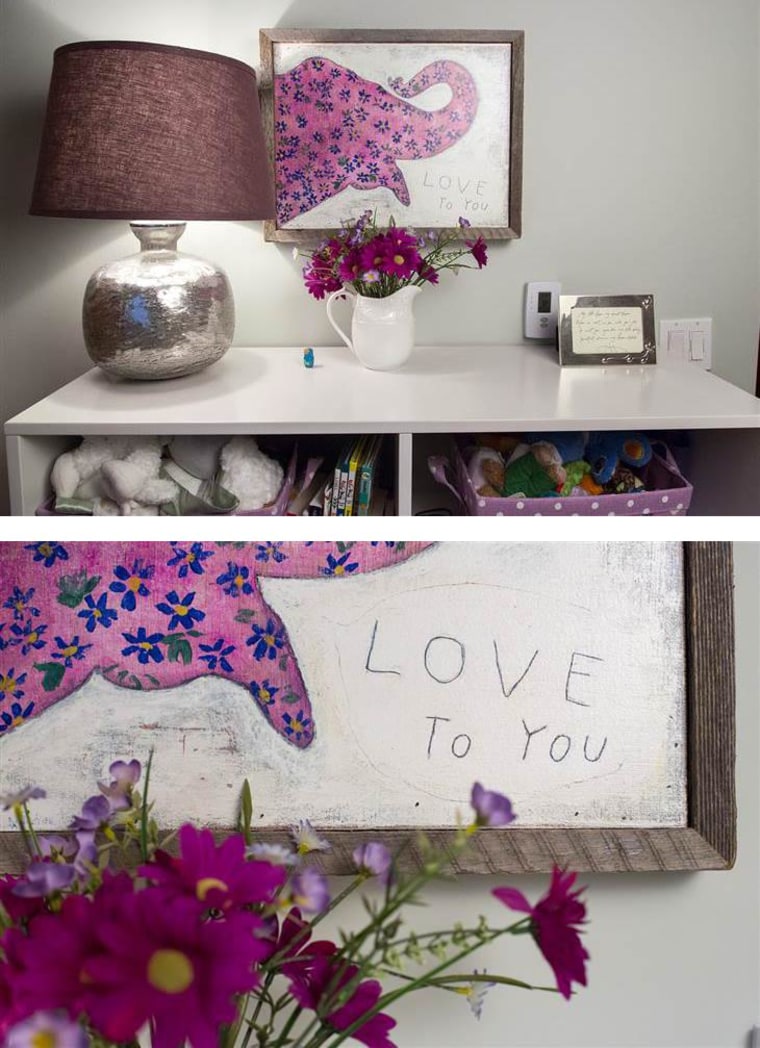 Hanging above Harper's dresser is an adorable "Love to You" purple and white print that features all of the room's colors: purple, gray and white. You can snatch up the same print online from Sugarboo Designs.
See more of Harper's nursery and more from the "At Home with TODAY" series here!