Chances are, if you've shopped at Target, Anthropologie or Banana Republic in the last few years, you've probably come across an item or many from blogger-turned-entrepreneur-turned-product guru Joy Cho, the creative pioneer behind Oh Joy!
The Oh Joy! line of colorfully whimsical home accessories and textiles has a very distinct and playful personality. Ever since her foray into the home accessories market, our lives (and living rooms) haven't looked the same.
For the TODAY's original series "At Home with TODAY" we connected with Joy, who opened up about her home, life, creative process and, of course, all things joyous!
7 questions about work and life for Joy Cho of Oh Joy!
1. What do you think makes a house a home?
What makes a house a home is that it feels like you. Whether that comes from colors, patterns, design choices, things you've collected over time, things that were passed down from you … all of those things together should make you feel happy and make others feel welcome.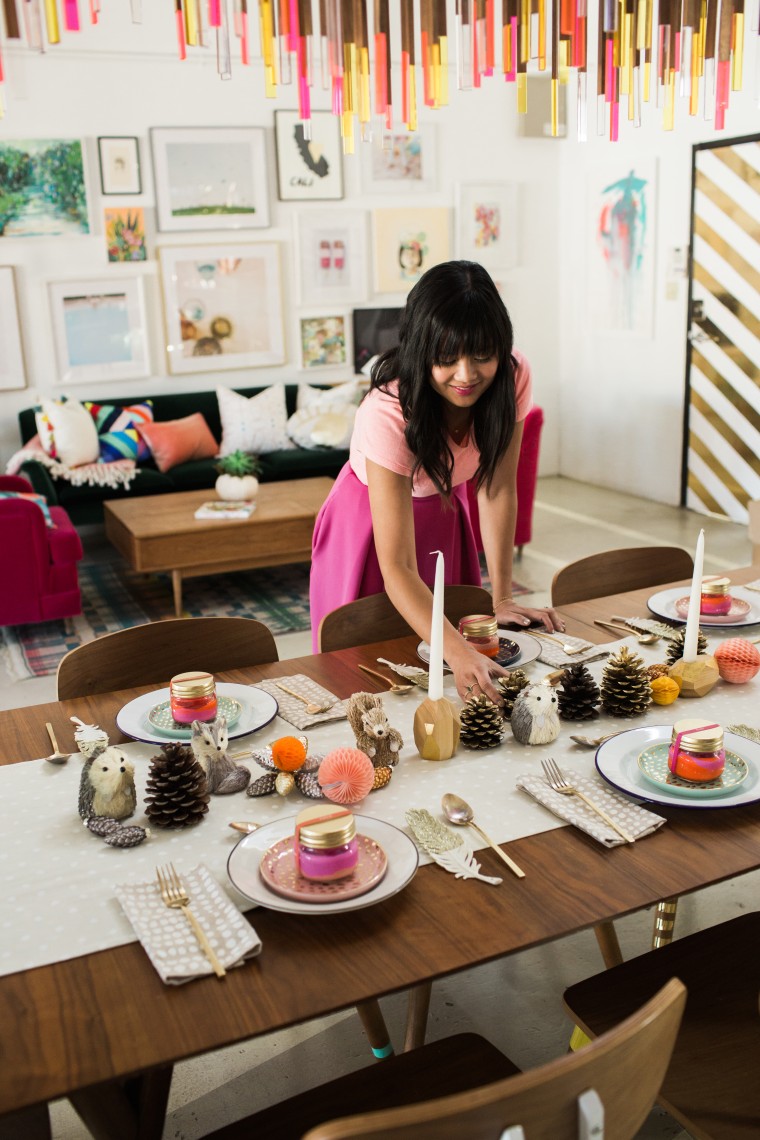 RELATED: 3 easy fall decor pieces made with simple stick-ons and glue
2. What's your favorite room right now and why?
I love my studio because it's a true extension of my personality and style. And having this space to work in has allowed my business and my team to grow! It's colorful, inspiring and a place I look forward to going every day.
The focal point of the studio is the front living room section and kitchen/dining room. Guests immediately see the cozy and stylish spaces when they walk in. Those spaces are usually what people see and capture on Instagram.
3. Do you have a cherished item in this room that you love?
There is a drawing and painting on our gallery wall that was hand-drawn and painted by our photographer, Casey Brodley, of my first daughter that I adore.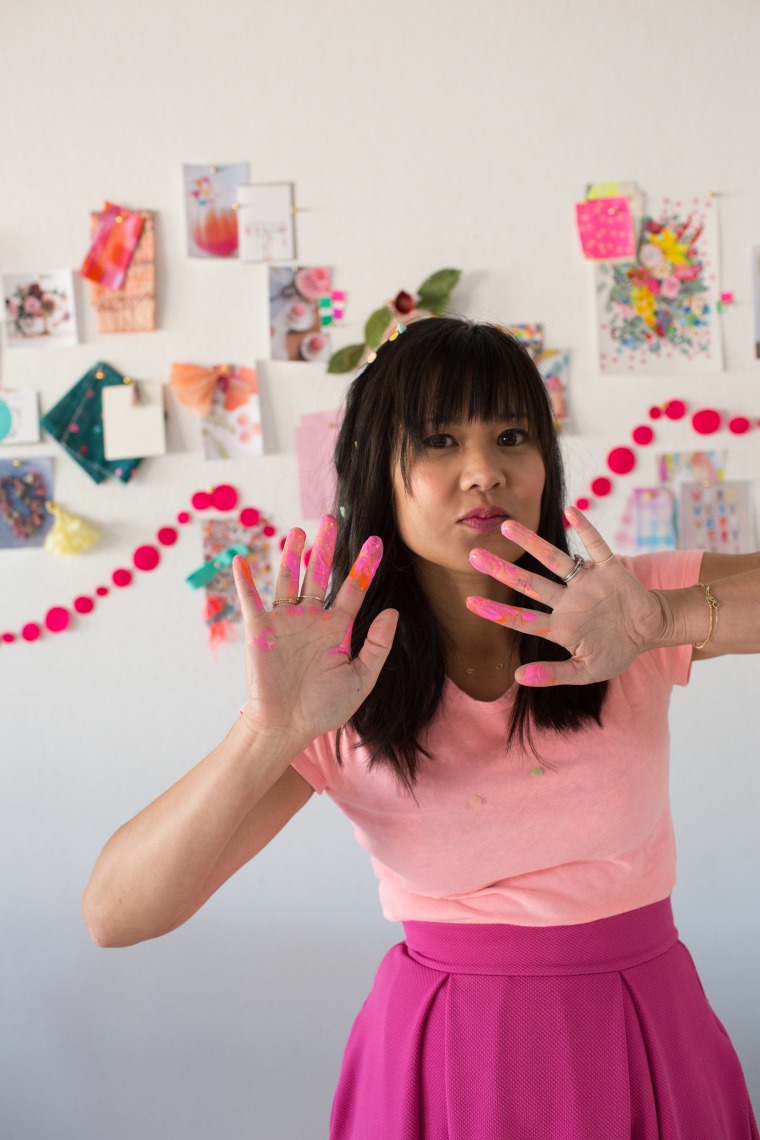 4. You're a designer at heart. Are you always redecorating things or trying new combinations? Or do you accept when a room is complete?
Since it's a workspace that we actively use every day, it's always changing. There are some main areas that stay the same for functionality, but accessories — like pillows and artwork — constantly rotate.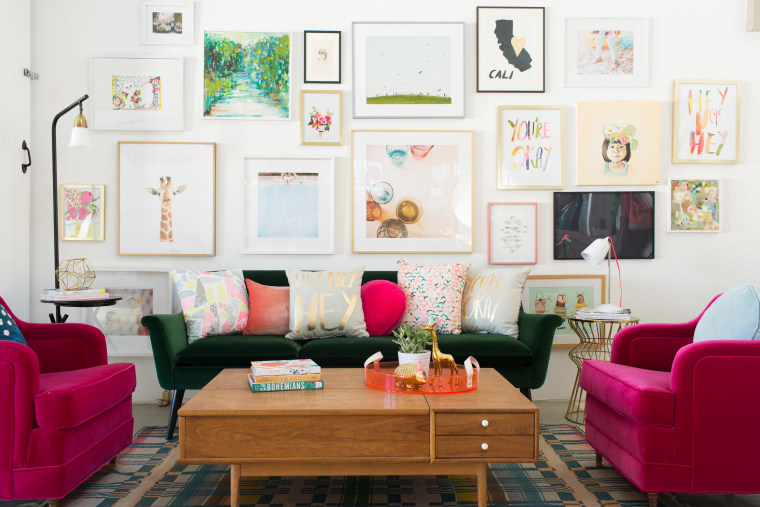 We are always adding new and beautiful items we find at flea markets, vintage shops, from our favorite designers, and especially the new Oh Joy! for Target collections that release multiple times a year.
RELATED: At Home with TODAY: 'Fixer Upper' Joanna Gaines shares her 2 most favorite spots
5. Got any house/studio rules that you stand firm on?
Natural light is key for me in any space I live or work in. Light is a natural source of happiness and does wonders on your mood.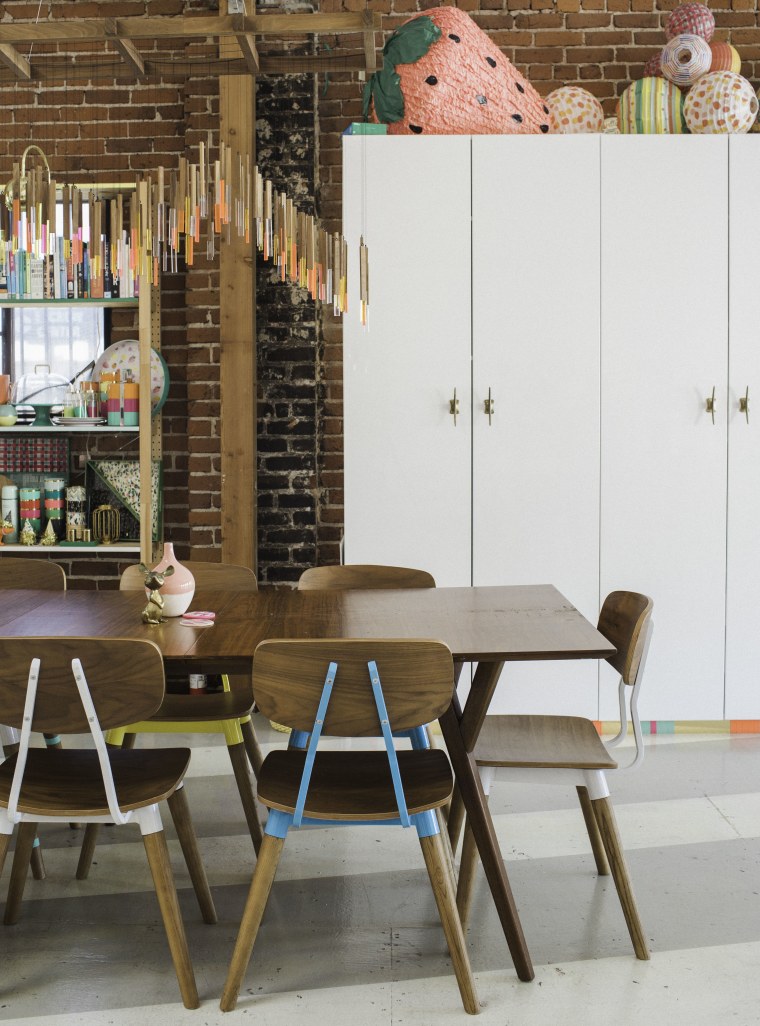 6. How many people work at the studio? What were some of the important elements you insisted upon in this space?
Most days there are five people in the studio. I wanted everyone to have their own desk for work, so we have an area section off for desks/workspace. There's also a giant inspiration wall that is lined in white cork which doubles as a shooting wall. We also have a large crafting area and a ton of prop shelves.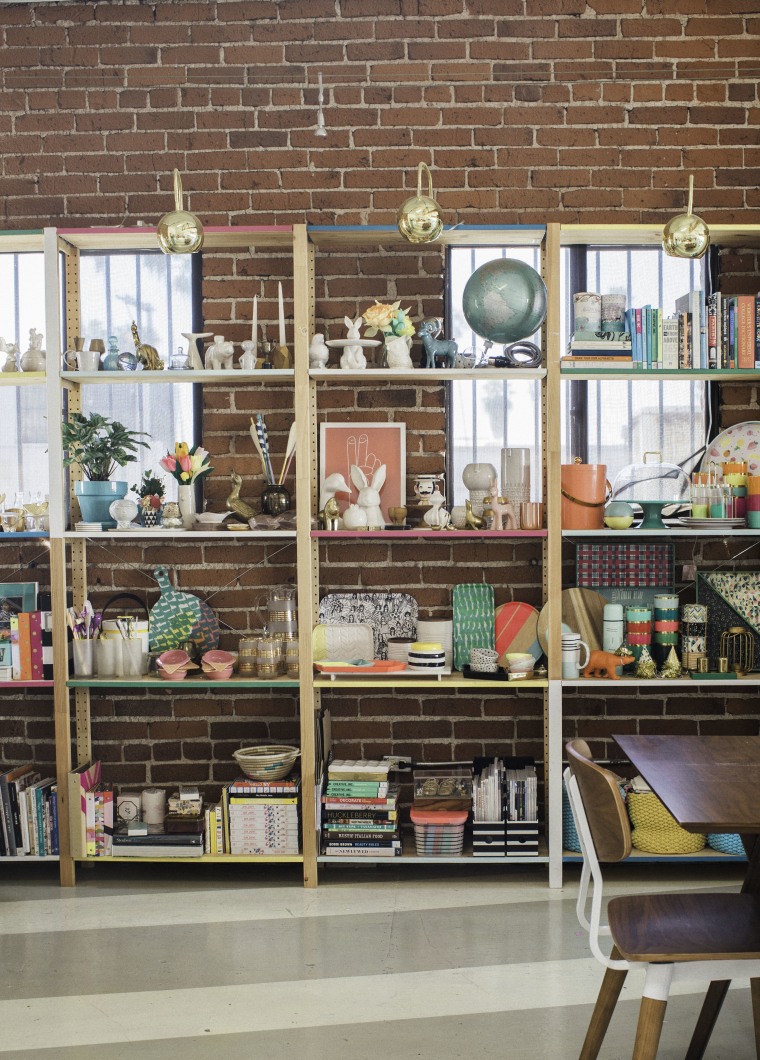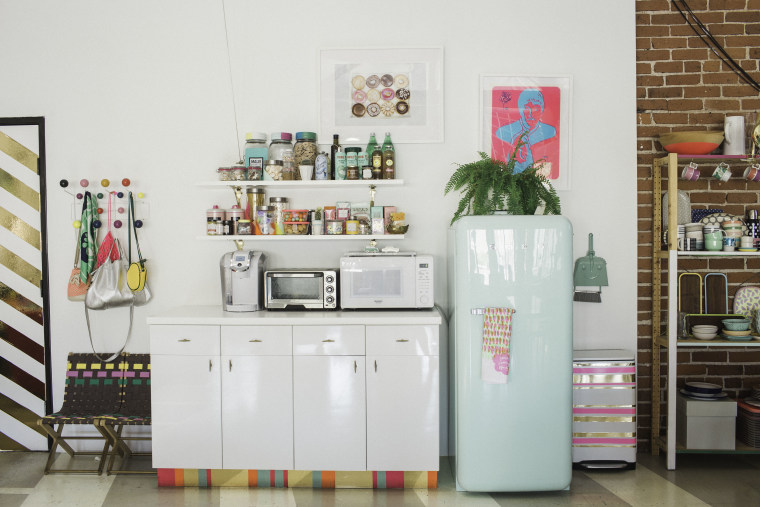 RELATED: Shop it now! 17 perfectly plush velvet decor items for home
7. Are kids allowed in the studio? How do you keep a creative space that's also kid-friendly?
Kids are definitely allowed. My daughters, Ruby and Coco, as well as kids of other Oh Joy team members certainly visit the studio, but we don't have any "safe" areas that are completely kid-friendly. Also, when kids come to the studio, all work stops, so kid visits are a special and rare treat for us!
Shop Oh Joy! at Target
We love anything that brightens up our home and is affordable to boot. Here are five of our favorite things from the Oh Joy! Target collection that we adore. There's a lot more to shop, but these are practical and pretty and would make great gifts for yourself or a friend. Happy shopping!
Oh Joy! Ombre glass serving bowl pink, $19.99, Target.com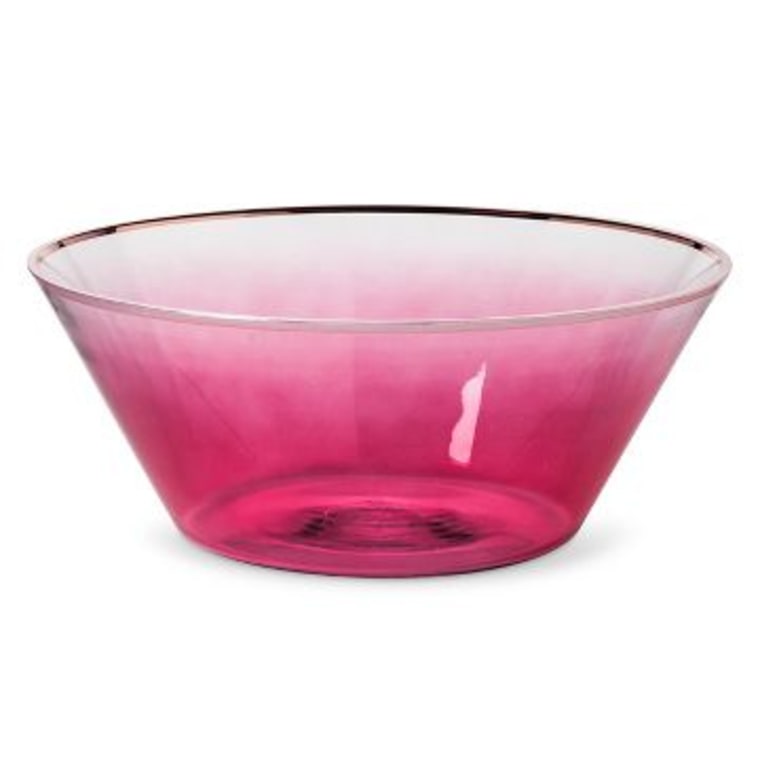 Oh Joy! Changing pad clutch, $19.99, Target.com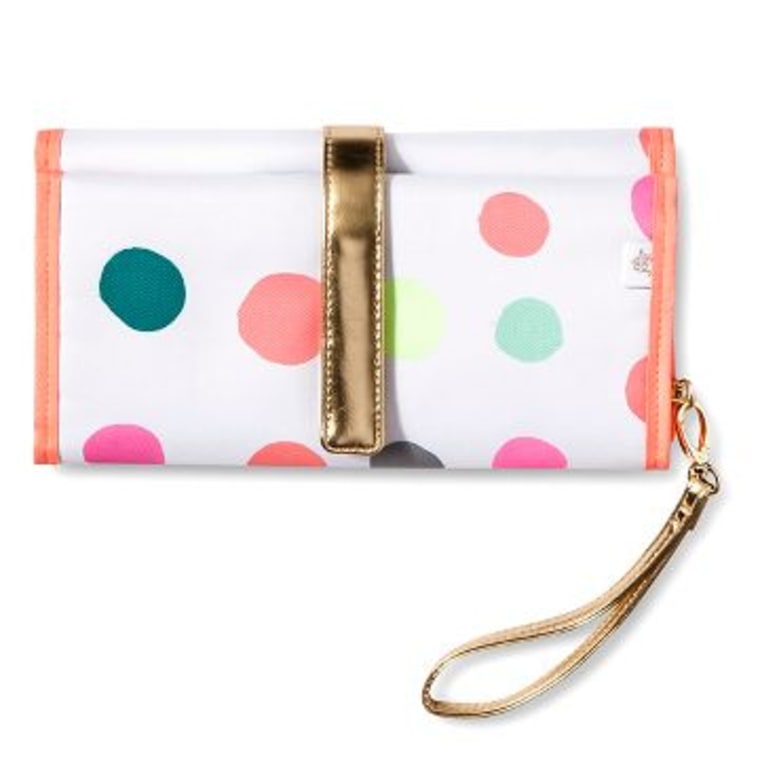 Oh Joy! Yay Vase set in gold, $23.99, Target.com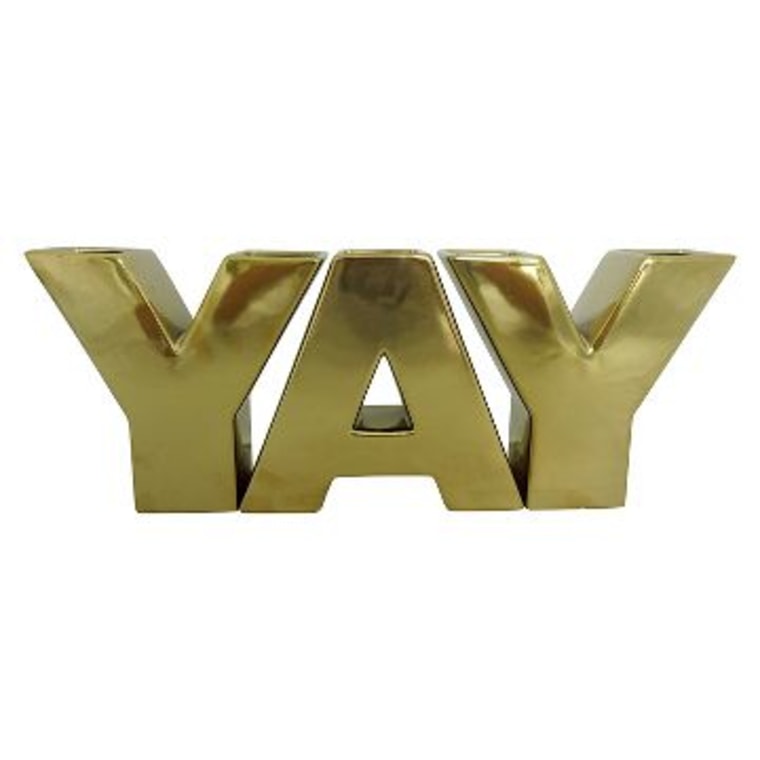 Oh Joy! Pink Ombre and Rose Gold Barware set, $19.99, Target.com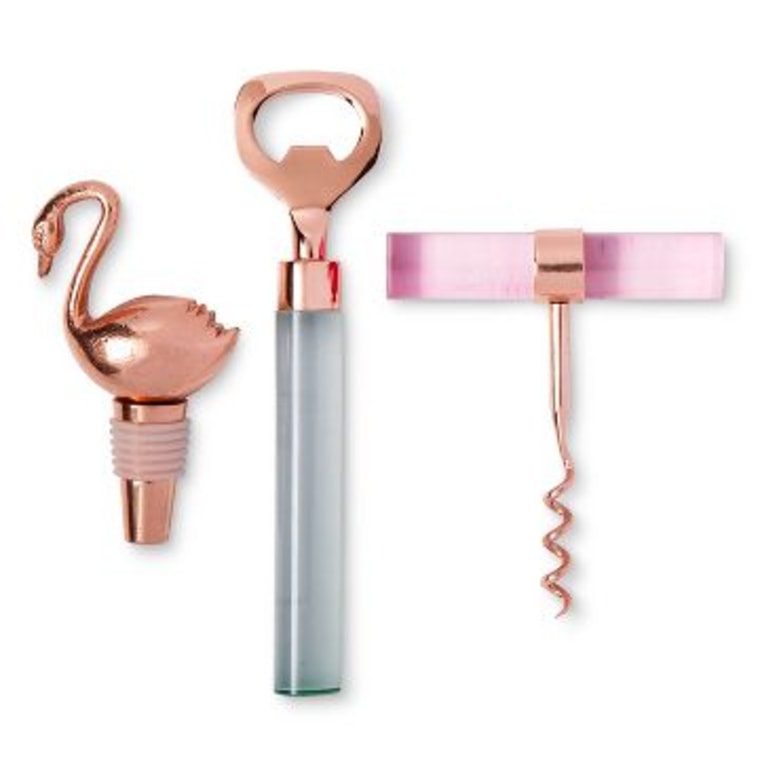 Oh Joy! Dotty String Lights, $14.99, Target.com