If things have seemed a whole lot cuter around Studio 1A this year, it may have to do with a certain new furry friend.
However, Wrangler is a lot more than just a cute member of the TODAY family. TODAY's "puppy with a purpose" joined us in January, and our anchors, staff and an experienced dog handler teamed up with Guiding Eyes for the Blind, a New York nonprofit organization, to help train Wrangler to become a guide dog.
We've watched Wrangler grow up, one milestone at a time, in front of our very eyes.To celebrate Wrangler joining the TODAY family this year, take a look back at all of his highlights on the show.
This article is part of "2015 Voices," a special series of essays and interviews with newsmakers behind some of TODAY's biggest moments of the year.
Wrangler joins TODAY
Wrangler joined the TODAY family this January.
Wrangler makes his Super Bowl prediction
In true Jimmy Fallon style, Wrangler (correctly) predicted the 2015 Super Bowl champion.
Wrangler debuts his "puppy jacket"
Wrangler's "puppy jacket" was a big milestone in his progress toward becoming a guide dog.
Meet some of Wrangler's celebrity friends
Wrangler heads to Boston for his first overnight trip
Wrangler shipped up to Boston in order to learn how to become more adaptable in unfamiliar surroundings by riding public transit, visiting the city's historic sites and working on his skills in a puppy class.
Wrangler gets a baby 'sister,' Jewel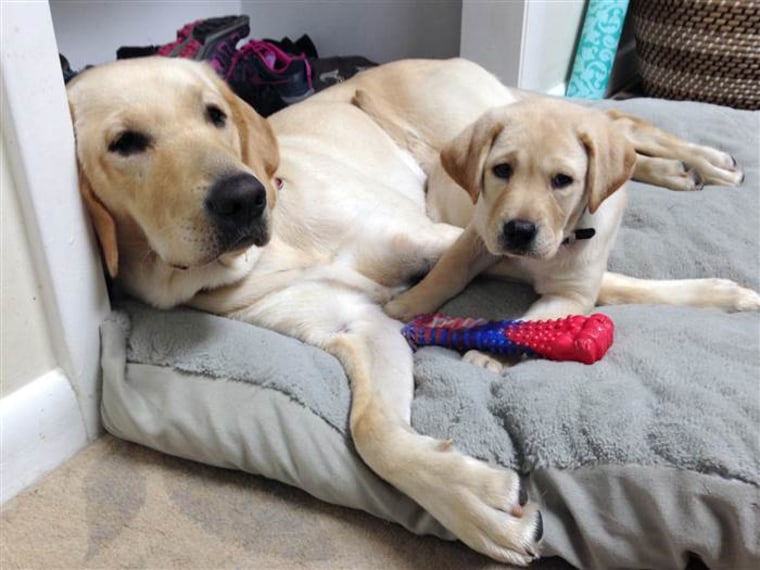 OK, the two aren't actually related. But both Wrangler and Jewel are living with handler Saxon Eastman, and they're both in training with Guiding Eyes for the Blind in the hopes they'll one day become service dogs.
Wrangler on the Road
To celebrate TODAY's Twitter account hitting 3 million followers, Wrangler hit the road to visit Philadelphia, Dallas and Washington.
Wrangler celebrates first birthday
In honor of Wrangler's birthday, Guiding Eyes for the Blind is launching the Wrangler Scholarship.