Chef notes
Summer barbecues are not exactly known for being light. With copious amounts of grilled meat, mayo-slathered salads and carb-heavy buns on rotation, it's always a refreshing sight when a plate of fruit appears at the table. It could be as simple as a platter of sliced watermelon or a bowl of cherries, but with a bit more prep, it's easy to whip up a composed fruit salad that guests will be talking about long after the last hot dog's been grilled.
This zesty summer citrus salad is an invigorating palate cleanser that can hold its own as part of a larger cookout spread. Slicing the oranges and grapefruit into thin wheels, and the watermelon into wedges, gives the already colorful salad an even prettier look, but it's the combination of flavors that will make the biggest impression. 
By adding refreshing mint and salty feta to fresh citrus fruits and juicy watermelon, it's easy to make a delicious dish that helps everyone cool off on a hot summer day. The zingy dressing — made with red wine vinegar, a little orange and lemon juice, cracked black pepper and olive oil — comes together quickly. Finally, roasted pine nuts add a smoky, slightly buttery flavor that gives this vibrant fruit salad a hint of Italian flair.
Get Ingredients: If you don't have everything you need on hand, you can easily purchase all of the ingredients (just click the orange button below that says 'Get Ingredients'). You can pick and choose exactly what ingredients you need based on what's in your pantry and they'll be on your doorstep before you know it. 
Technique Tip: To make ahead, prep the fruit and dressing separately, then assemble right before serving.
Swap Option: Use basil if you don't have mint — the aromatic summer herb pairs nicely with the citrus and watermelon. Instead of pine nuts, you can sub in crushed pistachios or sunflower seeds.
Ingredients
2

navel oranges

2

grapefruits

3

cups watermelon, sliced

2

tablespoons pine nuts

1

tablespoon freshly squeezed lemon juice

1

tablespoon freshly squeezed orange juice
1

tablespoon red wine vinegar

1/2

teaspoon kosher salt, or to taste

1/4

teaspoon freshly ground black pepper, or to taste

2

tablespoons extra virgin olive oil

1/3

cup crumbled feta cheese

1

handful fresh mint leaves
Preparation
1.
Peel the oranges and grapefruits, removing as much of the white pith as possible. Slice into wheels.
2.
Put pine nuts in a dry skillet and cook over medium-low heat, stirring often, until golden and fragrant. When they're golden brown, transfer to a plate to cool, otherwise they will continue to cook in skillet and burn.
3.
Whisk together lemon and orange juices, vinegar, salt, pepper and olive oil. 
4.
On a platter, layer the sliced fruits. Top with toasted pine nuts, crumbled feta and mint leaves. Drizzle with dressing.
How to shop TODAY recipes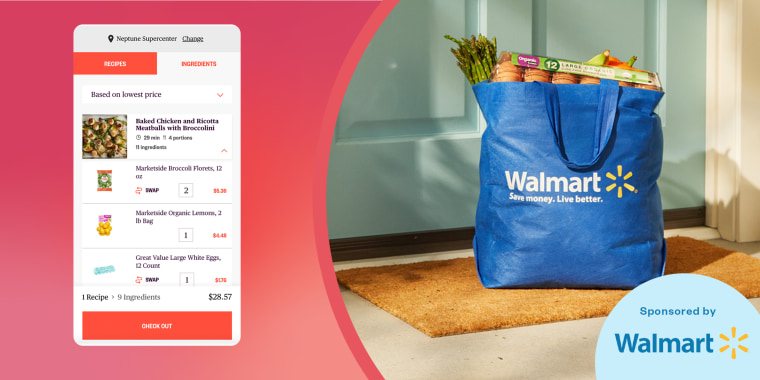 How to shop TODAY recipes
Here's everything you need to know about the cool new feature.
Learn More