TODAY Table is sponsored by Walmart. Our editors independently created this recipe. If you purchase the ingredients through our links, we earn a commission. Learn more about Shop TODAY.
Ingredients
2

tablespoons peanut or vegetable oil

4

ounces small shrimp, shelled, deveined, and cut into ½-inch pieces

4

cups cold cooked rice

1

cup frozen peas
1

cup diced ham

1/2

cup scallions, chopped

3/4

teaspoon kosher salt

1/4

teaspoon ground white pepper
Chef notes
When I'm pressed for time, fried rice is my go-to recipe for a quick one-wok meal. It's so fast because there's hardly any prep. It's also super healthy because there's minimal oil — each serving has just 2 teaspoons of oil. Yet with some shrimp, a little ham, peas (an easy fix from the freezer), scallions and seasonings, it's ready in just over 15 minutes.
Special equipment: Wok
Technique tip: You must start with cold, cooked rice that's been fluffed to break it up into individual grains. If the rice was refrigerated into a solid block it will be difficult to stir-fry. Whenever you stir-fry it's important to use a high smoking point oil like peanut, grapeseed, avocado or safflower oil. A low smoking point oil like sesame or extra virgin olive oil is not suited for high heat cooking.
Swap option: Instead of cooked shrimp you can use diced roast chicken. The Cantonese make this rice with cha siu, aka barbecued pork but you can use ham. If you want to make this vegetarian you can skip the shrimp and ham and just add 1 cup shelled edamame and 1/2 cup roasted peanuts or cashews.
Preparation
1.
Heat a 14-inch flat-bottomed wok over high heat until a bead of water vaporizes within 1 to 2 seconds of contact. Swirl in 1 tablespoons of the oil, add the shrimp, then, using a metal spatula, stir-fry 1 minute or until the shrimp just turn color but are not cooked through.
2.
Swirl in the remaining 1 tablespoon oil, add the rice, and peas and stir-fry 2 to 3 minutes breaking up the rice with the spatula until it is heated through.
3.
Add the ham, scallions, sprinkle on the salt and pepper, and stir-fry 1 minute until well combined.
How to shop TODAY recipes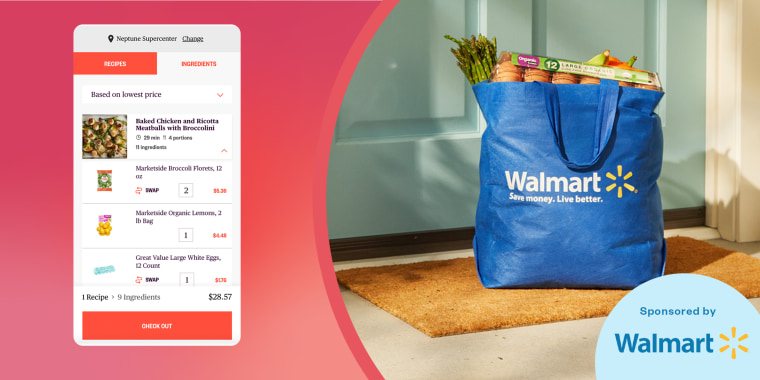 Here's everything you need to know about the cool new feature.