Ingredients
For the filling
4

tablespoons unsalted butter

3

large tart apples, peeled and 1/2-inch-diced (such as Granny Smith, Honeycrisp, Braeburn or Pink Lady)

1/2

cup brown sugar

1

teaspoon ground cinnamon

1

teaspoon ground nutmeg
1/8

teaspoon ground clove

1

teaspoon kosher salt

1

tablespoon lemon juice

1

teaspoon vanilla extract

1

tablespoon cornstarch
For the empanadas
All-purpose flour, for dusting

1

package (about 14 ounces) refrigerated pie crusts

1

large egg
Turbinado sugar, for garnish
Caramel sauce and/or vanilla ice cream, for serving
Chef notes
Turn apple pie into a handheld treat with these easy baked dessert empanadas. Tender apples and warm fall spices are the perfect contract to the buttery flaky pastry. Store-bought refrigerated dough keeps things simple, but feel free to swap in your favorite homemade pie crust dough, if preferred. These are lovely served on their own, but also fun to serve with caramel or butterscotch sauce for dipping.
Technique tips: Adding a tiny pinch of salt to the egg wash helps break up the proteins so you get a smooth coating. Dusting flour over the work surface keeps the dough from sticking.
Swap options: Add fresh orange or lemon zest to the dough for added flavor or have fun playing around with spices.
Preparation
1.
Make the filling by melting butter in a saucepan over medium heat. Add the diced apples, sugar, cinnamon, nutmeg, clove, salt and lemon juice. Cook the apples, stirring occasionally, until apples are tender and have released their natural juices (about 15 minutes). Remove from heat. Stir in the vanilla and the cornstarch and stir well to combine. Set aside while you make the dough.
2.
Preheat oven to 400  F. Line a baking sheet with parchment paper.
3.
Sprinkle flour onto a cutting board or your work surface. Remove pie crust from pouch and unroll onto the floured surface. Use a rolling pin to roll out the dough to about 18 inches in diameter. Cut out rounds using a 4- to 5-inch round cookie cutter, re-rolling out scraps as needed. Repeat with second pie crust from package.
4.
Whisk together egg with 1 tablespoon water and a tiny pinch of kosher salt.
5.
Working with 1 dough round at a time, moisten the edges of the dough with the egg wash, then put about 1 to 2 tablespoons of the apple filling in the center. Fold the dough over to close and use a fork to crimp the edges.
6.
Place on prepared baking sheet and repeat with rest of the dough and filling.
7.
Brush the tops of the empanadas with egg wash and sprinkle with turbinado sugar.
8.
Bake 15 minutes, or until golden brown and heated through. Serve warm with caramel sauce or ice cream for dipping.
How to shop TODAY recipes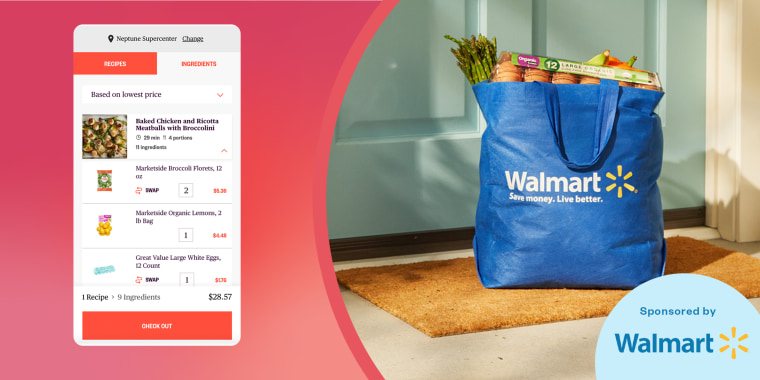 Here's everything you need to know about the cool new feature.