TODAY Table is sponsored by Walmart. Our editors independently created this recipe. If you purchase the ingredients through our links, we earn a commission. Learn more about Shop TODAY.
Ingredients
6

small carnival squash or other individually sized squash

1

tablespoon unsalted butter

1/2

pound mixed wild mushrooms such as shiitake, oyster, and maitake, cleaned and thickly sliced

1

teaspoon salt

1

bunch lacinato (dinosaur) kale, stemmed and chopped into bite-size pieces (about 3 loosely packed cups or about half a 6-ounce bag)

1/2

cup chopped steamed chestnuts or toasted pecans
1

teaspoon minced fresh rosemary

1

teaspoon minced fresh sage

1/2

teaspoon ground black pepper

1/2

loaf crusty Italian bread, cut into rough 1-inch cubes (about 4 cups)

1

egg

1/2

cup half and half
Chef notes
Make everyone welcome at family dinners this year no matter what their meat-eating preferences. With these elegant (and surprisingly easy) squash filled with hearty wild mushrooms, kale, and fragrant herbs, you might just convert all your meat-loving friends into vegetarians for the day.
Because each squash is an individual serving, there's no need to stress over serving sizes. The recipe can be easily increased to fit the number of guests at your table, and any extra filling can be baked on its own in a casserole dish. You can even prep them ahead of time to make everything easier — the pre-baked squash can pop right in the oven when you're ready.
RELATED: TODAY recipes are now shoppable — and it makes ordering groceries online so easy
Preparation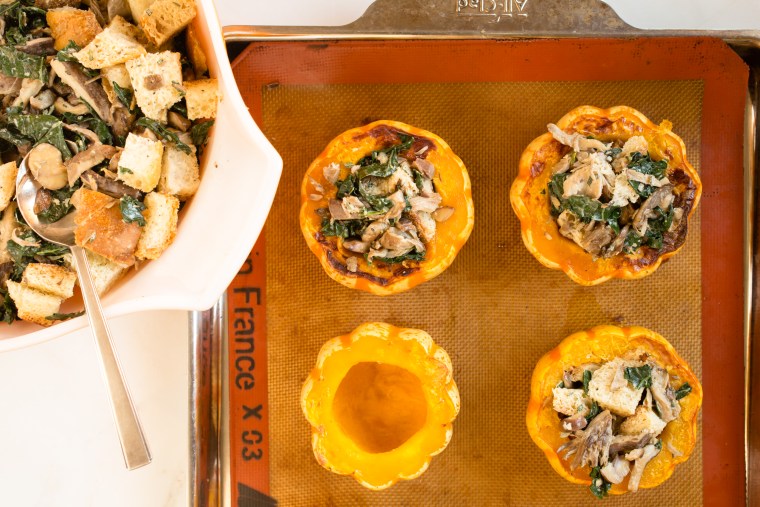 Preheat the oven to 400 degrees F. Line a large rimmed baking sheet with parchment paper or a silicone liner.
Cut a thin slice off the bottom of each squash so it sits upright. Slice about 1 inch off the top of each squash. Scoop out the seeds and innards.
Place the squash scooped side-down on the baking sheet. Bake for about 30-40 minutes, until the squash is just tender and the orange flesh begins to turn translucent.
While the squash bakes, make the filling: Melt the butter in a large, wide skillet or saucepan over medium-high heat. Add the mushrooms, stirring just to coat evenly with the butter, then spread in a single layer. Cook without stirring for about 3 minutes to let the mushrooms brown.
Stir in 1/4 teaspoon salt, then let the mushrooms cook undisturbed for about 5 minutes more. Stir in the kale and cook just until the leaves start to wilt and soften.
Transfer the mushrooms and kale to a large bowl, and stir in the nuts, rosemary, sage, pepper, and remaining salt.
Whisk the egg and half and half together in a small bowl, then pour into the vegetables.
Toss the bread cubes with the vegetables, making sure each cube is moistened.
Reduce the oven heat to 375 degrees F.
Fill each pre-baked squash with the filling, fully packing the scooped-out hollow. Bake uncovered for an additional 30 minutes. Serve warm.
Make it ahead:
The squash can be pre-baked and the filling can be partially made up to 3 days in advance. Cook the mushrooms and kale and toss with the nuts, herbs, and spices, then refrigerate. Bring the filling mixture to room temperature before continuing and finishing the recipe.
Make it gluten-free:
Substitute a double batch of the cooked quinoa and lentil blend from our Make-Ahead Power Bowls for the cubed bread in the recipe.
How to shop TODAY recipes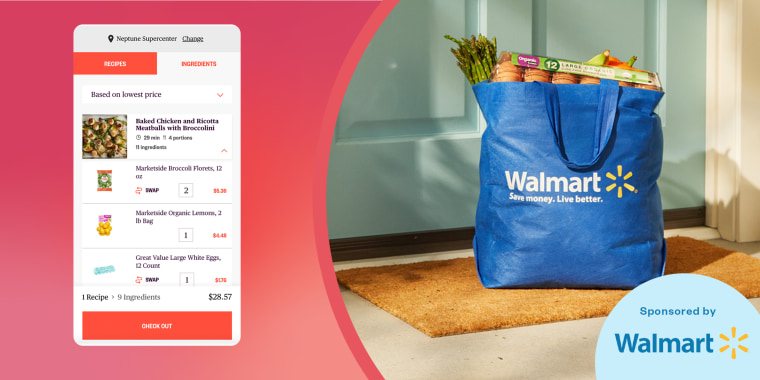 Here's everything you need to know about the cool new feature.