Ingredients
Cupcakes
2½

cups all-purpose flour

1¼

teaspoon kosher salt

1

teaspoon baking powder

1

teaspoon baking soda

2

sticks unsalted butter, room temperature
1¾

cups granulated sugar

4

large eggs, room temperature

1

cup whole milk, room temperature

1

tablespoon pure vanilla extract
Frosting
2

sticks unsalted butter, room temperature

4

cups confectioners' sugar

2-3

tablespoons whole milk
1

teaspoon pure vanilla extract

1/4

cup sprinkles (optional)
Chef notes
Vanilla cake with vanilla frosting is everyone's favorite for a reason, and sometimes it's best not to mess with a classic. Whether vanilla cupcakes are being handed out at a kid's birthday party or a tiered layer cake is served at a wedding, folks go crazy for it, especially if sprinkles are involved. Its cult-like following proves that vanilla is far from boring. This recipe is so simple that both components need to be their very best selves. It all starts with a moist, fluffy cupcake – here are a few tips that will help make you successful every time:
The first step is creaming the butter and sugar together. Cream the mixture until the sugar dissolves and it is light and fluffy. Beating air into the butter-sugar mixture gives the crumb of the cupcake a delicate texture. 
Use room temperature ingredients. When you let your eggs and milk come to room temperature before using, they incorporate into the batter much more easily than cold ingredients. Overbeating can compromise the overall texture of the cupcakes, though, so it is important that you mix all of the ingredients only as long as needed.
Good vanilla is key here! Use an extract labeled "pure." Imitation vanilla extracts do not have any real vanilla in them. Since vanilla is the primary flavor component in both the cupcakes and frosting, use the real stuff!
The final step is a rich and creamy vanilla buttercream frosting. This is a basic recipe that you can use over and over again on any kind of cake or cupcake. Swirl or pipe a generous amount over each cupcake and watch them disappear. 
Technique Tip: Use an ice cream scoop to drop the cupcake batter into the cups. A heaping scoop is the perfect amount. 
Swap Option: Substitute 1/3 cup of confectioners' sugar in the frosting with cocoa powder to make chocolate buttercream. 
Preparation
Make the cupcakes:
1.
Preheat the oven to 350 F. Line 16 muffin cups with paper liners (if you don't have two standard pans, bake in batches).
2.
In a medium bowl, whisk together flour, baking powder, baking soda and salt. In the bowl of a stand mixer, beat butter and sugar on medium-high speed until light and fluffy, 2 to 3 minutes. Add eggs, one at a time, blending well after each addition. Add milk and vanilla and mix to combine. With the mixer running on low speed, slowly add the flour mixture and blend until well combined, scraping down the sides and bottom of the bowl to make sure everything is evenly incorporated.
3.
Divide batter among muffin cups. Bake until the tops of the cupcakes are golden and a toothpick inserted into the center of a cupcake comes out clean, 18 to 22 minutes. Let cool for 15 minutes, then transfer cupcakes to a wire rack to cool completely.
Make the frosting:
In the bowl of a stand mixer, beat butter on medium speed until smooth and creamy, 1 to 2 minutes. Add confectioners' sugar and mix until light and fluffy, about 2 minutes. Add milk and vanilla and mix to combine. Swirl frosting over tops of cupcakes; top with sprinkles, if desired.
How to shop TODAY recipes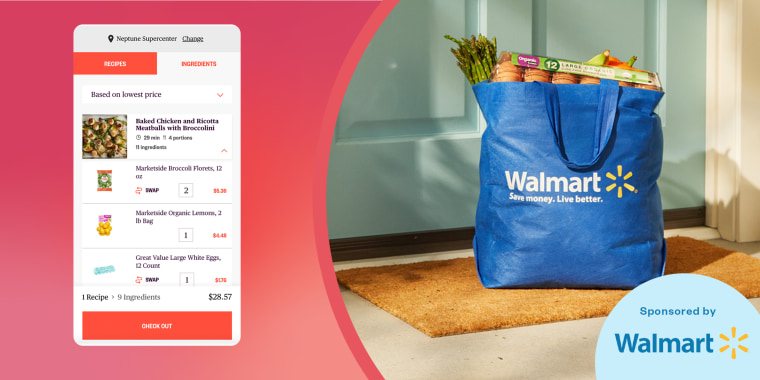 How to shop TODAY recipes
Here's everything you need to know about the cool new feature.
Learn More