Chef notes
Scones have a reputation for being dry, bland, boring — need I go on? This breakfast treat often gets passed over in favor of moist muffins and buttery croissants (not that I'm speaking from personal experience). I wanted to create a scone recipe that was sweet, soft and actually likable because scones deserve that.
For starters, I use equal parts all-purpose flour and cake flour. All-purpose flour helps give the scones body while cake flour, which has a lower protein count, creates lighter scones with a finer crumb. The other trick? Adding one stick of grated, very cold butter to the dough. By shredding a stick of butter on a box grater, the butter will get more evenly incorporated throughout the dough, which will help create flavorful, flaky layers in every bite. And for light, lofty layers, don't overwork the dough. As you mix the wet and dry ingredients together, stop stirring as soon as the ingredients start to come together. The dough will still be a bit shaggy when you turn it out onto the board, but it will come together as you shape and form the dough into scones. A quick lamination — which essentially means folding the dough over itself — will help bring those shaggy pieces together and create layers. Cut the dough into eight wedges and brush the tops with buttermilk just before baking to help them brown evenly.
For the best flavor, use a combination of vanilla bean paste and almond extract. Although vanilla bean paste can be pricey, it's worth buying for this recipe. Its consistency is similar to maple syrup and it's flecked with hundreds of tiny vanilla seeds that add serious visual appeal. Use it in both the dough and glaze for a scone that doesn't shy away from vanilla flavor. A teaspoon of almond extract is added to the dough for a little more complex sweetness.
Get Ingredients: If you don't have everything you need on hand, you can easily purchase all of the ingredients (just click the orange button below that says 'Get Ingredients'). You can pick and choose exactly what ingredients you need based on what's in your pantry and they'll be on your doorstep before you know it. 
Swap Options: For the vanilla glaze, you can use 1 to 2 tablespoons of whole milk in place of the half-and-half.
Ingredients
For the Scones
1¼

cups all-purpose flour, plus more for dusting

1¼

cups cake flour

1/4

cup granulated sugar

1/4

cup light brown sugar

1

tablespoon baking powder

1/4

teaspoon baking soda
1/2

teaspoon kosher salt

1

stick (1/2 cup) unsalted butter, chilled and grated

1

large egg, beaten

1/2

cup plus 1 tablespoon buttermilk, plus more for brushing

1

tablespoon vanilla bean paste

1

teaspoon almond extract
For the Vanilla Glaze
1

cup powdered sugar

2

tablespoons half-and-half
1

tablespoon vanilla bean paste
Preparation
1.
Preheat the oven to 400 F. Line a baking sheet with parchment paper or a silicone baking mat.
2.
In a large bowl, whisk together all-purpose flour, cake flour, granulated sugar, brown sugar, baking powder, baking soda and salt. Add grated butter and toss to combine. Add beaten egg, buttermilk, vanilla bean paste and almond extract and gently stir until the dough begins to come together. It will still be shaggy.
3.
Transfer the dough to a floured surface and and press it together into a circle. Fold one half of the dough over itself, then rotate the dough and fold it over in the other direction. Pat the dough into a 7-inch-round and 1-inch-thick circle. Use a bench scraper to slice into 8 wedges. Transfer the scones to the prepared sheet, placing them no more than 1/2-inch apart, and brush the tops with buttermilk.
4.
Bake for 20 to 22 minutes, until the tops are golden brown.
5.
Meanwhile, make the glaze: In a small mixing bowl, whisk together the powdered sugar, half-and-half and vanilla until smooth.
6.
Let the scones cool for 5 minutes, then transfer to a wire rack to cool completely. Drizzle with glaze, then serve.
How to shop TODAY recipes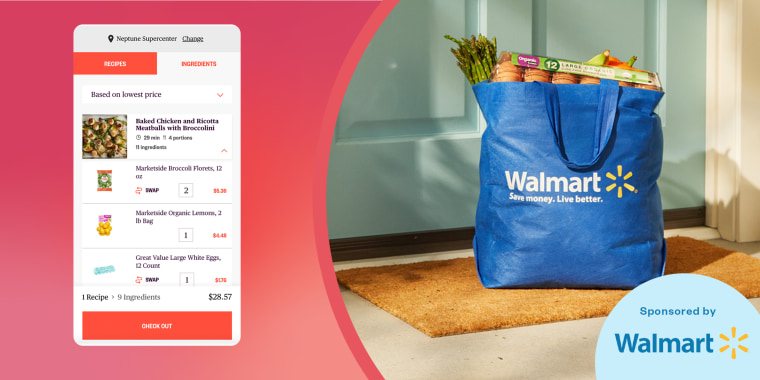 How to shop TODAY recipes
Here's everything you need to know about the cool new feature.
Learn More