Chef notes
Shepherd's pie is traditionally made with ground lamb, but for a new version of the comfort food classic, try ground turkey. This protein is just as delicious as lamb but leaner and lighter. Use 93% lean, 7% fat ground turkey, which has a slightly higher ratio of dark meat for a fatty and more flavorful filling. The rest of the filling should look familiar — the browned meat is combined with sautéed onion, carrots, celery and garlic, as well as a trio of fresh hearty herbs (thyme, rosemary and sage). 
To prevent the filling from tasting bland and dry, add dry red wine, chicken stock and a pat of butter, which makes it ever so slightly saucy. A tablespoon of flour helps to thicken the mixture, too. Frozen peas are folded into the mixture just before it's topped with creamy mashed potatoes and baked. 
This recipe will comfortably serve four people, but if you're serving a smaller crowd, no one will be upset about having leftovers. 
Swap Option: Feel free to use dry white wine in place of the red wine. The flavor of the filling will be a little lighter and will complement the lean poultry nicely. 
Get Ingredients: If you don't have everything you need on hand, you can easily purchase all of the ingredients (just click the orange button below that says 'Get Ingredients'). You can pick and choose exactly what ingredients you need based on what's in your pantry and they'll be on your doorstep before you know it.
Ingredients
1

pound russet potatoes, peeled and halved

1/2

cup half and half, plus more as needed

10

tablespoons unsalted butter, divided

2

teaspoons kosher salt, divided

1

teaspoon black pepper, divided

2

tablespoons neutral oil, divided

1

pound ground turkey

1

medium yellow onion, finely diced

2

large carrots, finely diced

2

celery sticks, finely diced
3

cloves garlic, minced

2

teaspoons chopped fresh thyme

2

teaspoons chopped fresh rosemary

2

teaspoons chopped fresh sage

1

tablespoon tomato paste

1/2

cup dry white wine

1

cup low-sodium chicken broth

1

tablespoon all-purpose flour

1

cup frozen peas
Preparation
1.
Preheat the oven to 400 F.
2.
Make the topping: in a medium pot, add the potatoes and cover with 1-inch cold water. Bring to a boil over high heat, then reduce the heat to medium and continue to cook until the potatoes are fork-tender.
3.
Heat the half-and-half and 4 tablespoons butter in a small saucepan over low heat, stirring occasionally to prevent scorching.
4.
Drain the potatoes in a colander. Press the cooked potatoes through a potato ricer until mashed. Add the warm half-and-half and melted butter, and stir to combine. Add 1 teaspoon kosher salt and ½ teaspoon black pepper and stir to combine. Set aside.
5.
Meanwhile, in a large straight-sided skillet set over medium-high heat, add 1 tablespoon oil and heat until shimmering. Add the ground turkey and 1 teaspoon kosher salt and cook, breaking up the meat with a spoon, until browned, 7 to 9 minutes. Using a slotted spoon, transfer the meat from the skillet to a bowl and set aside.
6.
Add 1 tablespoon of oil and heat until shimmering. Add the onion, carrots and celery, and sauté until softened and translucent, 8 to 10 minutes. Add the garlic, thyme, rosemary and sage, and cook for about 1 minute. Add the turkey back to the skillet and stir to combine. Add the tomato paste and stir to combine. Lower the heat to medium-low, add the white wine and cook for about 2 minutes, stirring occasionally. Add the chicken broth and 1 tablespoon butter, and cook, stirring to combine, about 1 minute. Add flour and stir to combine, mixing until the liquid has slightly thickened. Add the peas and cook, about 2 minutes. Taste and season with salt and pepper.
7.
 Transfer the turkey mixture to a 2-quart oval baking dish and spread in an even layer. Top with mashed potatoes and spread evenly to cover the filling.
8.
Bake for 25 minutes, then broil on high for an additional 3 to 5 minutes, until the potatoes begin to brown. Serve immediately.
How to shop TODAY recipes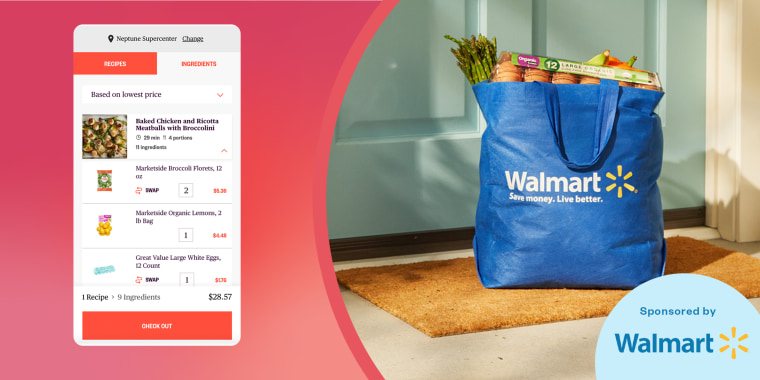 How to shop TODAY recipes
Here's everything you need to know about the cool new feature.
Learn More