Chef notes
Basil pesto is a humble sauce that can liven up just about anything. Sure, you can toss it with just about any pasta, of course, but that's really just the start. The Italian sauce lends herby, garlicky flavor to everything from pizza to salad dressings. One of my favorite ways to utilize it, however, is with eggs. Pesto jazzes up humble eggs without much fuss. 
Here, pesto turns a ho-hum frittata into a bold, bright one. Whisking your favorite store-bought or homemade pesto with the usual eggs, milk, salt and pepper means you don't even need to sautè any onions or garlic, or even add additional spices to flavor the frittata. Tomatoes join the party, too, since they're pesto's closest companion. They lend color and juicy sweetness to each slice. Top the whole thing off with grated Parmesan cheese to help brown the frittata and add extra cheesy, salty flavor.
Enjoy this frittata warm, at room temperature or cold. It's the perfect addition to a summer brunch. Serve it with fresh berries or sliced stone fruit, toast and iced coffee or Bloody Marys, if you're feeling celebratory. For an Italian-leaning picnic, pair it with sliced fresh mozzarella, thinly sliced prosciutto or salami, as well as crusty bread. Or simply serve it as an easy weeknight dinner alongside a green salad. 
Technique Tip: Leftover frittata can be refrigerated in an airtight container for up to 5 days. Serve cold, at room temperature, or rewarmed. 
Swap Option: Using a mix of both red and yellow cherry tomatoes lends an extra pop of color to this summer frittata.
Ingredients
8

large eggs

1/4

cup basil pesto, store-bought or homemade, plus more for serving

1/3

cup whole milk

1/2

teaspoon kosher salt
1/4

teaspoon freshly ground black pepper

1

tablespoon extra-virgin olive oil

1

cup cherry or grape tomatoes, halved

1

ounce Parmesan cheese (1/2 cup firmly packed freshly grated or 1/3 cup store-bought grated)
Preparation
1.
Arrange a rack in the top third of the oven and preheat the oven to 350 F.
2.
Crack 8 large eggs into a large bowl and whisk until blended and smooth. Add 1/4 cup pesto, milk, salt and pepper and whisk to combine.
3.
Heat the oil in a 10-inch cast iron or oven-safe nonstick skillet over medium heat until shimmering. Pour in the whisked eggs, tilting the pan to make sure the eggs spread out evenly to the edges of the pan. Scatter the tomatoes cut-side up all over the surface of the eggs and sprinkle the Parmesan over the top. Cook, undisturbed, until the eggs at the edges of the pan just begin to set, about 2 minutes.
4.
Transfer the skillet to the oven and bake until the eggs are just set, 18 to 20 minutes. Pierce the center of the frittata with a paring knife: It should come out clean without any raw, wet egg. If not, continue to bake until it does.
5.
Switch the oven to broil on high. Broil until the top of the frittata is golden-brown in spots, about 3 minutes. Let cool in the pan for at least 10 minutes. Slice into wedges and serve warm or at room temperature, garnished with a dollop of pesto.
How to shop TODAY recipes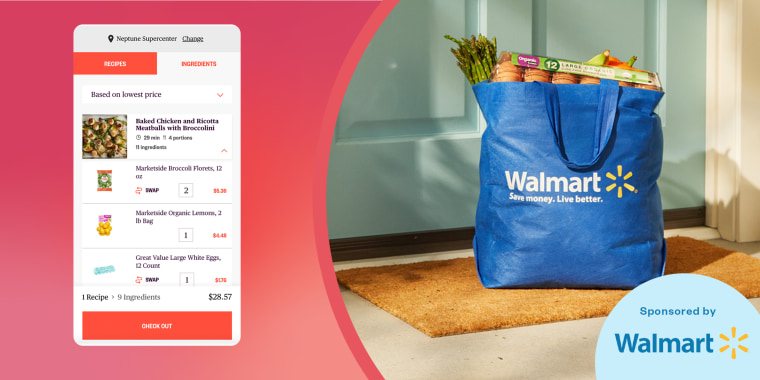 How to shop TODAY recipes
Here's everything you need to know about the cool new feature.
Learn More