Chef notes
Summer is all about salads. When produce is at its peak, it's hard not to want to celebrate it — and simple salads are the perfect way to do just that. This colorful tomato avocado salad hits all the right notes. It features sweet and juicy cherry tomatoes, chunks of buttery avocado, tangy quick-pickled red onion and chopped fresh cilantro. All of these fresh ingredients are tied together with a simple lime vinaigrette. It's a recipe that requires just five ingredients (not including olive oil, salt and pepper) and no more than five to ten minutes of active prep time. This salad is as easy and relaxed as the season, so there's no doubt it will become a favorite of yours for weeknight dinners, weekend cookouts and beyond.
While this tomato avocado salad comes together quickly, there is one important step that you shouldn't skip. Toss the thinly sliced red onion with lime juice in the bowl first, then let it sit for 20 minutes or so. During this time, the red onion will soften and slightly pickle, making it far more approachable and enjoyable than biting into pungent raw onion. 
As with most salad recipes, this one is adaptable. Add chopped cucumber or bell pepper for crunch, if you like, though you might need an extra drizzle of olive oil and squeeze of lime juice if you do. Swap the cilantro with parsley or basil if you're not a fan of the herb, or use lemon juice instead of lime juice. 
Technique Tip: This salad is best enjoyed immediately after it's made because the avocado will start to brown as it sits. 
Swap Option: Both cherry or grape tomatoes can be used in this salad. If you can find multi-colored cherry or grape tomatoes, even better, as they'll lend even more of a vibrant pop to this salad.
Ingredients
1/2

small red onion, peeled and thinly sliced

2

tablespoons freshly squeezed lime juice (from 1 medium lime)

15

ounces cherry or grape tomatoes

2

medium avocados, pitted, peeled and chopped
1/4

cup chopped fresh cilantro leaves and tender stems

2

tablespoons extra-virgin olive oil

1/4

teaspoon kosher salt, plus more to taste

1/8

teaspoon freshly ground black pepper, plus more to taste
Preparation
In a large bowl, combine the red onion and lime juice. Set aside for 20 minutes to quick-pickle.
Add tomatoes, avocado, cilantro, olive oil, salt and pepper and toss gently to combine. Taste and season with additional salt and pepper as needed. Serve immediately.
How to shop TODAY recipes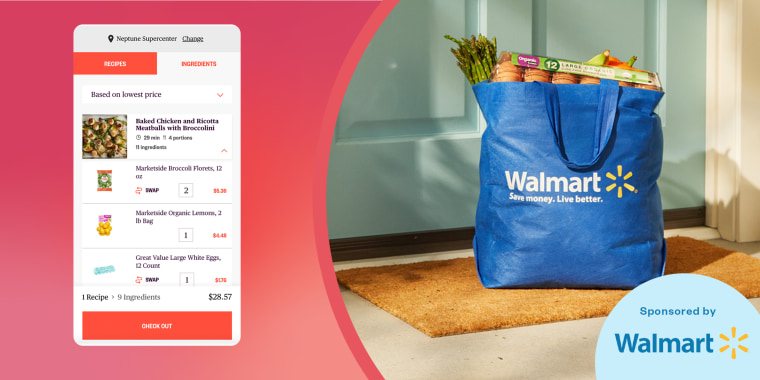 How to shop TODAY recipes
Here's everything you need to know about the cool new feature.
Learn More