Ingredients
1

stick butter, unsalted

1/2

cup walnuts (optional)

4

large ripe bananas

1

tablespoon lemon juice

1

teaspoon lemon zest (optional)

1 1/2

cups all purpose flour

1

teaspoon baking soda
2

teaspoon salt

3/4

cup sugar, plus extra

2

eggs

1/2

cup Greek yogurt (or sour cream)

2

teaspoon vanilla extract

1/2

cup bittersweet chocolate chips (optional)
Preparation
Preheat oven to 350F.
Melt butter in a small saucepan on the stove until just starting to brown. Take off heat and let cool. (Be sure scrape up the brown bits with the butter for nutty flavor). Note: if short on time, skip the browning step and just use room temperature butter.
If using, toast walnuts in the oven for a few minutes until slightly golden. Let cool.
Prepare two 8-inch loaf pans. Butter the pan and line the bottom with parchment paper, then dust with flour.
Mash bananas in a bowl with lemon juice, and zest. In a second bowl, stir together flour, baking soda and salt.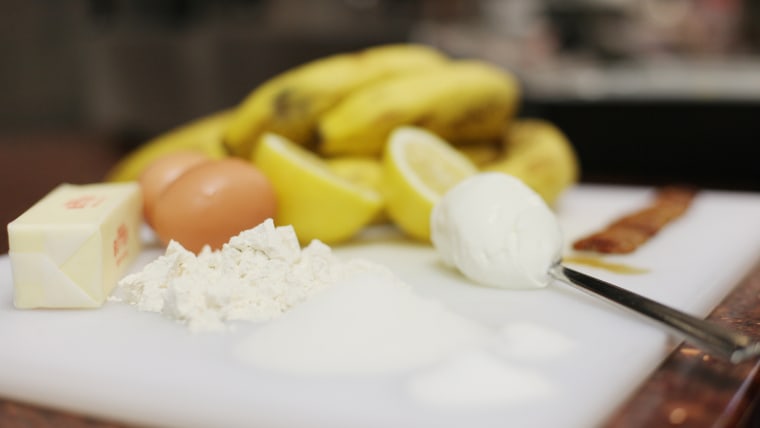 In a mixer with the paddle attachment, combine browned butter and sugar. Add in eggs, one at a time, and mix together until combined. Add yogurt and vanilla and mix. Next add flour mixture and mix together. Add mashed bananas and mix until combined. Add walnuts and chocolate chips, if desired.
Divide the batter between the two loaf pans and sprinkle the tops with a thin layer of sugar. (The sprinkling of sugar gives them a nice crust when they bake).
Bake approximately 45 to 55 minutes or until a toothpick inserted in the loaf comes out clean.
Cool on a wire rack and enjoy!