Chef notes
What chicken entrée would be complete without a well-made starch to accompany it? This jasmine rice and vegetable dish gets infused with tea for an other-worldly flavor profile that requires nothing but herbal tea and water. The result is a fulfilling, fragrant dish that can stand alone as a vegetarian meal or be the perfect sidekick to a nicely prepared protein like lemon chicken. Plus, just saying "tea-infused" makes it sound so much more laborious than it is.
Ingredients
Roast veggies
2

medium zucchini, sliced diagonally

3

cups baby portobello mushrooms

1

white onion, chopped
1

tablespoon low-sodium herb and garlic seasoning blend
Pinch of sea salt and cracked pepper
Rice
1

sachet lemongrass herbal tea

1½

cups uncooked jasmine rice
Zest of 1 lemon
1

tablespoon olive oil
Chopped fresh tarragon, for garnish
Preparation
1.
Set oven to 400 F.
2.
Add all the veggies to a deep baking tray or lasagna pan and in some olive oil and seasoning until every piece is coated. Roast in the oven for 15 to 20 minutes, or until the edges of the zucchini begin to brown.
3.
Meanwhile, bring 2½ to 2¾ cups of water to a boil, then add the tea bag and turn off the heat. Let it steep for 4 to 5 minutes.  Remove the sachet, then bring flavored water to a boil. Add rice, lemon zest and olive oil, then cook according to instructions provided until all liquid has been absorbed.  Set aside.
4.
Add the cooked rice to the sheet pan of veggies and thoroughly mix well together.  Garnish and enjoy on its own or under Lemon Tarragon Chicken.
How to shop TODAY recipes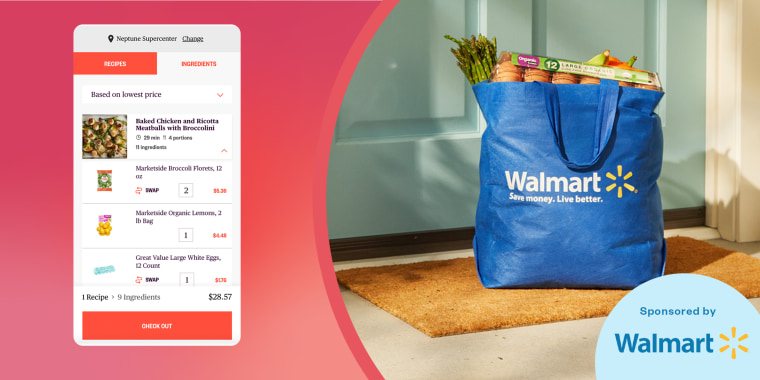 How to shop TODAY recipes
Here's everything you need to know about the cool new feature.
Learn More