Chef notes
It's always a party when nachos are involved. The combination of crunchy chips, spicy toppings and melted cheese is something just about everyone can agree is delicious. Serve them at a tailgate, movie night or game night and you can be sure they'll be polished off in next to no time.
Digging into nachos is typically a family-style, hands-on affair. That's why these individual nacho packets are so brilliant. They feature all the same, great ingredients of a classic platter of nachos but are stuffed into individual foil packets instead. They're also made on the grill to keep the mess outside and impart a smoky flavor in each bite — though you can also bake them in a 400 F oven, if you prefer.
Be sure to use heavy-duty aluminum foil when making these nacho packets to ensure that there's no risk of them ripping and leaking while they cook. While we think the melty cheddar and Velveeta cheese base for these nachos is non-negotiable, the rest of the toppings are really up to you.
Our recipe calls for a combination of black beans or pinto beans, pickled jalapeno peppers, sliced black olives and sliced scallions, along with sour cream, salsa and guacamole for serving. Cooked and crumbled ground beef, shredded chicken, sautèed mushrooms, pulled pork or roasted peppers and onions are just a few topping options that would be equally crowd-pleasing. Since these are individual packets, make it even more fun by setting up a spread of assorted toppings so that everyone can DIY their own nachos.
Ingredients
Nacho base
16

ounces tortilla chips (1 bag)

1

(8-ounce) bag shredded cheddar cheese
8

ounces Velveeta cheese, cut into 1-inch cubes
For the Toppings
1

(15-ounce) can black beans or pinto beans

1

(12-ounce) jar pickled jalapenos

1-2

(2¼-ounce) cans sliced black olives

1

bunch scallions
salsa, for serving
sour cream, for serving
guacamole, for serving
Preparation
1.
Preheat a gas or charcoal grill to 400 F or medium direct heat.
2.
For each nacho packet, create a 2-foot long piece of heavy-duty aluminum foil and lay on a flat surface. Crimp the edges of the foil up slightly to make "walls" for the packet. 
3.
Place about 1/4 of the tortilla chips on one side of the foil, leaving about 2 inches of space around the edges so you'll be able to seal the foil packet.
4.
Top the chips with about 1/2 cup shredded cheese and 1/4 of the Velveeta cheese cubes.
5.
Fold the foil packet over to enclose the chips and cheese and crimp the edges together to seal.
6.
Place the packet directly on the grill grates and close the lid. Cook for about 5 minutes, until the cheese melts and the chips start to toast at the edges. 
7.
Top the nachos with any or all of your favorite fixings and serve immediately.
How to shop TODAY recipes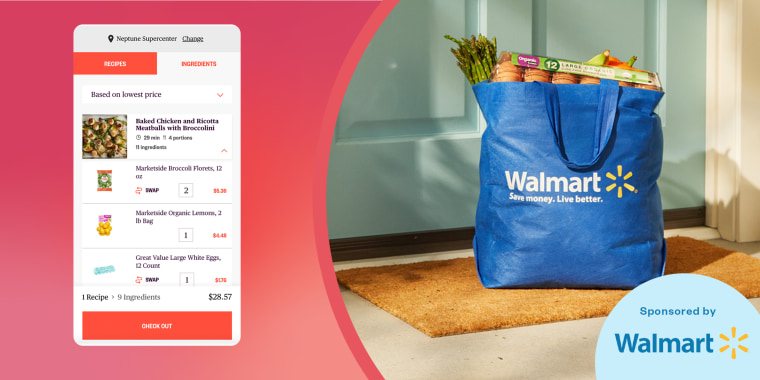 How to shop TODAY recipes
Here's everything you need to know about the cool new feature.
Learn More