Ingredients
3

sweet potatoes (2½ lb. total)

4

tablespoons unsalted butter, divided

3

medium carrots (1/2 pound total)

2

large celery stalks

1

small yellow onion

4

cloves garlic

1

tablespoon chopped fresh thyme

2

tablespoons chopped fresh rosemary
1½

pounds 85% lean ground beef
kosher salt and freshly ground black pepper, to taste

3

tablespoons tomato paste

2

tablespoons all-purpose flour

1½

cups beef stock

1

tablespoon Worcestershire sauce (optional)

1

cup frozen peas

1

cup shredded sharp cheddar cheese, divided
Chef notes
Shepherd's pie is one of the longest standing comfort dishes for good reason: The stick-to-your ribs meal offers all the elements of a balanced plate — protein, veggies and carbs — in every bite.
Ground beef, carrots, celery, onion and peas are simmered in a savory, herby gravy and are topped with a mound of fluffy mashed potatoes. In this twist, sweet potatoes replace russets for a sweet boost of beta carotene and vitamin C. Add sharp cheddar cheese to the mix and have yourself a winner for dinner.
This dish isn't a 30-minute meal but we've streamlined it so cleanup is easy and you don't need to navigate multiple pots or pans on the stovetop. (Besides the skillet, you'll use a baking sheet for roasting the sweet potatoes, but that is completely hands-off — just set a timer!) If you're craving shepherd's pie but feel pressed for time during the week, chop the veggies and roast and mash the sweet potatoes ahead of time (simply reheat them in the microwave to take off the chill). It'll nearly eliminate the prep.
Comfort dishes sometimes require a little extra TLC, but this is one with handsome rewards — it's a hearty meal that'll feed your belly and your soul.
Choose your vessel: We love that this is essentially a one-pot situation (minus the baking sheet for roasting the potatoes). However, if you don't have a cast-iron skillet or an oven-safe pan, you can transfer the mixture to a 2½- to 3-quart baking dish before topping it with the sweet potatoes.
Swap option: Feel free to go the more traditional shepherd's pie route and use ground lamb instead of beef. Or, if you're trying to lighten up things, ground turkey is a great option ( swap the beef stock for chicken stock if you head this direction).
Preparation
1.
Adjust oven rack to the middle position and heat to 425 F. Thoroughly scrub sweet potatoes and poke all over with a fork. Place on an aluminum foil-lined baking sheet and roast for 45 to 50 minutes, until tender.
2.
While sweet potatoes are roasting, peel and dice carrots and onion. Dice celery. Peel and thinly slice garlic.
3.
Meanwhile, heat a 12-inch cast-iron skillet over medium heat. Add 2 tablespoons butter and melt. Add carrots, celery, onion and garlic to the skillet. Cook, stirring frequently, until vegetables begin to soften, 8 to 10 minutes. Stir in thyme and rosemary; cook for 1 minute.
4.
Add ground beef, along with a large pinch of salt and pepper. Cook, breaking up the meat with a spoon, until it is no longer pink, 6 to 8 minutes.
5.
Add tomato paste to the pan and cook, stirring, for 2 minutes. Stir in flour and cook 1 minute. Pour in beef stock and, if using, Worcestershire, scraping the bottom of the pan to remove any browned bits. Bring to a simmer. Reduce heat to medium-low and cook until thickened and veggies are tender, about 5 minutes. Stir in peas. Season with salt and pepper. Turn off heat and set aside.
6.
Once sweet potatoes are finished roasting, cool slightly, then scoop the flesh into a large bowl, discarding skins. Mash with remaining butter and half the cheddar cheese. Season with salt and pepper. Spread sweet potatoes evenly on top of the skillet (or baking dish), leaving a 1-inch border. Sprinkle sweet potatoes with remaining cheddar.
7.
Heat oven to broil. Watching the entire time, broil shepherd's pie on the middle rack until the cheese is lightly browned and bubbling, 3 to 4 minutes. Cool 10 minutes before serving.
How to shop TODAY recipes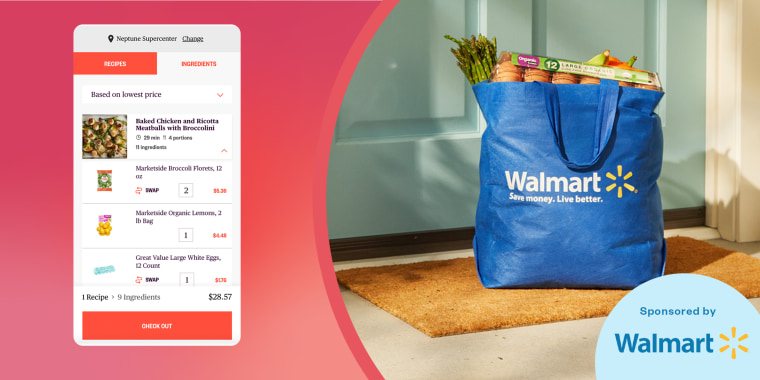 Here's everything you need to know about the cool new feature.