Chef notes
This shareable party version of a classic Salad Niçoise with a twist is perfect for entertaining large groups. Savory grilled skirt steak and shrimp are paired with crispy little potatoes, garlicky green beans, marinated tomatoes, hard-boiled eggs, pickled onions, olives, avocado and more — all arranged on a big colorful platter. Note that there are a lot of steps to this salad due to the amount of components, but think of it as preparing a main and a few sides, then serving them all in one platter. Everything can be served chilled (even the steak and shrimp!) and quite a few of these steps can be prepped a day or two in advance, which actually makes this recipe ideal for parties since all you have to do day-of is arrange everything into a gorgeous platter and serve!
Get Ingredients: If you don't have everything you need on hand, you can easily purchase all of the ingredients (just click the orange button below that says 'Get Ingredients'). You can pick and choose exactly what ingredients you need based on what's in your pantry and they'll be on your doorstep before you know it.
Ingredients
For the Steak
2½

pounds skirt steak or flank steak

3

tablespoons neutral oil

3

large limes, zested and juiced (about 1/3 cup)
3

large cloves garlic, grated

1

tablespoon kosher salt

1

teaspoon ground black pepper
For the Shrimp
2

pounds extra-large shrimp, peeled and deveined

2

tablespoons neutral oil

1

large garlic clove, grated
1

teaspoon kosher salt

1/2

teaspoon ground black pepper
For the Vinaigrette
1

large lemon, zested and juice

1/4

cup champagne or white wine vinegar

1

teaspoon Dijon mustard

1/3

cup extra-virgin olive oil
1/2

small shallot, finely minced

1

small bunch chives, finely minced

2

cloves garlic, minced
kosher salt and freshly cracked black pepper, to taste
For the Salad
1/3

cup olive oil, divided, plus more for serving

1½

pounds small potatoes, halved

10

ounces green beans, trimmed

2

cloves garlic, finely chopped

1½

cups cherry or grape tomatoes, halved

1

red onion, thinly sliced

1

lime, juiced

6

cups little gem or bibb lettuce

2

small summer squash or zucchini, thinly sliced into rounds

5

radishes, thinly sliced
1

English cucumber, thinly sliced

5

hard-boiled eggs, halved

2

ripe hass avocados, peeled, pits removed and sliced

1/3

cup pitted green olives, such as Castelvetrano

1/3

cup pitted black olives, such as kalamata

1/4

cup caper berries

1

small tin anchovies (optional)

4

ounces goat cheese or feta cheese, crumbled
flaky sea salt, for serving
freshly ground black pepper, for serving
Preparation
Make the steak
Cut the skirt steak into 6-inch pieces and place in a large bowl or zipped gallon bag. Add the olive oil, lime juice, grated garlic, salt and pepper and toss to combine. Marinate for at least 30 minutes and up to 24 hours.
Cook on a skillet or grill for 3 minutes per side, or to desired doneness. Remove from heat and let sit for 10 minutes before slicing into thin slices against the grain. Set aside.
Make the shrimp
In a large mixing bowl, toss shrimp with oil, garlic, salt and pepper. Thread onto skewers and grill, or sauté in a skillet over medium high heat for 2 to 3 minutes per side. Set aside.
Prepare the vinaigrette
In a medium bowl, whisk together lemon juice and zest, champagne vinegar, and mustard until combined. Whisk in the shallot, chives, and minced garlic. Season with kosher salt and black pepper to taste. Slowly add the oil and whisk constantly until emulsified. Set aside.
Cook the potatoes
Preheat the oven to 425 F. Place halved potatoes on a large sheet pan and drizzle with 2 tablespoons olive oil. Season with kosher salt and black pepper. Roast for 20 minutes, tossing the potatoes halfway through, or until potatoes are crispy on the outside and tender inside.
Cook the green beans
While the potatoes are cooking, heat 2 tablespoons olive oil in a heavy-bottom skillet over medium-high heat. Add chopped garlic and allow to sizzle for a few seconds before adding the trimmed green beans. Season generously with salt and a crack of black pepper. Cook about 5 to 7 minutes, stirring frequently, until the green beans are tender and slightly charred.
Prep the tomatoes
In a medium mixing bowl, combine the tomatoes, olive oil, salt and black pepper until coated. Set aside.
Prep the red onions
Combine the sliced red onion and lime juice in a bowl with a sprinkle of salt. Toss to coast and set aside.
Assemble and serve the salad
Arrange the lettuce over 2/3 of your largest serving platter. Add the cooked steak, shrimp, potatoes and green beans partially over the greens, keeping each ingredient together in its own section with just a small bit of overlap between items. Top with summer squash, tomatoes, lime-pickled onions, radishes, cucumber, eggs, avocado, olives, caper berries, anchovies (if using) and crumbled goat cheese. Drizzle a few teaspoons of the dressing over the greens and vegetables, serving the rest in a small bowl on the side. Season with flaky sea salt and a few cracks of black pepper. Serve immediately.
How to shop TODAY recipes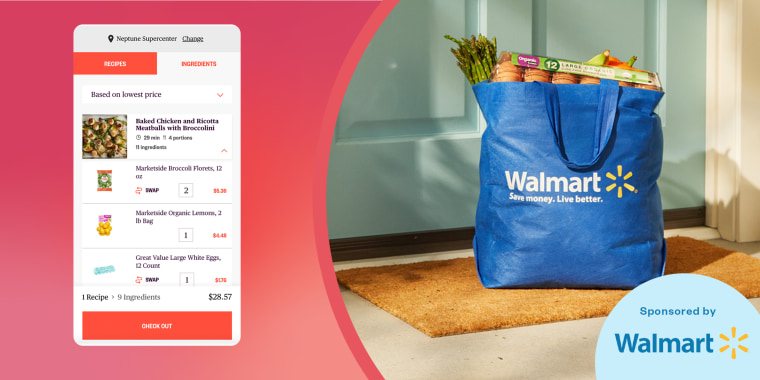 How to shop TODAY recipes
Here's everything you need to know about the cool new feature.
Learn More