Ingredients
Brussels sprout salad
1

pound Brussels sprouts

2

tablespoons olive oil

1/2

cup finely chopped red onion

1/2

teaspoon ground nutmeg
Kosher salt and black pepper

1/2

cup dried cranberries

1/2

cup chopped Sunny's Cranberry and Rosemary Glazed Pecans (recipe follows)
Glaze
2

tablespoons water, water, vodka, beer or champagne

1/4

cup cranberry sauce (jelly)
Nuts
3

cups pecan halves

1

tablespoon gently chopped fresh rosemary
Maldon flaked sea salt and coarse ground black pepper
Chef notes
Sunny Anderson's Brussels sprout salad has the big flavors of the holidays — cranberries, pecans, rosemary, nutmeg — while still being fresh and light. It's a refreshing reprieve from all the heavy eating of the rest of the meal.
Preparation
For the Brussels sprouts:
Prepare the Brussels sprouts. Shred the Brussels sprouts by removing the core and thinly slicing or passing them through a food processor with the slicing blade.
Cook the Brussels sprouts. Add the olive oil to a large pan over medium-high heat and warm until it begins to swirl. Add the Brussels sprouts, red onion, nutmeg, a pinch of salt, and a nice grind of pepper, to taste. Cook, stirring or tossing, until the Brussels sprouts are bright and only slightly wilted, about 2 to 3 minutes. Take a bite, is the raw flavor gone? Move on.
Finish the salad. Remove from the heat and add the dried cranberries, pecans and toss to combine. Taste the salad and season with more salt if needed. Serve warm or chilled.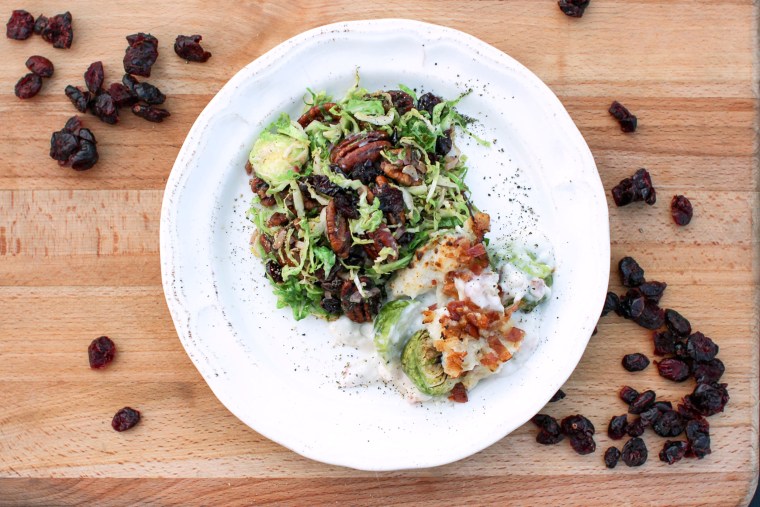 For the nuts:
Make the glaze. In a large non-stick pan on medium high add the water, cranberry sauce jelly and sugar. Stir while cooking until the mixture begins to bubble, about 5 minutes.
Toast the nuts. Add the pecans and rosemary to the pan and continue to stir and toss until the nuts soak up and are coated by the glaze, about 5 more minutes. Remove from the pan to a parchment-lined plate or sheet and sprinkle with salt and a few grinds of pepper. Allow the nuts to cool before breaking apart and serving.