Ingredients
Muffins
1 3/4

cup all-purpose flour

1

teaspoon baking powder

1/2

teaspoon baking soda

1/2

teaspoon salt

2

cups diced rhubarb

3/4

cup brown sugar
1/4

cup canola oil

1

egg

1/2

teaspoon vanilla extract

2

teaspoons lemon juice

1

teaspoon lemon zest
Preparation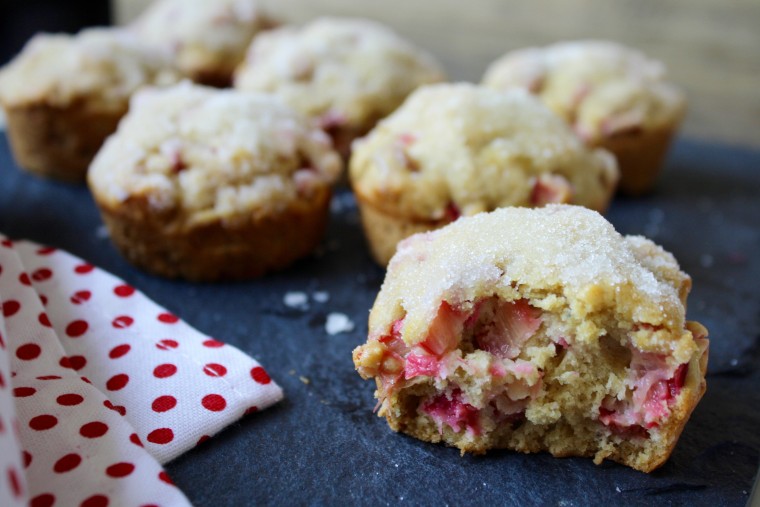 Preheat the oven to 350 degrees F. Line a 12-cup muffin tin with liners or grease with butter or cooking spray.
In a large bowl, whisk together the flour, baking powder, baking soda, and salt. Add the rhubarb and toss to coat with the flour mixture (this will help prevent the rhubarb from sinking to the bottom of your muffins).
In a medium bowl, whisk together the brown sugar, oil, egg, vanilla extract, lemon juice, and zest. Pour the sugar mixture into the flour mixture and stir until just combined.
Pour the batter into the muffin cups, dividing evenly. Bake for 18 to 22 minutes, until a toothpick inserted into the center of a muffin comes out dry. Let the muffins cool for a few minutes before removing from the tin.
Place the melted butter and granulated sugar in separate small, shallow bowls. Dip the top of a muffin into the butter, then dip gently into the sugar, turning to coat lightly. Place the muffin onto a rack to cool completely and repeat with the remaining muffins.