Ingredients
8

slices sourdough bread (about 12 ounces)

3/4

cup strawberry preserves

4

large eggs

1/2

cup plus 3 tablespoons sugar, divided

1/2

teaspoon grated orange zest (optional)
1

teaspoon pure vanilla extract

2

cups whole milk

2

cups sliced strawberries

2

tablespoons unsalted butter, thinly sliced
Chef notes
Think of this luscious dish as a cross between French toast and bread pudding. It has all the yummy flavors of jam–filled French toast with the throw–it–all–together simplicity of bread pudding. It's especially fantastic for entertaining houseguests because it's quickly prepared at night and then baked the following morning. Strawberry jam is my favorite, but apricot, blackberry or even fig jam would be lovely. 
Preparation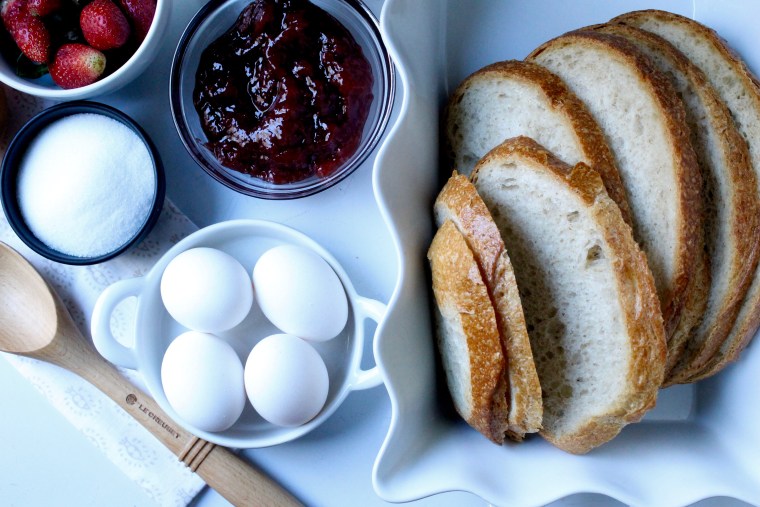 1.
Gather your ingredients.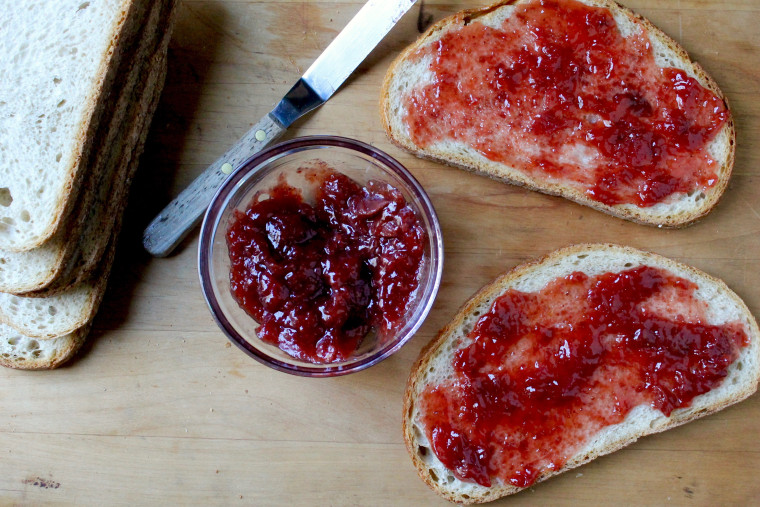 2.
On a cutting board, spread the jam between the bread slices.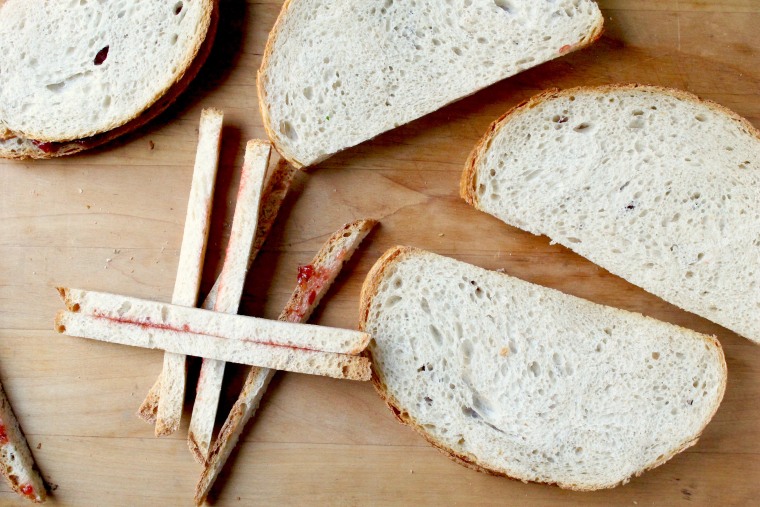 3.
Close the sandwiches and trim the crusts.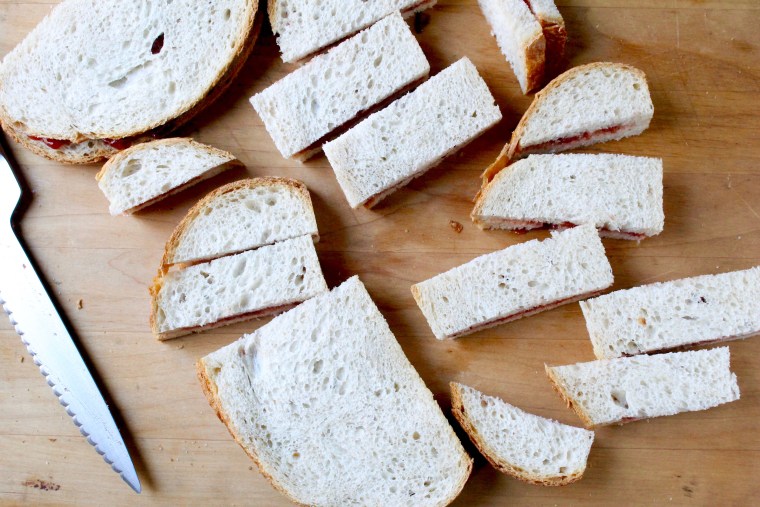 4.
Cut the sandwiches into 1½–inch wide strips.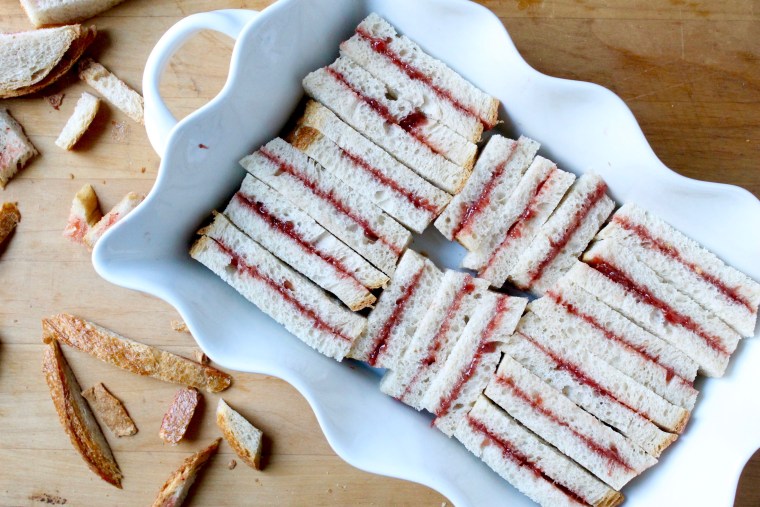 5.
Arrange the strips, cut sides up in an 8–inch by 11–inch baking dish.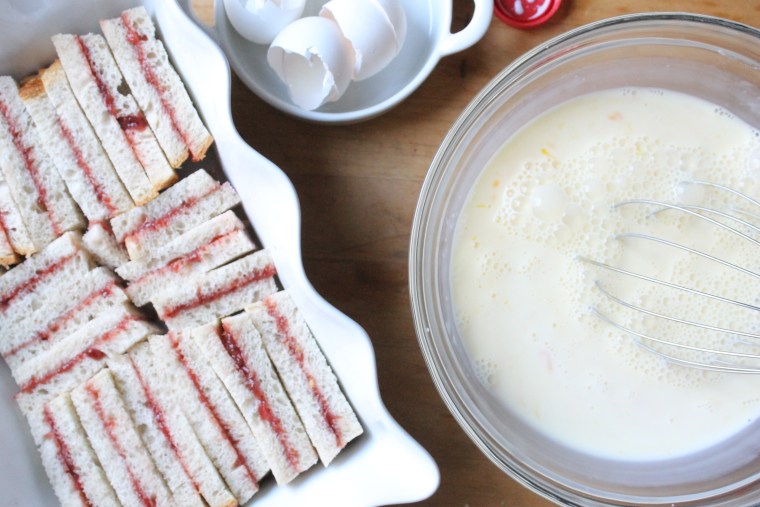 6.
In a medium bowl, whisk the eggs with a 1/2 cup of the sugar, the orange zest and the vanilla. Whisk in the milk.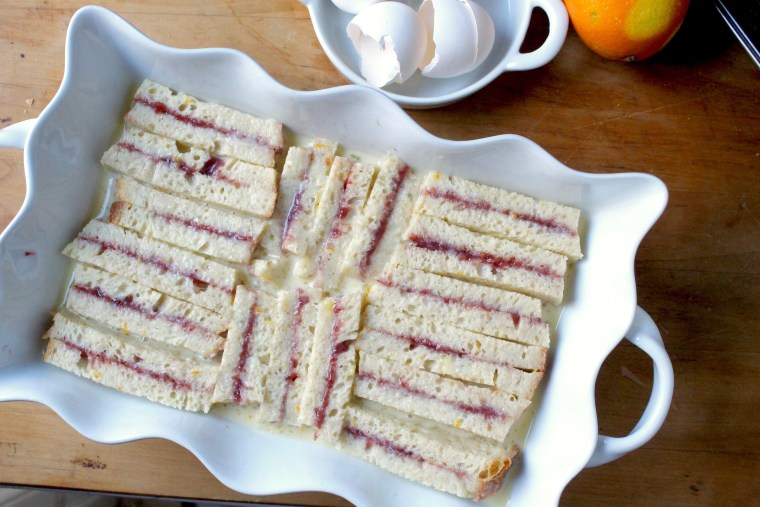 7.
Pour the custard over the bread.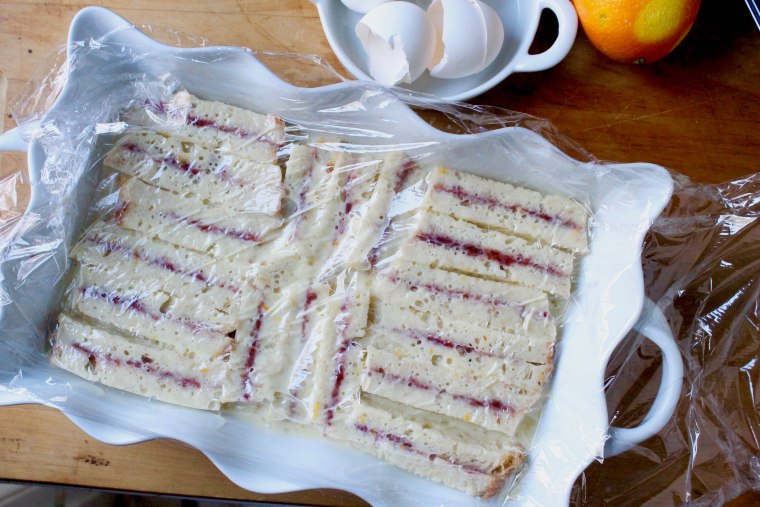 8.
Press a sheet of plastic wrap directly onto the surface and refrigerate overnight.
9.
Preheat the oven to 325°F. Remove the plastic and allow the dish to sit at room temperature for 30 minutes. Meanwhile, toss the strawberries with 2 tablespoons of the sugar and let sit.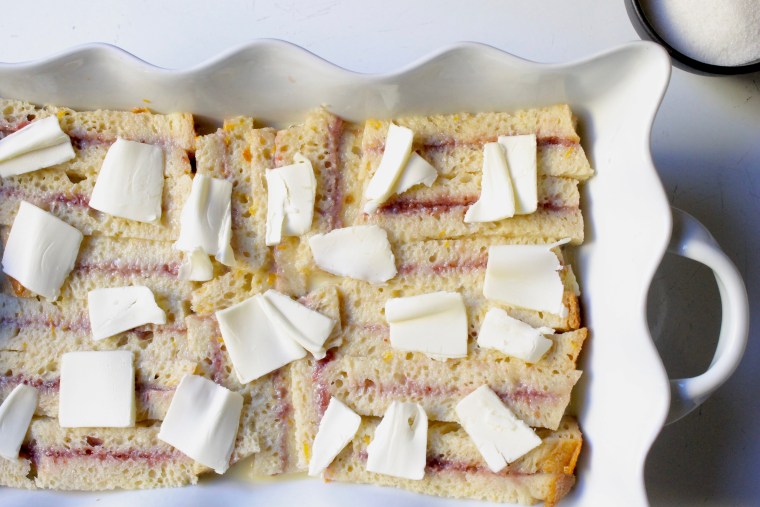 10.
Scatter the butter on top and sprinkle with the remaining 1 tablespoon sugar. Cover loosely with foil and bake for 25 minutes. Remove the foil and bake until the top is golden and puffed and the custard is set, about 35 minutes longer. Let sit 10 minutes.
11.
Serve with the macerated strawberries.
Grace Parisi is a New York City-based food writer, cookbook author and food stylist. Her book, Get Saucy, was nominated for a James Beard award. Her latest book, Quick Pickles comes out in Spring 2016. Follow her on Instagram and Twitter.