Chef notes
These strawberry-rhubarb pie bars hit all the buttery, jammy notes of a double-crust fruit pie but are far simpler to make. A single pie dough recipe does double duty as a bottom crust that's pressed into the pan and a topping that's strewn over the fruit filling. The dough comes together quickly in a bowl—no special equipment or pie-making prowess needed. 
Notably, the dough becomes crisp and flaky once baked, with enough structure to stand up to the abundance of juicy fruit filling. While many recipes call for a jam filling, this one features fresh strawberries and rhubarb, which are finely chopped so that they cook quickly. A little bit of cornstarch helps to thicken the juices. 
The resulting bars are quintessentially spring, with the red, gorgeous fruit peeking up around the patchwork crust. They're easy to slice and eat out of hand, making them ideal for picnics or potlucks, or just an anytime snack. And while at their absolute best the day they're baked, the bars hold up well in the refrigerator for up to three days.
Want even more bars? You can double the recipe and use a 9-by-13-inch pan, rather than an 8-inch square pan, which is called for in this recipe. 
Swap Option: Swap out other seasonal fruit for the strawberries and rhubarb, such as raspberries, blackberries, blueberries and/or peaches. You may also omit the almonds from the top crust, or try other types of nuts in their place, such as chopped walnuts or pecans. 
Ingredients
For the bottom crust and topping
2

cups all-purpose flour

1/4

cup light brown sugar

3/4

teaspoon kosher salt
10

tablespoons unsalted butter, melted

1/4

cup sliced almonds

1

teaspoon cold water
For the filling
2

cups finely chopped strawberries

2

cups finely chopped rhubarb

1/2

cup granulated sugar
1

teaspoon lemon zest (from 1 lemon)

2

tablespoons cornstarch
Preparation
1.
Preheat the oven to 350 F. Coat the bottom of an 8-inch square pan with butter or nonstick spray, and line with parchment paper that hangs over two sides.
2.
In a medium mixing bowl, whisk together flour, brown sugar and salt. Add melted butter and stir until combined.
3.
Transfer 1 cup of the dough to a small bowl; this portion will be used as the topping. Add almonds and cold water. Using your hands, press the dough together into a cohesive mass (a few crumbles are fine) and freeze for about 20 minutes.
4.
Transfer the remaining dough to the prepared pan (note: save the mixing bowl for the fruit filling; just wipe it clean). Using your hands, evenly press the dough onto the bottom of the pan. Bake for 15 minutes, or until lightly browned. Transfer to a rack to cool slightly. (You can bake the crust up to 8 hours in advance, or use it while it's hot.) Increase the oven temperature to 375 F.
5.
Meanwhile, make the fruit filling: In the same mixing bowl, add the strawberries, rhubarb, sugar and lemon zest and toss to combine. Add the cornstarch and toss to evenly coat.
6.
Pour the fruit filling over the bottom crust, distributing it evenly.
7.
Break off clumps of the reserved dough, each about a tablespoon in volume, and flatten to an even thickness between your hands. (It's okay if the pieces are irregular in shape and size!) Scatter them over the fruit; they should mostly cover (but not obscure) the filling.
8.
Bake the pie bars for 40 to 50 minutes, or until the fruit filling is bubbling around the edges and the top crust is golden brown. Transfer to a rack to cool completely.
9.
Run a knife around the pan to release the edges. Using the parchment, lift and transfer to a cutting board and cut into squares. Store at room temperature for up to a day in an airtight container; after that, they'll keep best in the refrigerator.
How to shop TODAY recipes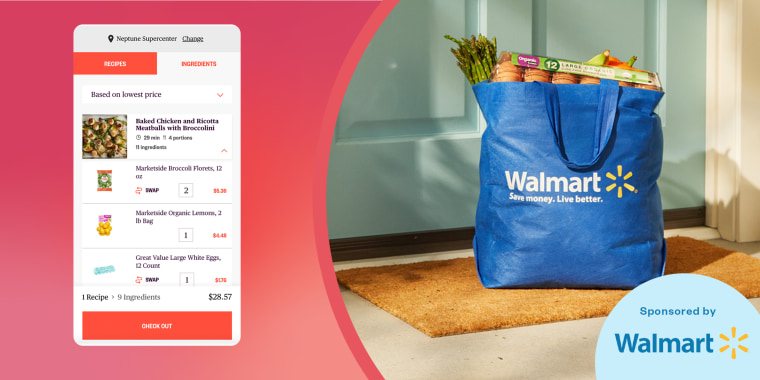 How to shop TODAY recipes
Here's everything you need to know about the cool new feature.
Learn More