Ingredients
6

tablespoons unsalted butter, softened, plus more for pan

1/4

cup all-purpose flour

2

cups half-and-half

1/8

teaspoon freshly grated nutmeg

1/8

teaspoon cayenne pepper
kosher salt and freshly ground black pepper

1

pound lasagna noodles

1/2

cup extra-virgin olive oil, plus more for drizzling
2

(10-ounce) bags fresh spinach

1

(10-ounce) bag frozen peas

6

cloves garlic, smashed and peeled

1

pound ricotta cheese

1/2

teaspoon grated lemon zest

4

ounces Parmesan cheese, finely grated (about 1 cup)

2

tablespoons chopped chives
Chef notes
Nothing signals the start of spring quite like farmers' market stalls full of curly greens and endless varieties of seasonal peas. The bright green pops of color and fragrant smells are all I need to inspire flavorful dishes like this Spring Vegetable Lasagna. While lasagna tends to be pretty dense, meaty and heavy, this recipe is much lighter while still being a filling and oh-so satisfying vegetarian meal. 
This is a great recipe to put together on Sunday afternoon and enjoy for dinner. It takes some time to build, but once you have all of your components ready, it's a cinch. Par-boiled lasagna noodles are topped with five flavorful layers — a creamy bechamel sauce, blanched spinach and peas, nutty Parmesan cheese, lemon-scented ricotta and a homemade garlicky pesto sauce. 
The key to a sturdy well-made lasagna is a proper layering technique. I like to partially cook my noodles before I start layering. Although this isn't an absolutely necessary step, having pliable noodles to work with makes it easier to get even, condensed layers. Start with the noodles as the foundation, then layer the sauces, cheeses and vegetables. Make sure you are getting even layers of each component — this way each slice will look picture-perfect and every bite will contain a little bit of each flavor. 
Perhaps the most important part of any lasagna is achieving those desirable crispy golden edges. Just like when people fight over the edge pieces of a pan of brownies, I immediately opt for the corner slices of lasagna. This dish spends about 20 minutes in the oven uncovered, which makes those curly noodles extra crunchy. 
Technique Tip: Those crispy brown edges are the best part of any lasagna — get them nice and golden by starting the lasagna off covered, then uncover for the last 15 to 20 minutes. 
Swap Option: This recipe is super versatile and can be made with a variety of seasonal vegetables. When the temperature drops, try autumn greens like kale and broccoli rabe. 
Preparation
1.
Preheat the oven to 400 F. Brush a 9-by-13-inch baking dish with butter; set aside.
2.
Melt 4 tablespoons butter in a small saucepan over medium heat. Add flour and cook, stirring, until lightly toasted, about 2 minutes. Slowly whisk in half-and-half. Bring to a gentle simmer and cook, whisking often, until thickened slightly, 3 to 4 minutes. Remove from heat and whisk in nutmeg, cayenne and ½ teaspoon salt; cover to keep warm.
3.
Meanwhile, bring a large pot of water to a boil and season with 2 tablespoons salt and a generous drizzle of oil. Add noodles and cook for 5 minutes. Gently lift noodles out of water and drain on paper towels. Return water to a boil and add spinach and peas; cook until just wilted and bright green, about 1 minute. Drain the vegetables in a colander and rinse under cold water. Once cool, use your hands to squeeze out as much liquid as possible.
4.
Place 1½ cups of spinach and peas, garlic, olive oil, ½ teaspoon salt and ¼ teaspoon pepper in the bowl of a food processor or blender and pulse until smooth. In a small bowl, combine ricotta, lemon zest, and ⅛ teaspoon each salt and pepper.
5.
To assemble, line the bottom of the prepared baking dish with ¼ of the noodles. Spread 1/4 of the bechamel and 1/3 of the ricotta mixture over the noodles. Scatter 1/3 of the spinach and peas and 1/4 of the Parmesan over the top; drizzle with 1/3 of the spinach pesto. Repeat the layering process three times, ending with the last layer of noodles and remaining bechamel and Parmesan. Dot top of lasagna with remaining 2 tablespoons butter. Cover tightly with aluminum foil.
6.
Bake for 20 minutes. Uncover and continue baking until browned in places and bubbling around the edges, 15 to 20 minutes more. Let stand at least 15 minutes before serving, sprinkled with chives.
How to shop TODAY recipes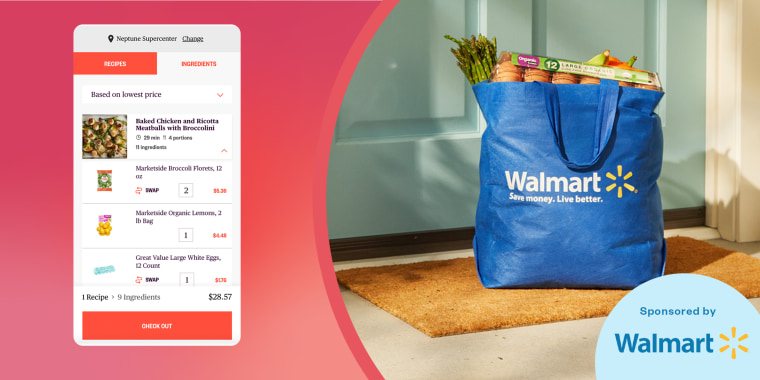 How to shop TODAY recipes
Here's everything you need to know about the cool new feature.
Learn More