Ingredients
1

14-ounce package extra-firm tofu, cut into 6 slices crosswise and pressed

1/4

cup soy sauce

1

tablespoon rice wine vinegar

1

teaspoon minced fresh ginger

1/2

cup chicken broth

1

tablespoon sambal oelek (Southeast Asian chile sauce)

1

teaspoon cornstarch

1

tablespoon canola or vegetable oil
1

small onion, diced

1

red bell pepper, thinly sliced

1/2

pound cremini mushrooms, sliced

1

carrot, julienned

2

cloves garlic, minced

2

scallions, sliced

1/4

cup roasted peanuts, chopped, plus more for garnish
Cooked white or brown rice, for serving
Preparation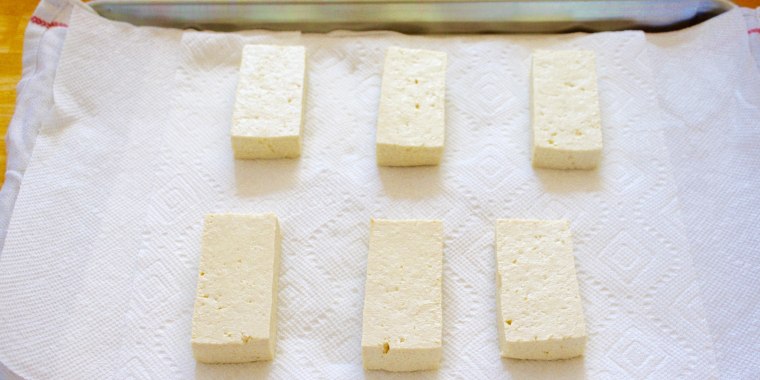 1.
Press the tofu: Lay a clean dishtowel or a few paper towels on a baking sheet or plate. Slice the tofu widthwise into slabs (I like to create 6 slices) and lay them on the baking sheet.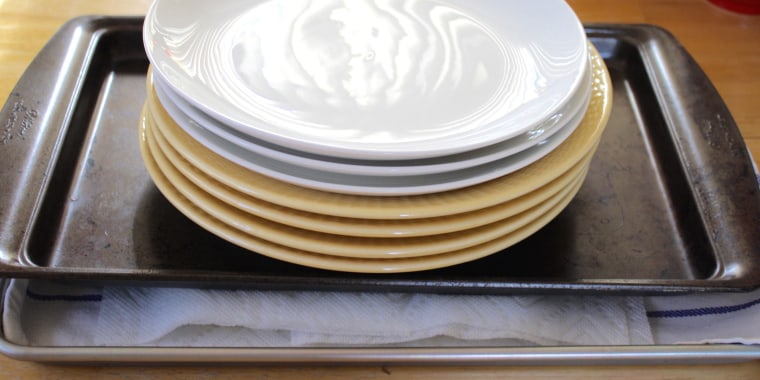 2.
Cover with another dishtowel or set of paper towels, then place another baking sheet or plate on top. Then place something heavy on top to help press out the water—books, a stack of bowls or a cast-iron pan all work well. Let sit for at least 30 minutes.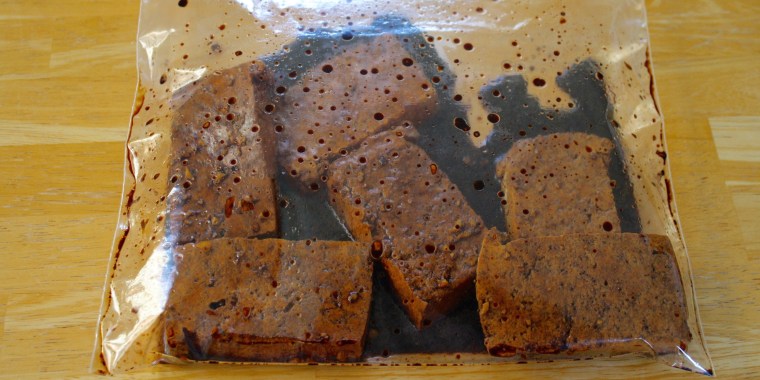 3.
In a resealable plastic bag, combine the soy sauce, rice wine vinegar and ginger. Add the tofu and turn gently to coat. Place in the refrigerator to marinate for about 15 minutes.
4.
Preheat the broiler.
5.
When the tofu is marinated, arrange in a single layer on an aluminum foil-lined baking sheet. Broil for 10 to 15 minutes, until the tofu is golden. When cool enough to handle, cut into 1/2-inch cubes.
6.
Meanwhile, pour the leftover marinade into a bowl. Whisk in the chicken broth, sambal oelek and cornstarch and set aside.
7.
In a large skillet, heat the canola oil over medium-high heat. Add the onion, red bell pepper and mushrooms. Cook until the vegetables are tender, about 5 to 8 minutes. Add the carrots and garlic and cook, stirring often, for 1 minute. Add the reserved marinade mixture and cook until the sauce thickens slightly, about 1 minute.
8.
Remove from the heat and stir in the tofu, scallions and peanuts. Serve over rice garnished with additional peanuts.