Chef notes
Cooking pasta in the slow cooker can be tricky — you can end up with mushy noodles or a dried-out mess. But this recipe works wonderfully; start with uncooked regular lasagna noodles, which will hold their shape well, and cook on low for less than 4 hours to prevent overcooking. Adding a little water to the marinara helps prevent the sauce from drying out, and plenty of spinach and fresh basil cut through the rich cheese. Plus, it's simple (and fun) to assemble, too.
Ingredients
1

cup ricotta

2

10-ounce packages chopped frozen spinach

1/4

cup minced fresh basil

1

cup Parmesan
3

cups jarred or homemade marinara sauce

6

regular lasagna noodles

2

cups grated part-skim mozzarella
Preparation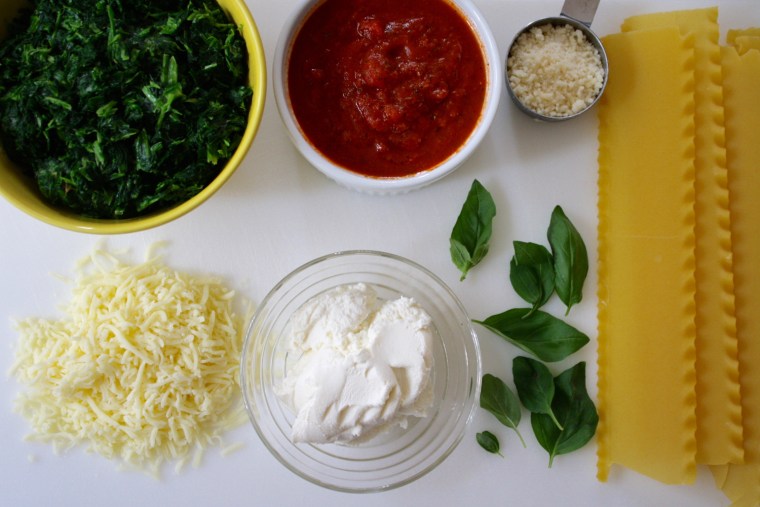 In a bowl, mix the ricotta, spinach, fresh basil and 1/2 cup Parmesan.
In another bowl, mix the marinara sauce with 1/2 cup water.
In the bottom of a 6-quart slow cooker, spread about a quarter of the marinara mixture to lightly cover the bottom. Top with 2 noodles (breaking to fit if necessary) and another quarter of the marinara. Top with half the spinach mixture, then 1/2 cup of the mozzarella. Repeat with 2 more noodles, marinara, spinach mixture and mozzarella. Top with the remaining 2 noodles, marinara, remaining 1 cup mozzarella and remaining 1/2 cup Parmesan. 
Cover and cook on low until the pasta is tender, about 3 1/2 hours.