Ingredients
2

tablespoons canola oil

2

fresh chorizo or hot Italian sausages, casings removed

1

medium onion, chopped

1

red bell pepper, seeded and diced

1

jalapeño, seeded and finely chopped

4

scallions, thinly sliced

1½

tablespoons ground cumin

1/4

teaspoon cayenne pepper

1

28–ounce can fine diced tomatoes with their juices
1

8–ounce can tomato sauce

1

14–ounce can black beans, drained
Salt and freshly ground pepper
Softened unsalted butter for the slow cooker

9

tostadas, plus more for serving

1½

cups shredded cheddar, plus more for serving

6

large eggs
Finely chopped cilantro, for serving
Chef notes
This supremely delicious (and supremely easy!) one–pot dish makes a great breakfast or brunch. Tostadas (tortilla chips are fine too) are layered with chorizo, cheese and a yummy sauce in a slow cooker and set on high for 4 hours. Then the eggs are added to poach in the mixture for the last 30 minutes. Most slow cooker dishes can sit on the "keep warm" setting for quite a while, but once the eggs are cooked, you should serve it right away.
Make-Ahead Tip: The casserole can be cooked on low for 8 hours. Raise heat to high before adding the eggs.
RELATED: 30 easy breakfast recipes to start off every day deliciously
Preparation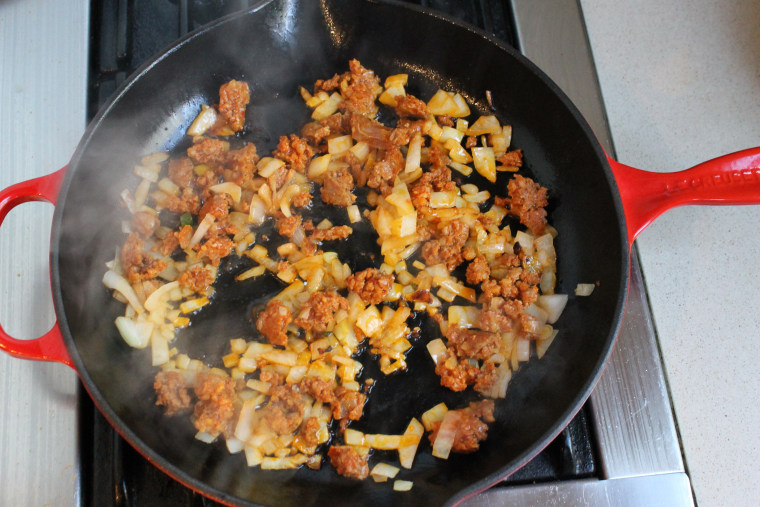 1.
In a large skillet, heat the oil until shimmering. Add the sausage and cook over high heat, breaking it into small lumps with a spoon, until nearly cooked, about 5 minutes. Add the onion and cook until softened, about 5 minutes.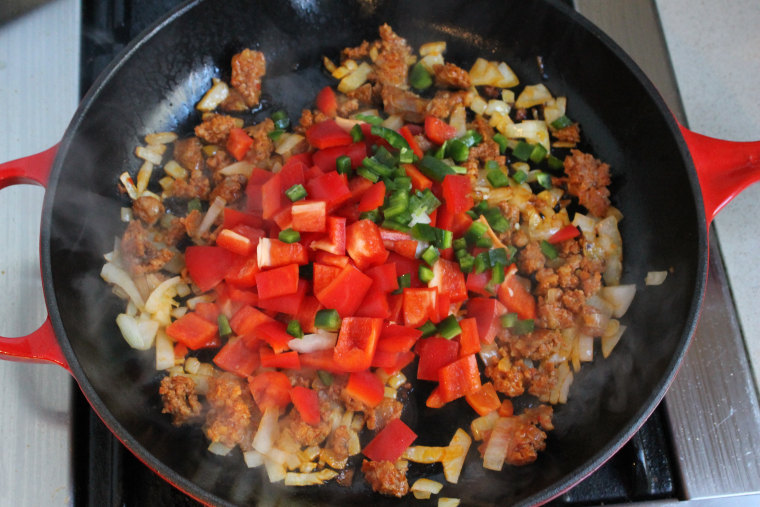 2.
Add the red bell pepper and jalapeño, and cook until softened, about 5 minutes.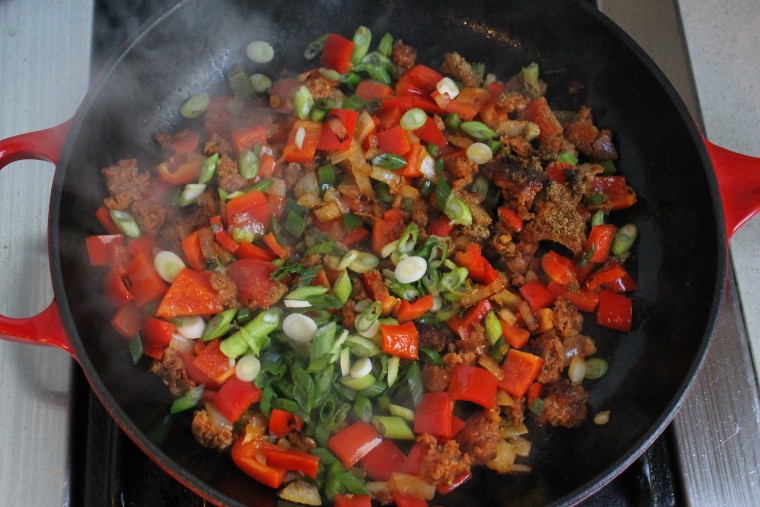 3.
Add the scallion, cumin and cayenne, and cook for 1 minute longer.
4.
Add the diced tomatoes along with their juice, the tomato sauce and the black beans. Season with salt and pepper. Bring to a boil.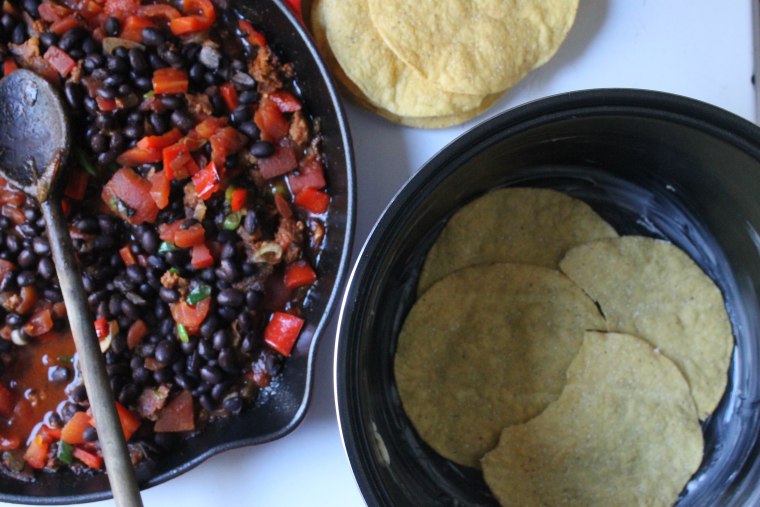 5.
Butter the insert of 4–quart slow cooker and arrange three tostadas in the bottom, breaking them to fill any empty spaces.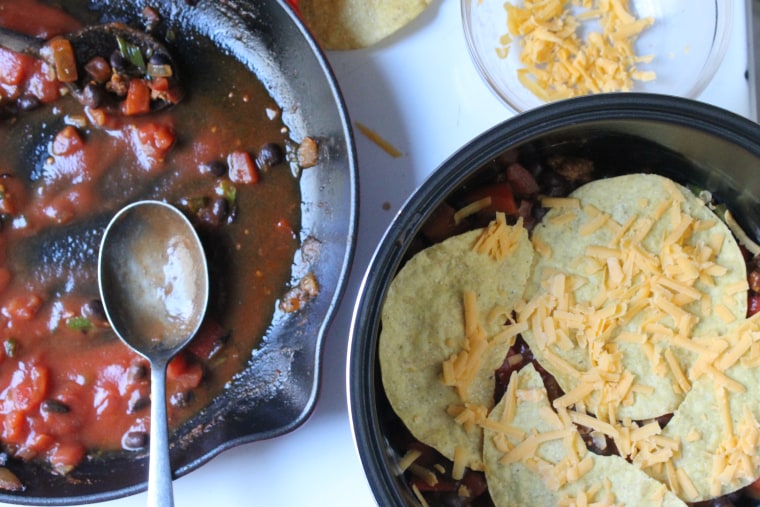 6.
Scatter 1/3 of the cheese on top followed by 1/3 of the sauce. Repeat with the remaining tostadas, cheese and sauce.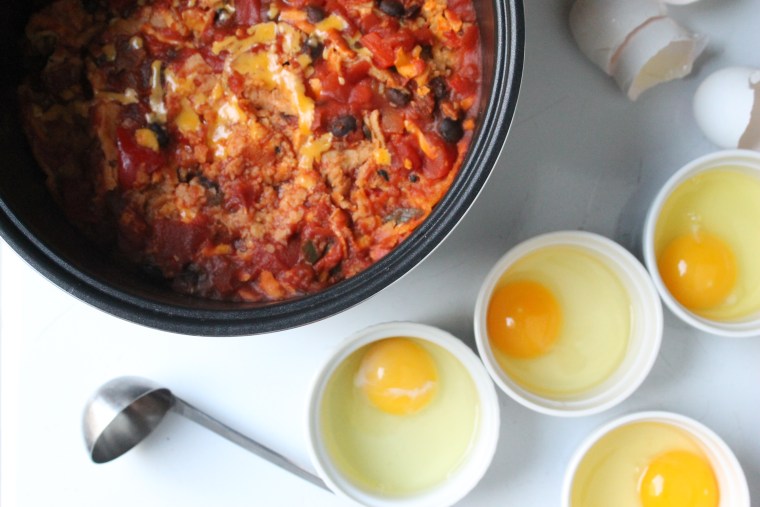 7.
Close the slow cooker and set on high for 4 hours. Crack the eggs into individual ramekins or small bowls.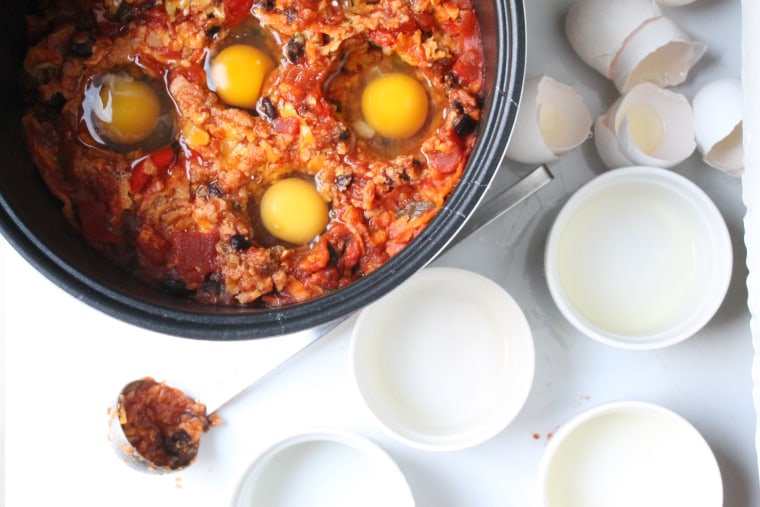 8.
After 3½ hours, using a small ladle or spoon, make 6 deep wells into the casserole and carefully pour the eggs into the wells.
9.
Close the slow cooker and finish cooking until the egg whites are set and the yolks are runny, 20 to 30 minutes longer, depending upon the machine.
10.
Serve over tostadas with the cilantro and shredded cheddar.
Grace Parisi is a New York City-based food writer, cookbook author and food stylist. Her book, Get Saucy, was nominated for a James Beard award. Her latest book, Quick Pickles comes out in Spring 2016. Follow her on Instagram and Twitter.