Ingredients
2

racks spareribs, trimmed (about 4 pounds)

1/4

cup coarsely chopped peeled ginger

6

cloves garlic

1/2

cup hoisin sauce

1/2

cup honey
1/4

cup soy sauce

1

tablespoon molasses

1

tablespoon Chinese chile-garlic sauce, sambal oelek or other Asian chile sauce

1/2

cup water
Chef notes
These slow-cooker char siu spareribs are more tender and more delicious than the usual take-out Chinese restaurant standard. The key: a super flavorful braising broth made with ginger, garlic, hoisin, honey, soy and spicy chile sauce that becomes a sticky, finger-licking glaze.
Make-Ahead Tip: The ribs can be refrigerated for up to 4 days.
Preparation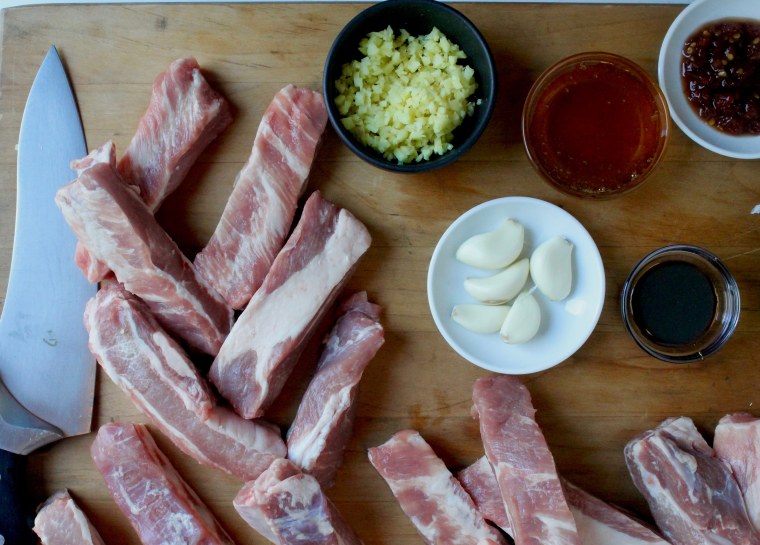 1.
On a cutting board, cut the racks into individual ribs and transfer to a 4- to 6-quart slow cooker.
2.
In a blender, combine the ginger, garlic, hoisin sauce, honey, soy sauce, molasses, chile-garlic sauce and the water; puree until smooth.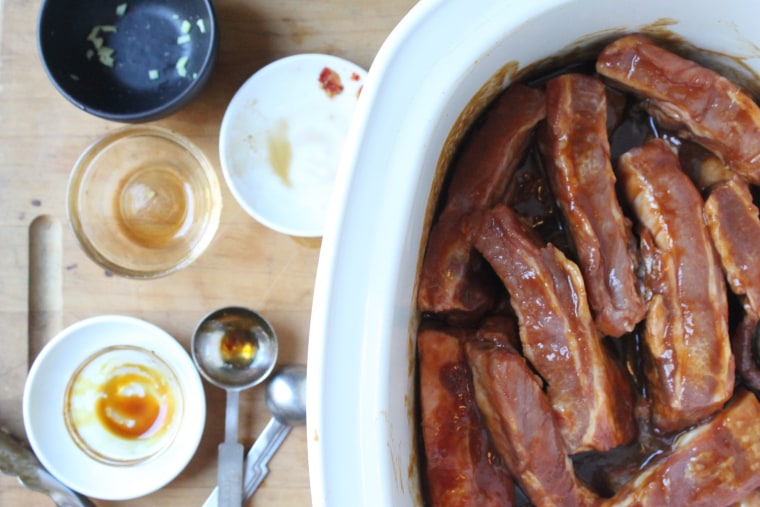 3.
Pour the mixture over the ribs and toss to evenly coat. Optional: If your slow cooker has a delayed timer function, set it for 1 hour to allow the meat to marinate.
4.
Cook, covered, on high for 4 hours or low for 8 hours, until the meat is tender but not falling off the bones.
5.
Transfer the ribs to a foil-lined baking sheet. Strain the pan juices into a medium-size saucepan and spoon off as much fat as possible. Boil the pan juices until syrupy and reduced to 3/4 cup, about 5 minutes. Transfer to a bowl.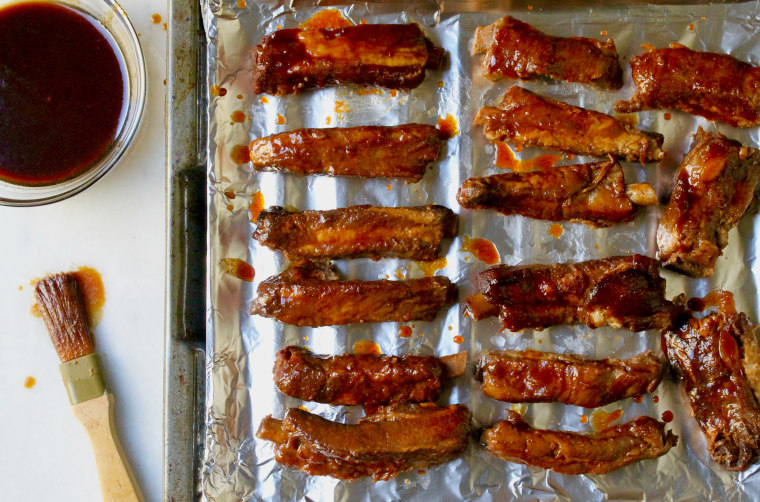 6.
Preheat the broiler and position a rack 8-inches from the heat. Brush the ribs with some of the sauce and broil until caramelized, about 5 minutes, turning once or twice.
7.
Transfer to a platter and drizzle with any remaining sauce. Serve.
Grace Parisi is a New York City-based food writer, cookbook author and food stylist. Her book, Get Saucy, was nominated for a James Beard award. Her latest book, Quick Pickles comes out in Spring 2016. Follow her on Instagram and Twitter.