Ingredients
4

tablespoons unsalted butter

1

medium yellow onion, diced

1

pound sliced button mushrooms

1/2

pound mixed mushrooms, coarsely chopped

2

tablespoons olive oil

3

carrots, peeled and thinly sliced

2

celery stalks, thinly sliced

2

teaspoons kosher salt

1

teaspoon ground black pepper

4

garlic cloves, sliced

1/3

cup all-purpose flour
2

cups chicken or vegetable broth, room temperature

8

sage leaves, finely minced

2

sprigs thyme, leaves only

1

sprig rosemary, leaves removed and finely minced

1/4

teaspoon ground nutmeg

1/4

cup brandy or sherry (optional)

1/2

cup heavy cream

1

package frozen puff pastry (1 sheet), thawed
Flour, for dusting

1

large egg
Chef notes
If you love a comforting and crowd-pleasing dish that doesn't use a lot of pans, give this skillet pot pie a try. The cozy mushroom pie is cooked, baked and served all in the same pan. The creamy mushroom filling is scented with woodsy fall herbs like sage and rosemary and gets a touch of warmth from a hint of nutmeg. This dish is fully vegetarian, making it a perfect crowd-pleasing entree. You'll want a heavy-bottomed skillet to make this—I recommend using a cast-iron pan, but any oven-safe skillet will work!
Swap options: Use all button mushrooms or a mix of different kinds. Swap part of the mushrooms for leftover roasted vegetables like squash. Add 1 cup of cooked shredded chicken, Italian sausage or white beans for additional protein.
Preparation
1.
Preheat oven to 400 F.
2.
Heat butter in a 10-inch cast iron skillet over medium heat. Add the diced onion, carrots and celery, and sauté 5 minutes or until onions are tender. Add the mushrooms, salt and pepper, and sauté 10 to 15 minutes, stirring occasionally, until all vegetables are tender and mushrooms have released their liquid and are slightly reduced in volume. Add olive oil. Add garlic and sauté just until fragrant, about 1 minute. Add the flour and stir to coat evenly. Add the broth, herbs, nutmeg and brandy (if using), and stir to combine. Raise heat and bring to a boil, then reduce to low and let simmer 10 minutes or until broth thickens. Remove from heat and stir in heavy cream. Taste and adjust seasoning with additional salt and pepper, as needed.
3.
Remove puff pastry from package and on a floured surface, roll out to about 12 inches. Trim corners to create a loose circle shape. Place over the skillet, tucking the edges of the dough into the pan around the filling.
4.
Whisk together egg, 1 tablespoon water and 1 tiny pinch kosher salt. Brush top of pastry with egg wash. Cut in three to five slits in center of dough to allow ventilation.
5.
Bake 20 minutes, then reduce heat to 375 F and bake for an additional 20 minutes, or until dough is fully baked, puffed and golden, and filling is thick and bubbling.
6.
Let cool 10 minutes before serving.
How to shop TODAY recipes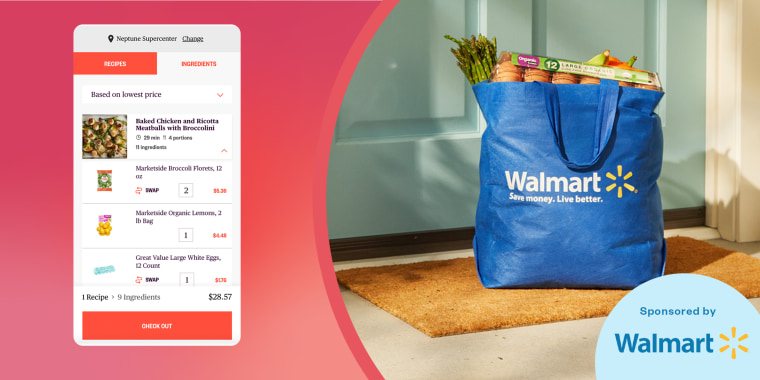 Here's everything you need to know about the cool new feature.