Chef notes
Just like boxes of pasta, store-bought gnocchi is something I always keep on hand for quick dinners. It doesn't matter if it's fresh, shelf-stable or frozen: Potato gnocchi is equally as versatile as pasta, as much as it is a crowd pleaser. Interestingly, my favorite way to prepare isn't actually boiling it and tossing it with sauce. Most grocery store gnocchi is firmer than the pillowy ones you'll find at the best Italian restaurants, so I take a more unconventional approach by pan-frying them. They brown and crisp beautifully in a hot skillet while becoming tender on the inside. Plus, this eliminates the need to bring a separate pot of water up to a boil and therefore leaves you with less dishes to clean.
This skillet pasta bake marries the dumplings with a classic combination of sausage, peppers and onions. On its own, the trio is  plenty satisfying but adding gnocchi to the mix makes the whole thing even heartier. Italian sausage is packed with seasonings — garlic, onion, fennel, herbs and if you opt for spicy sausage, red pepper flakes — that it eliminates the need for extra spices in the skillet itself. Choose different colored bell peppers (I like one red and one yellow) for the most vibrant end results and if you have fresh parsley or basil on hand, that will only up the ante. A sprinkling of freshly grated Parmesan cheese is the perfect finishing touch, though it can be skipped if you'd prefer to leave this dinner dairy-free. 
Technique Tip: If your skillet doesn't have a cover, use the top of a Dutch oven or a sheet pan to cover it when cooking the gnocchi.
Swap Option: Feel free to use pork, chicken, turkey or even plant-based Italian sausage for this recipe.
Ingredients
4

tablespoons extra-virgin olive oil, divided

1

(16- to 18-ounce) package fresh, shelf-stable or frozen potato gnocchi (do not thaw)

1

pound uncooked sweet or hot Italian sausage, casings removed

2

medium bell peppers, cored, seeded and cut into 1-inch pieces

1

medium red onion, cut into 1-inch chunks
2

cloves garlic, peeled

1

teaspoon kosher salt

1/4

teaspoon freshly ground black pepper
chopped fresh parsley or basil leaves, for serving (optional)
freshly grated Parmesan cheese, for serving (optional)
Preparation
1.
Heat 1 tablespoon olive oil in a 12-inch cast iron or other heavy-bottomed skillet over medium heat until shimmering. Add the gnocchi to the skillet in a single layer. Cover and cook undisturbed until the bottoms are golden-brown, 3 to 5 minutes. Toss and cover, continuing to cook until the gnocchi is plump and tender, stirring occasionally, 2 to 3 minutes more. Transfer to a large bowl and set aside.
2.
Heat 1 tablespoon of oil in the same skillet until shimmering. Add sausage and cook, breaking it up with a wooden spoon, until browned and cooked through, about 6 minutes. Transfer to the bowl with the gnocchi.
3.
Heat the remaining 2 tablespoons of oil in the skillet until shimmering. Add the peppers and onion, season with the salt and pepper and cook, stirring occasionally, until browned in spots and just tender, 5 to 7 minutes. Add the garlic and sauté until fragrant, about 1 minute more.
4.
Return the gnocchi and sausage to the skillet and toss to combine with the peppers and onions, about 1 minute. Remove from the heat and serve with chopped parsley or basil and/or grated Parmesan, if desired.
How to shop TODAY recipes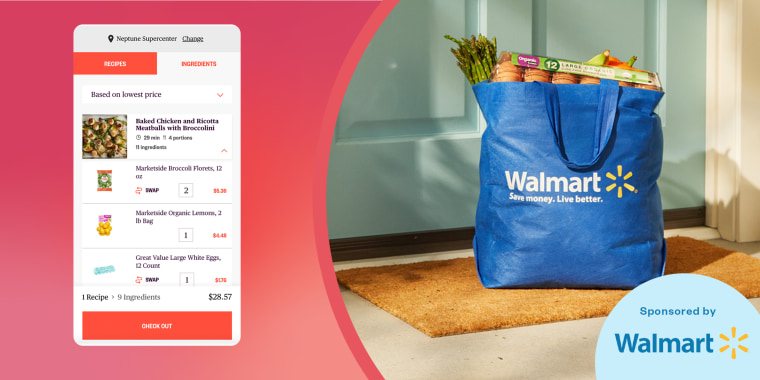 How to shop TODAY recipes
Here's everything you need to know about the cool new feature.
Learn More