Chef notes
There's American gas station food and then there's Korean gas station food. Of the plethora of hot and fresh fare you can get off the highway as you drive through Korea — from noodles, kimbap, pastries and snackier bits — tteok kkochi reigns supreme as my favorite. Often referred to in Korean by its portmanteau "so-tteok so-tteok" (so abbreviated for sausage, tteok translating to rice cake in Korean), tteok kkochi is a skewer threaded with interchanging sausages and tteok, or Korean rice cakes. 
Roasting skewers on a sheet pan in the oven not only crisps up the rice cakes while cooking the sausage, this method is basically hands-off batch-cooking at its finest. You'll make eight skewers in the time that it would typically take to pan-fry one or two on the stovetop. Make sure to buy mini cocktail franks that are similar in size as the rice cakes; doing so will ensure that all of the ingredients  cook evenly.
Brush each skewer with the sweet and spicy glaze to your heart's desire — I personally love to lay it on thick! The rice cake and sausage skewers are the most delicious right out of the oven or served shortly after while they're still warm. But I've found immense joy in polishing off leftovers cold the next day — though, don't let these hang out any more than one day after cooking because the rice cakes will dry out, harden and become inedible. Have a skewer or two as a snack or serve it with something fried and greasy like Korean fried chicken with an ice cold beer. 
Swap Option: You may use honey instead of maple syrup. 
Get Ingredients: If you don't have everything you need on hand, you can easily purchase all of the ingredients (just click the orange button below that says 'Get Ingredients'). You can pick and choose exactly what ingredients you need based on what's in your pantry and they'll be on your doorstep before you know it.
Ingredients
10

ounces cylindrical rice cakes, such as Fusion Select Korean Rice Cakes (32 pieces)

1

tablespoon vegetable oil

12

ounces cocktail beef franks (24 pieces)

1/4

cup gochujang paste

3

tablespoons ketchup
2

tablespoons seedless strawberry jam

3

tablespoons maple syrup

2

cloves garlic, peeled and finely minced

8

wooden skewers
Preparation
1.
Preheat the oven to 400 F.
2.
Bring a medium pot of water to boil. Blanch the rice cakes for 2 minutes. Drain, transfer to a medium bowl and pat dry. Toss in oil. Set the empty pot aside.
3.
Skewer the rice cake first followed by a cocktail frank, alternating and finishing with the rice cake until you have four rice cakes and 3 cocktail franks on the skewer. Repeat to make 8 skewers.
Place the skewers on a 9-by-13-inch sheet pan. Bake for 16 minutes, rotating halfway until skewers are light golden brown and the sausage has cooked through.
4.
Meanwhile, make the sauce: In the reserved pot set over medium heat, combine gochujang, ketchup, strawberry jam, maple syrup and garlic. Cook, stirring occasionally, until the mixture comes to a gentle simmer and slightly thickens, about 2 minutes. Remove the pot from heat.
5.
Using a silicone basting brush, brush cooked skewers with sauce on both sides. Serve immediately.
How to shop TODAY recipes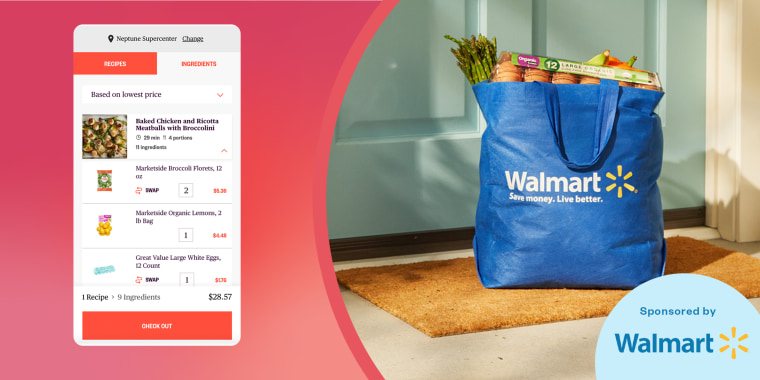 How to shop TODAY recipes
Here's everything you need to know about the cool new feature.
Learn More