TODAY Table is sponsored by Walmart. Our editors independently created this recipe. If you purchase the ingredients through our links, we earn a commission. Learn more about Shop TODAY.
Ingredients
Chicken
2½

pounds bone-in, skin-on chicken parts, preferably thighs or drumsticks

3

tablespoons olive oil, divided
salt and freshly ground black pepper

1

tablespoon dried oregano
1

lemon, thinly sliced

4

cloves garlic, smashed

1

bunch ramps or scallions, ends trimmed and thin film removed
bread, rice or lightly oiled pasta, for serving
Ramp vinaigrette
2

tablespoons apple cider vinegar

2

teaspoons old-style whole-grain mustard

2-3

ramp bulbs, minced, leaves reserved
3

tablespoon extra virgin olive oil
salt and freshly ground black pepper
Chef notes
This super simple sheet-pan chicken utilizes the garlicky, onion flavor of ramps, smashed garlic and lemon slices to infuse the chicken with these flavors, while the chicken drippings, in turn, season the rest of the dish. The lemon rinds will become soft and edible and the garlic soft and spreadable.
Technique tip: Use the chicken-cooking downtime to make the dressing and prepare the ramps.
Swap option: If you can't find ramps, use scallions instead.
RELATED: TODAY recipes are now shoppable — and it makes ordering groceries online so easy
Preparation
For the chicken:
1.
Heat the oven to 425 F.
2.
Pat the chicken dry and coat with 2 tablespoons oil, then season well with salt, pepper and oregano. Add the lemon slices and smashed garlic, rubbing them in the pan oil. Cook for 15 minutes.
3.
Rub the ramps all over with the remaining tablespoon of oil, including the leaves, and season with salt and pepper. Add to the sheet pan (it will look crowded because of the leaves, but they will shrink down) and cook until the chicken juices run clear when pierced with a fork, 30-35 minutes. If you'd like the chicken skin to be crispier, scrape off the other ingredients and place the chicken under the broiler for 1-3 minutes.
For the dressing:
Combine the vinegar, mustard and ramps, then whisk in the oil until smooth.
To serve:
Pour some of the dressing over the chicken, serving the remaining on the side. Serve with bread, rice or lightly oiled pasta.
How to shop TODAY recipes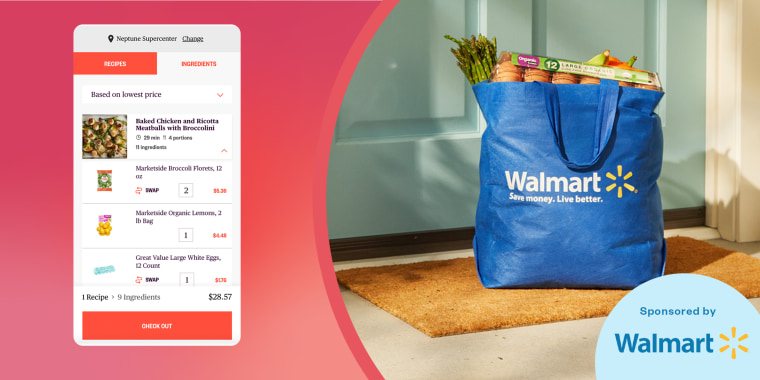 Here's everything you need to know about the cool new feature.