Chef notes
Savannah Guthrie's mother Nancy Guthrie reveals her secrets to making her delicious homestyle Kentucky fried chicken that has an incredible golden crunch and just the right kick of spice. The key is to use crushed crackers or potato chips in the coating and to add bacon grease to the frying oil for extra flavor. Serve the fried chicken with a spiced applesauce that Nancy calls Smashed Red Apples, stewed green beans with bacon and warm spoon bread for a delicious Southern meal.
Note for the Smashed Red Apples: Spicy cinnamon candies called Red Hots add a pretty red color and hit of surprising flavor to this side dish. 
Ingredients
Homestyle Fried Chicken
2

eggs

1/4

cup buttermilk

2

cups flour

1

tablespoon salt

1

tablespoon black pepper
1

tablespoon paprika

1

cup cracker meal (crushed saltine crackers) or crushed potato chips
Crisco or vegetable oil
Bacon grease (optional)

3

pounds chicken, cut into pieces (drumsticks, thighs, breast)
Smashed Red Apples
10

apples, peeled and cut into sections
Butter
Red hot or red coat cinnamon candies
Preparation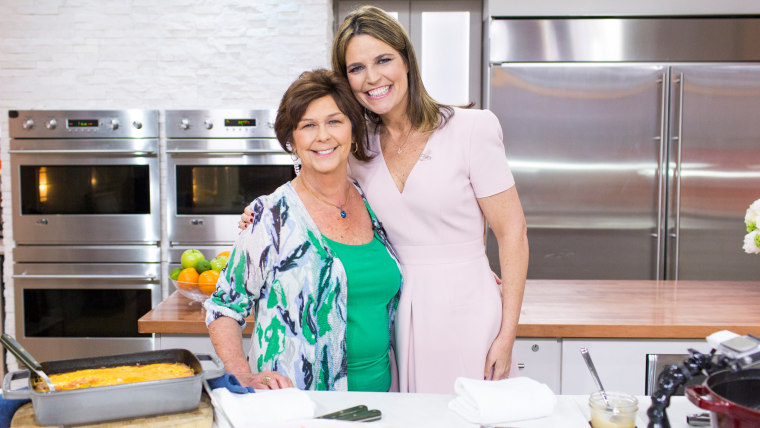 For the Homestyle Fried Chicken:
1.
In a medium bowl, add the eggs and buttermilk, and whisk to combine. Set aside.
2.
In a large bowl, add the flour, salt, pepper and paprika. Stir to combine. Add the cracker meal and stir to combine.
3.
In a large cast iron skillet, add enough oil so it is 2-inches deep. Heat the oil to 350 or until a dash of water sizzles. If you have bacon fat, add it now (that's Nancy's secret for extra flavorful fried chicken).
4.
Lightly coat the first piece of chicken in the flour mixture. Dip the chicken in the egg and buttermilk mixture. Coat the chicken again in the flour mixture. Place all of the coated chicken pieces in a brown paper bag and shake.
5.
Add the first coated chicken piece to the hot oil. Quickly repeat with the other chicken pieces. Cook the first side until crispy and golden, then flip and fry the other side until golden brown. Remove and drain on paper towels. Serve.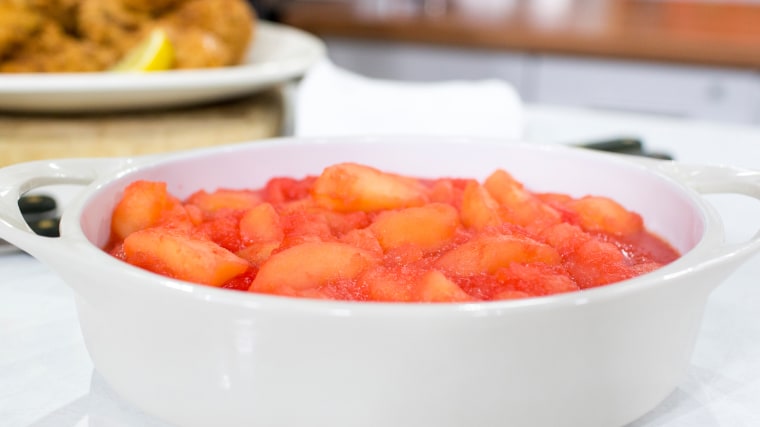 For the Smashed Red Apples:
In a large saucepan, add the apple sections enough water to cover them. Cook over medium heat. Once the apples begin to soften, add the butter and stir to combine. Cover and cook over low heat for 1 to 2 hours, stirring occasionally until the desired consistency is reached. In the last 10 minutes before removing from the heat, add the candies and stir to combine.