Ingredients
12

large eggs

1/2

cup sour cream

1/4

teaspoon freshly ground black pepper

3/4

teaspoon kosher salt, divided

1

cup shredded fontina cheese
2

tablespoons extra-virgin olive oil, divided

8

ounces uncooked sweet or spicy Italian sausage, casings removed

8

ounces broccoli rabe or broccoli, cut into 1-inch pieces

2

cloves garlic, peeled and finely minced

1/4

cup grated Parmesan cheese
Chef notes
Forget roast chicken or chocolate chip cookies. On the list of foods everyone should know how to cook, I firmly believe a frittata belongs at the very top. This popular egg bake is crowd-friendly and so much easier to prep than you'd expect. Once you've got the hang of it, endless possibilities await — all of which can be executed with whatever ingredients you've got in the fridge. Did I mention it can be served for breakfast, lunch, or dinner? 
The base of a family-size frittata should always stay the same: 12 eggs, a generous dollop of full-fat dairy (think whole milk, sour cream, or plain Greek yogurt), one cup of cheese (plus a little more for the top) and lots of salt and pepper. The mix-ins are where you can have a little fun — try cooked potatoes, a variety of fresh herbs or in this case, crumbled sausage and broccoli rabe. The rich, slightly spicy sausage perfectly complements the earthy, bitter broccoli rabe, while a mix of melty fontina and salty Parmesan cheeses marries everything together. 
As long as you've got an oven-safe skillet, this weeknight-friendly recipe requires zero fancy equipment. Plus, it barely dirties any dishes, since the whole thing is assembled in the same skillet it bakes in. Serve with a simple green salad, your favorite roasted veggies or a piece of crusty bread. Leftover slices can be stored in an airtight container (or wrapped tightly in foil) and refrigerated for up to four days. Enjoy one cold from the fridge, let it come to room temperature or reheat in a 350 F oven until warm. 
Technique Tip: Adding full-fat dairy to the egg mixture ensures the frittata is creamy and luscious — never dry and rubbery. 
Your frittata will continue to cook out of the oven, so pull it out of the oven when it's just set. This is especially true if you're using a cast iron skillet, which retains heat well.
Swap Option: You can use heavy cream, half and half, whole milk, crème fraîche or plain full-fat yogurt in place of sour cream. Use cheddar in place of fontina, or pecorino Romano in place of Parmesan. Use broccoli or sweet broccolini in place of broccoli rabe. Use plant-based or turkey sausage in place of pork sausage. For a larger, thinner frittata, use a 12-inch skillet. And if you can't find (or don't like!) broccoli rabe, use broccoli or sweet broccolini.
Preparation
1.
Preheat the oven to 350 F. Whisk the eggs, sour cream, black pepper, and 1/2 teaspoon of the salt in a large bowl. Add the fontina cheese and whisk to combine. Set aside. 
2.
Heat 1 tablespoon oil in a 10-inch ovenproof skillet (such as cast iron) over medium heat until shimmering. Add the sausage and cook, breaking it into smaller pieces with a wooden spoon, until browned and cooked through, 8 to 10 minutes. Transfer sausage to a paper towel-lined plate.
3.
 Add the remaining 1 tablespoon of oil and broccoli rabe to the skillet. Cook, stirring often, until the leaves are wilted and the stems are tender, 4 to 5 minutes. Add the garlic, cooked sausage, and remaining 1/4 teaspoon salt and cook until fragrant, about 30 seconds.
4.
 Reduce the heat to medium-low. Pour the egg mixture into the skillet and gently shake the pan until the eggs are evenly distributed. Cook until the frittata is just set around the edges, 2 to 3 minutes.
5.
 Sprinkle the Parmesan cheese over the eggs and transfer the skillet to the oven. Bake until the center is just set, 18 to 22 minutes. Let sit for 5 minutes before slicing and serving. 
How to shop TODAY recipes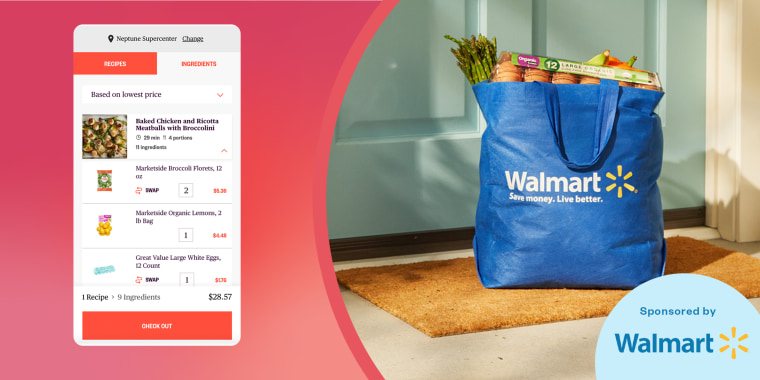 Here's everything you need to know about the cool new feature.