Chef notes
How do I love frittata? Let me count the ways. A frittata is perfect for breakfast, lunch or dinner. Thin wedges can be served along with cocktails as a hearty happy hour snack. It's equally delicious warm, at room temperature or straight out of the refrigerator. A frittata can be a one-pan meal or part of a larger spread. A crisp green salad, a few strips of crispy bacon or buttered toast are always perfect on the side. You can customize it, too: make it kid-friendly, paleo, vegetarian or low carb. The list goes on and on! 
Equal to my love for frittatas is my complete adoration of crispy salami. It's like Bacon 2.0: crispy, salty, the tiniest bit funky.  Crumble it over scrambled eggs, in a salad, or on top of tomato soup. And is it delicious in a frittata? You know it. 
This frittata is very loosely inspired by tortilla española, a classic Spanish potato and egg dish. Here, I add  cooked cubes of Yukon gold potatoes, lots of crispy salami, diced roasted red peppers and grated Manchego cheese. All of those tasty ingredients — plus a little smoked paprika and some chopped chives — make for a truly excellent egg dish. 
Baked in a large nonstick oven safe skillet, this frittata can feed 6 to 8 or, as it has in my house, two over the course of four days. 
Technique Tip: If you don't have an oven safe skillet, you can use a 9-by-13-inch baking dish lightly greased with cooking spray. In step 3, stir in the cooled potatoes, crispy, and crispy salami into the egg mixture with the Manchego and chives, then transfer to the prepared baking dish. 
Swap Option: I like the richness and tang of sour cream in frittatas. You can also use an equal amount of either whole milk or heavy cream here in place of the sour cream. 
Ingredients
3

medium Yukon gold potatoes, ½-inch-dice
kosher salt

1

(5-ounce) package Genoa salami (about 36 slices)

1

tablespoon extra-virgin olive oil

12

large eggs

1/4

cup sour cream
freshly ground black pepper

1/2

teaspoon smoked paprika

1½

cups coarsely grated Manchego cheese

2

tablespoons chopped chives, plus more for serving

3/4

cup drained roasted red peppers, patted dry and coarsely chopped
Preparation
1.
Preheat the oven to 350 F with a rack in the center position. In a medium pot, add potatoes and cover with 1-inch of cold water and season with 2 teaspoons of kosher salt. Cover the pot and bring to a boil, then reduce heat to medium and cook the potatoes until easily pierced with a fork, 4 to 5 minutes. Drain potatoes, then spread out on a rimmed baking sheet to cool, about 10 minutes. Pat potatoes dry with paper towels.
2.
Meanwhile, in a 12-inch nonstick oven safe skillet set over medium-high, heat 1 tablespoon of the oil. Transfer the salami to the skillet, then cook until crispy around the edges, about 3 minutes. Using a slotted spoon, transfer the salami slices to a plate lined with paper towels. Reserve the skillet and oil for step 4.
In a large bowl, whisk the eggs until the yolks and whites are homogenous. Add sour cream, smoked paprika, ½ teaspoon kosher salt, and a few grinds of fresh pepper and whisk to combine. Stir in the Manchego cheese and chives.
3.
In the same skillet over medium-high, heat the reserved oil until it shimmers. Add the potatoes, half of the salami and roasted red peppers to the skillet, stirring gently to combine. Pour the egg mixture over the vegetables, then arrange the remaining salami on top. Cook over medium-high heat for 30 seconds to help set the bottom.
4.
Carefully transfer the skillet into the oven. Bake until the eggs are puffed and the frittata jiggles a little bit when you shake the pan, 20 to 25 minutes. Remove from the oven and let cool for 10 minutes.
5.
Garnish with chopped chives, if desired, and serve.
How to shop TODAY recipes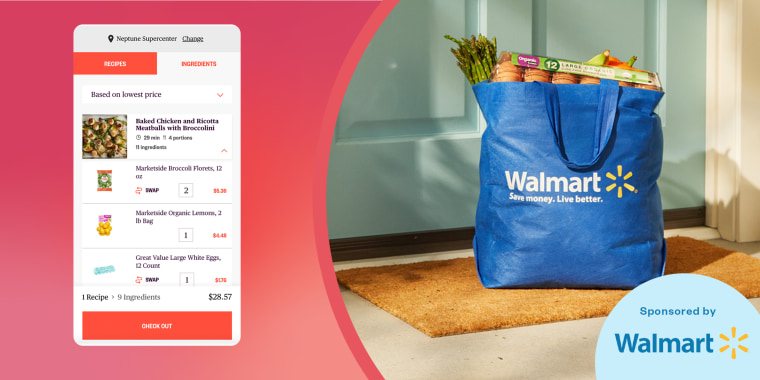 How to shop TODAY recipes
Here's everything you need to know about the cool new feature.
Learn More