Ingredients
8

small potatoes, halved

8

small brussels sprouts

1

red bell pepper, roughly cut into large strips

1

yellow bell pepper, roughly cut into large strips

1

red onion, roughly cut into large chunks

1/2

sweet potato or yam, roughly cut into large strips
5

portobello or button mushrooms

2

tablespoons extra-virgin olive oil

3

teaspoons herbes de Provence

3

sprigs fresh rosemary, pulled apart

1

whole wheel double- or triple-cream Brie cheese
Salt and pepper
Chef notes
I cooked this on one of my first dates with my current partner. Wanting to impress him, I decided that an old classic, namely fondue, would be good for two. The problem was that I didn't have a fondue set. Luckily, this recipe doesn't require it which makes it especially easy and stress-free. All you need is a roasting dish, Brie cheese and your favorite vegetables—then suddenly you have your very own fondue.
Herbs de Provence is my favorite mix of herbs for roasting. Originating from Provence, France it usually consists of rosemary, thyme, oregano and marjoram. A handy trick with fresh herbs, like the rosemary in this recipe, is to place them in a cup of hot water to bring out a stronger flavor.
I tend to use root vegetables as I think they roast the best and go amazingly with the melted Brie, but you can use any vegetables you want depending on the number of guests you're serving, and the season. 
Note: This dish is a great sharing dish for dinner parties. This recipe serves two but you can simply increase the vegetables by 1 cup per extra person.
Preparation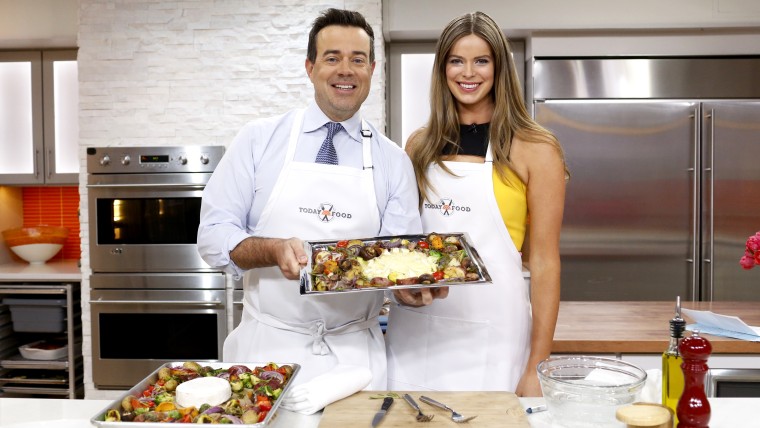 1.
Preheat the oven to 400˚. Line a roasting tray with parchment paper. Arrange all of the vegetables (except the mushrooms) on the tray. Drizzle with the olive oil and season with the rosemary, herbes de Provence, salt and pepper. Roast for 30 minutes, turning the vegetables occasionally, then add the mushrooms and cook for another 10 minutes. (I usually test a potato with a fork.)
2.
Use a knife to carve some scratches on top of the Brie, then place it in the center of the tray so it opens up as it cooks. Cook for another 5 to 10 minutes.
3.
Voila! You have fondue. Serve with skewers for dipping the veggies if you have them, otherwise forks work fine.