Chef notes
I am a buffalo sauce lover and this recipe hits all the marks. Roasting cauliflower with a crispy breadcrumb topping creates fabulous texture without having to be fried. For the dip, black sesame tahini is used instead of a traditional tahini paste, which adds some spooky flair to this recipe if you want to make it for the Halloween season (though I must say it's a winner year-round). Your friends and family are going to love it! Mine sure did.
Technique tip: Before adding the buffalo sauce to the cauliflower, make sure to whisk well so the sauce is properly emulsified. 
Swap option: Ghee may be substituted for butter and regular tahini can be substituted in for black tahini.
Ingredients
1

large head cauliflower, cored and cut into 1-inch florets

1/2

cup extra-virgin olive oil, divided

1

cup hot sauce (preferably Franks)

1

cup (2 sticks) unsalted butter, cubed into 1 tablespoon-sized pieces

3

teaspoons garlic powder, divided
Kosher salt and freshly ground black pepper

1

lemon, zested and juiced
1

tablespoon maple syrup or honey

1

medium clove garlic, grated

1/4

cup black sesame tahini

1/2

cup mixed soft herbs (such as flat-leaf parsley, chives, and dill), finely chopped, divided

1/4

cup, plus 2 tablespoons panko Japanese breadcrumbs

2

tablespoons black or white sesame seeds

1

head celery, base and tops removed, cut into 2- to 3-inch celery sticks, celery leaves reserved for garnish (optional)
Preparation
1.
Preheat the oven to 450 F.
2.
Add cauliflower florets to a large rimmed baking sheet, drizzle with 1/4-cup of olive oil and toss to coat. Season with kosher salt and toss again. Roast in the preheated oven for 15 to 20 minutes, tossing halfway through. Crank the oven up to 500 F.
Buffalo sauce
3.
In a small saucepan, combine hot sauce, butter (reserving 2 tablespoons for later) 2 teaspoons of garlic powder and 1 teaspoon kosher salt over medium heat, whisking occasionally until the butter melts and the mixture is smooth and homogenous. Set aside.
4.
Drizzle 1/2 cup buffalo sauce over the cauliflower, toss to coat, and place back into the oven for 8 to 10 minutes more until the cauliflower has absorbed the sauce and is extra-crispy. Transfer 1/4 to 1/2 cup of the remaining buffalo sauce to a ramekin for serving.
Tahini ranch dressing
5.
In a medium bowl, whisk together 1 teaspoon garlic powder, the juice and zest of 1 lemon, 1 clove grated garlic, tablespoon maple syrup, tahini, 1/4 cup olive oil, 1/4 cup plus 2 tablespoons cold water, 2 teaspoons kosher salt, and a few cranks of freshly ground black pepper, and whisk until smooth and thick, like the consistency of ranch dressing. Whisk in 1/4 cup chopped herbs, adjust seasoning to taste, transfer to a ramekin to serve and drizzle with a touch more olive oil and a sprinkle of herbs, reserving the remaining herbs for cauliflower garnish.
Crunchy topping
6.
In a medium skillet over medium heat, melt butter. Once bubbling, add the panko breadcrumbs and sesame seeds and toast, stirring constantly until the breadcrumbs are golden brown, about 2 to 3 minutes. Transfer to a paper towel-lined plate to drain and season with salt.
7.
Add the cauliflower to a serving platter in 2 parts, sprinkling the crunchy topping and remaining herbs among each layer. Sprinkle with optional celery leaves and serve with celery sticks. Add tahini ranch dressing and buffalo sauce ramekins to the platter and enjoy!
Cook's note: If waiting to serve, place the platter into the oven at a low temperature for 2 minutes to warm before serving.
How to shop TODAY recipes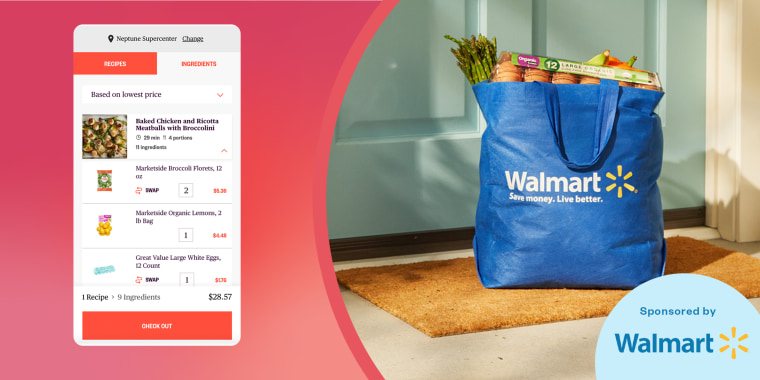 How to shop TODAY recipes
Here's everything you need to know about the cool new feature.
Learn More