Chef notes
Risotto is a dish that intimidates many home cooks but I'm here to tell you that the secret to this Italian dish is less about technique and more about patience. If you can stir a wooden spoon and have 45 minutes to spare, you can make risotto. There are, of course, a couple of easy (and I mean easy!) things you can do to make better-than-average risotto. The first is heating the liquid. I prefer to use low-sodium chicken stock for the best flavor but you may use vegetable broth, seafood stock or water, depending on your preferences. Bring it to a boil on the stovetop then let it simmer as you make the risotto. By slowly adding the hot stock little by little to the rice, you'll slowly draw out the starches from the rice, ensuring that the final product is perfectly creamy.
As for the rice itself, risotto isn't made with whatever grain you have in the pantry. It's important to use a short-grain, starchy rice such as arborio or cannellini rice, which will create the best texture. While you may be able to make a delicious rice side dish using basmati or jasmine rice following the recipe below, it won't be a traditional risotto, so stock up.
If you don't have everything you need on hand, you can easily purchase all of the ingredients (just click the orange button below that says 'Get Ingredients'). You can pick and choose exactly what ingredients you need based on what's in your pantry and they'll be on your doorstep before you know it. 
Swap Option: For a vegetarian version of this classic risotto, use vegetable stock or water and vegetarian Parmesan cheese.
Ingredients
4

cups low-sodium chicken broth

2

tablespoons unsalted butter

2

tablespoons extra-virgin olive oil

1

shallot, peeled and finely minced

2

cloves garlic, peeled and finely minced
1

cup arborio rice

1/2

cup dry white wine

1¾

teaspoons kosher salt, divided, plus more to taste

1½

cups grated Parmesan cheese, plus more for serving
Preparation
1.
In a medium saucepan, add the stock and bring to a boil.
2.
Meanwhile, in a large straight sided skillet or heavy-bottomed Dutch oven set over medium heat, add the butter and olive oil. Once sizzling, add the shallot and sauté until translucent, about 1 minute. Add the garlic and sauté for 30 seconds. Add the rice and sauté until toasted, 2 to 4 minutes. Add the wine and reduce the heat to low, cooking until the rice has absorbed the liquid. Season with 1 teaspoon salt
3.
Add one cup of hot stock and stir constantly to combine until the rice absorbs the liquid. Repeat this process, adding one cup of stock at a time, until it's all been used up.
4.
Turn the heat off, fold in Parmesan and remaining salt and stir until creamy. Taste and adjust the seasoning, as needed. Divide among two bowls and top with more grated Parmesan cheese. Serve immediately.
How to shop TODAY recipes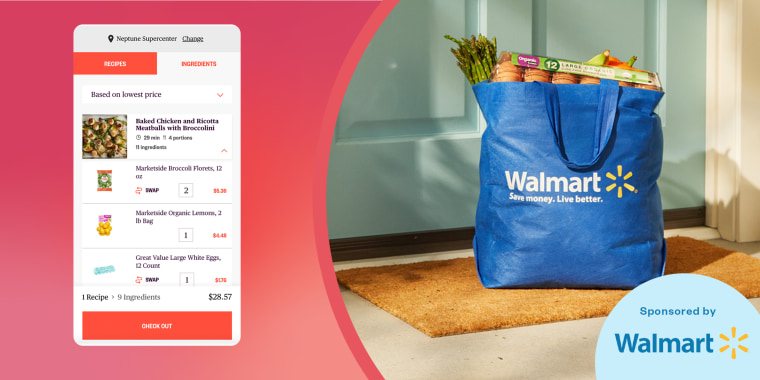 How to shop TODAY recipes
Here's everything you need to know about the cool new feature.
Learn More