Ingredients
4

tablespoons unsalted butter, divided

3

garlic cloves, minced

1

(750 mL) bottle light red wine, such as Beaujolais

1

pound spaghetti or other pasta

1

cup pine nuts
1 1/2

cups crumbled feta cheese

1/2

lemon, juiced

1

cup chopped fresh basil
Kosher salt, to taste
Chef notes
Red wine pasta is the rare recipe that looks complicated and impressive but is actually so simple to make. This eye-catching, ruby red pasta is always the star of a party. All it takes is a handful of basic ingredients — spaghetti (or your favorite type of pasta), butter, fresh garlic and salt — plus a few that you might not have such as pine nuts, feta cheese, a whole lemon and fresh basil. Beyond its visual appeal and delicious taste, we love that this is a one-pot recipe. To make it, add butter and garlic to a large straight-sided skillet and sauté until brown. Add an entire bottle of red wine (we recommend a light-bodied varietal here) and bring to a boil with a bit of water. Once bubbles break the surface, add the pasta and cook until al dente. Finish with even more butter, pine nuts, cheese, lemon juice and herbs.  
The ease of this extra-special pasta recipe makes it an instant favorite for holiday dinners spent with loved ones. You can whip it up on a busy weeknight or save it for a dinner party; either way, it's sure to wow (and its simplicity can be your little secret).
Technique Tip: Depending on the pasta you are using, you may need to add up to two more cups of water as you cook. If the pasta has absorbed the liquid but still isn't quite done to your liking: add another half a cup at a time until it is done.
Swap Option: The toppings can be easily swapped. Try almonds or walnuts if you don't have pine nuts, parsley if you don't have basil or leave the cheese off if you are dairy-free (just add more of the lemon and nuts/basil).
Preparation
1.
In a large straight-sided skillet set over medium heat, add 2 tablespoons butter and garlic. Cook for 3 to 4 minutes until the butter has melted and garlic has started to brown.
2.
Add red wine and 1 cup of water and bring to a boil.
3.
Add the spaghetti and reduce heat to a rapid simmer. Cook the pasta according to package instructions and until the wine has been absorbed, stirring occasionally.
4.
Add the remaining 2 tablespoons of the butter in the last minute or two before the pasta is done. Remove from the heat and toss with the pine nuts, feta cheese, lemon and basil. Season with salt to taste.
How to shop TODAY recipes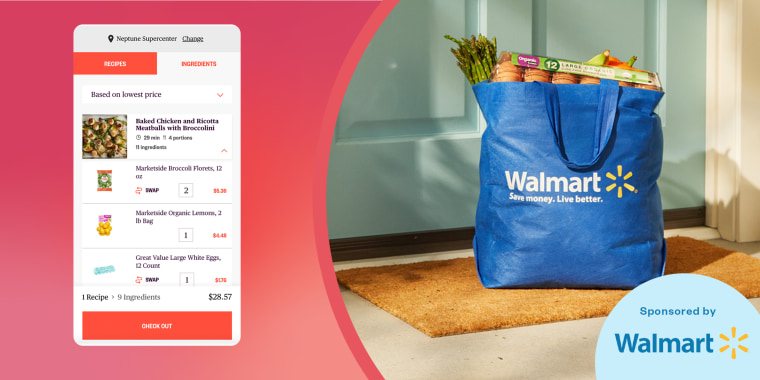 Here's everything you need to know about the cool new feature.