Chef notes
There's lots to love about a certain nautical-themed chain restaurant, but even those who don't care for shrimp or lobster will readily make a trip for its legendary Cheddar Bay Biscuits. Of course, it's not possible to go every time a biscuit craving strikes. Enter: this copycat recipe. Warm, buttery and cheesy, these biscuits bake up fast, so you can have a batch ready in no time.
While it may be tempting to buy the baking mix you've seen at the grocery store, it's no match for this from-scratch version, which recreates the flavor and texture of the biscuits using easy-to-find ingredients. It comes together just as quickly, too — all you need is 30 minutes to prep and bake them.
To bring the biscuit dough together, simply blend the flour, baking powder, sugar and seasonings together in a food processor, then add in cubes of chilled butter. For the flakiest texture, it's important to use cold butter and pulse until just combined. If you don't have a food processor, this can also be done by hand with a whisk and a pastry blender (or your fingers!). Next, the ingredients that give these biscuits their signature decadence come in; stir in the cream and shredded cheddar, mixing until the dough is evenly moistened. 
Once they come out of the oven, the warm biscuits get another flavor booster: a finishing coat of melted butter infused with garlic powder, Old Bay and parsley that seeps into every nook and cranny. Then they're ready for serving: A plate of tender, cheesy copycat cheddar biscuits that can be served as a standalone appetizer or to complement a seafood feast or pasta dinner. 
Technique Tip: Take care not to overwork the dough during the mixing process as that can lead to tough, hard biscuits.
Ingredients
Biscuits
2

cups all-purpose flour

1

tablespoon baking powder

2

teaspoons garlic powder

1

teaspoon granulated sugar

1/2

teaspoon onion powder
1/2

teaspoon Old Bay seasoning

1/4

teaspoon kosher salt

6

tablespoons cold unsalted butter, cut into 1/2-inch cubes

3/4

cup light cream or half and half + more for brushing the biscuits

1

cup shredded cheddar cheese
Buttery Topping
2

tablespoons unsalted butter

1/2

teaspoon garlic powder
1/4

teaspoon Old Bay seasoning

1

teaspoon chopped fresh parsley
Preparation
1.
Preheat the oven to 425 degrees F and line 2 baking sheets with parchment paper or silicone liners.
2.
Add the flour, baking powder, garlic powder, sugar, onion powder, Old Bay and salt to a food processor and pulse once or twice to blend the ingredients. Add the cubed butter and pulse 8 to 10 times, just enough to leave small butter pieces throughout the dough. (If you don't have a food processor, you can whisk the dry ingredients together in a large bowl and incorporate the butter with a pastry blender or your fingers.)
3.
Pour the dough into a large bowl and gently stir in 3/4 cup cream and the cheese just until the dough is evenly moistened — do not stir too much or you will overwork the dough and the biscuits won't be tender.
4.
Divide the dough into 12 balls and place on the baking sheets, leaving about 1 1/2 inches of space between each. Lightly brush the top of each biscuit with cream.
5.
Bake for 15 minutes, until the biscuits are puffy and golden brown at the edges. Transfer to a rack to cool while you make the buttery topping.
6.
Melt the remaining 2 tablespoons butter in a saucepan over low heat. Whisk in the garlic powder and Old Bay until incorporated, then stir in the parsley. Brush the warm biscuits with the buttery topping and serve immediately.
How to shop TODAY recipes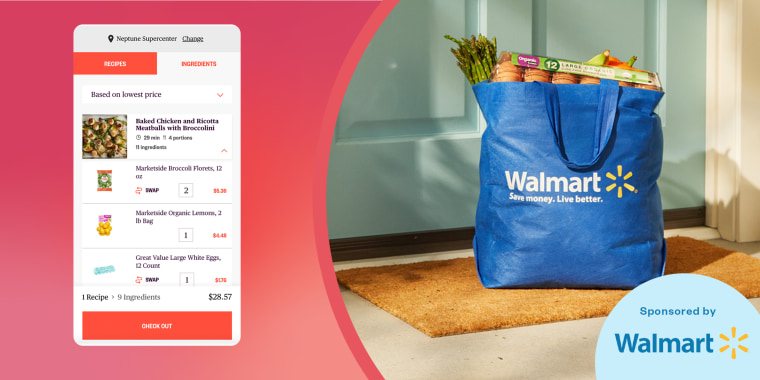 How to shop TODAY recipes
Here's everything you need to know about the cool new feature.
Learn More