Chef notes
Experienced hosts know the secret to stress-free entertaining is doing as much as possible ahead of time, be it marinating meats overnight for grilling or chilling desserts with no baking required. That can also mean finding dishes you can assemble in advance and cook later on, like casseroles — or leaning into recipes that can sit in the fridge until serving time.
Quinoa salads are great for parties for this very reason. They're easy to make ahead, often get better sitting in the fridge and are versatile enough to enjoy with seasonal veggies and your favorite mix-ins. This recipe calls for red quinoa, which holds its shape better than white quinoa, perfect for absorbing the bright and zippy lemon-shallot dressing. The nutty, protein-packed grains mingle with fresh parsley, almonds and summer squash, which are sautéed until tender and caramelized to bring out their natural sweetness. 
This quinoa salad makes a great side dish for summer cookouts and picnics or an easy, filling lunch. Serve alongside grilled chicken, salmon or other summer entrées as a complete meal.
Technique Tip: Don't forget to rinse the quinoa before cooking according to package instructions since the seeds have a bitter coating. 
Swap Option: The quinoa and dressing are a wonderful foundation for mix-ins of your choice. Substitute corn or tomatoes for the summer squash if that's what you have on hand; toss in avocado if there's a ripe one you need to use up; or even diced peaches or pitted cherries for a burst of fruity sweetness.
To transition the recipe into fall and winter, swap out the type of squash based on what's freshest at the grocery store, such as butternut squash or acorn squash. Meal planning just got way simpler!
Ingredients
1/4

cup extra-virgin olive oil

1

large shallot

2

summer squash
kosher salt and freshly ground black pepper, to taste

3

tablespoons lemon juice
3

cups red quinoa

5-6

scallions

1/2

cup flat-leaf parsley, coarsely chopped

1/2

cup chopped, toasted almonds
Preparation
In a large sauté pan, heat 1 tablespoon olive oil over medium heat. Add ½ the shallot and sauté for 1 minute. Add the squash and sauté until tender, 8 to 10 minutes. Season to taste with salt and pepper, transfer to a large serving bowl and let cool.
In a small bowl, combine the lemon juice with the remaining 3 tablespoons olive oil and the remaining 1/2 shallot and whisk to combine; season to taste with salt and pepper. Add the vinaigrette, quinoa, scallions and parsley to the squash and gently toss to combine. Check the seasoning then garnish with the almonds and additional parsley. 
How to shop TODAY recipes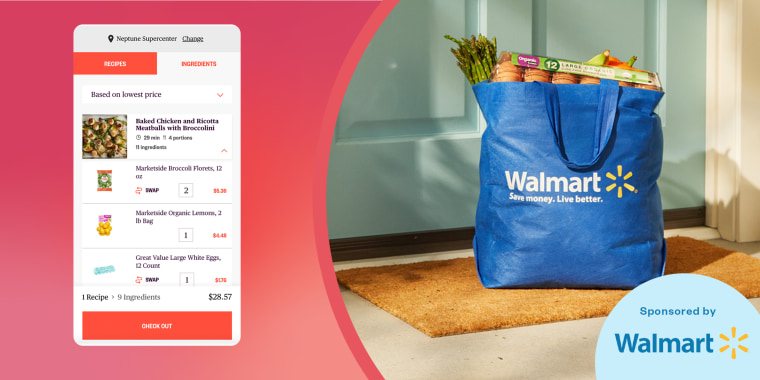 How to shop TODAY recipes
Here's everything you need to know about the cool new feature.
Learn More