Ingredients
3

cups cornbread, cubed

1

cup pecans, roughly chopped

2

tablespoons olive oil

1

medium yellow onion, chopped

1

teaspoon fresh sage, torn

1/4

teaspoon salt

1/4

teaspoon freshly ground black pepper
4

celery ribs, chopped

1

(8-ounce) package sliced baby bella mushrooms

1

cup dried cranberries

2

cups cooked quinoa

3/4

cup low-sodium vegetable broth

1/4

cup dry white wine
Chef notes
Every Thanksgiving table needs a savory and satisfying stuffing. It's a cornerstone of the meal and helps balance out whatever else is on the plate, whether you're eating turkey or Tofurky. I based this robust vegan stuffing on a family favorite. It gets body from the cornbread (I use a frozen one), depth from the mushrooms and celery, texture from the pecans and quinoa, and sweetness from the dried cranberries. And yes — you will want to eat a bowl of it the next morning, which means it passes the true test of any Thanksgiving dish.
Preparation
Preheat oven to 350°F. Place cornbread cubes on a baking sheet and toast in the oven for 10 minutes. Spray a 13x9x2-inch baking pan with cooking spray and set aside. Remove cornbread from oven and set aside; leave oven on.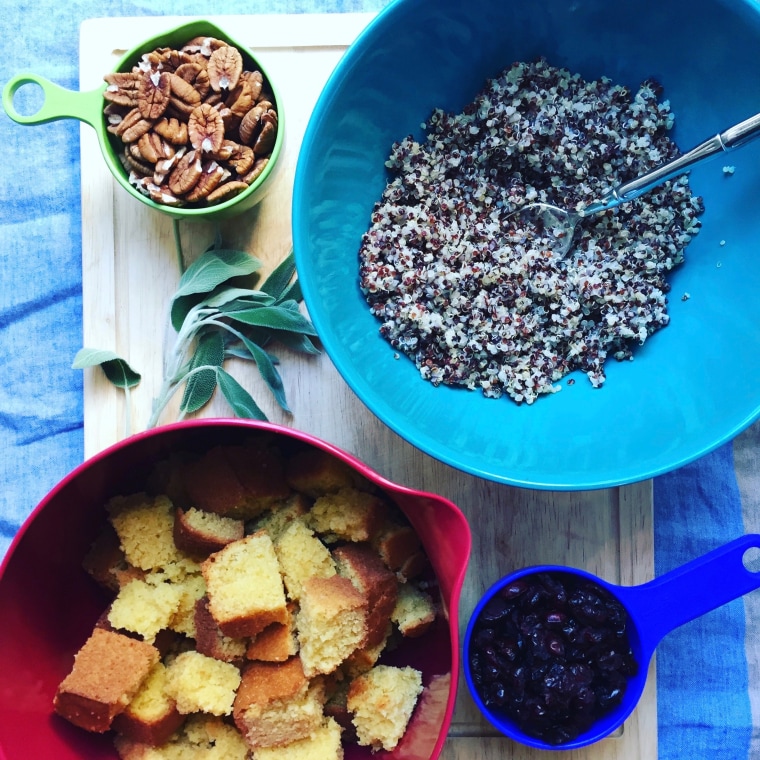 Place pecans on a baking sheet and place in the oven for 6 minutes; remove. In the meantime, start cooking the vegetables.
Heat the oil in a large sauté pan for 1 minute over medium heat, then add the onion, sage, salt and pepper and sauté for 2 minutes. Add the celery and mushrooms and cook for an additional 5 minutes, until softened.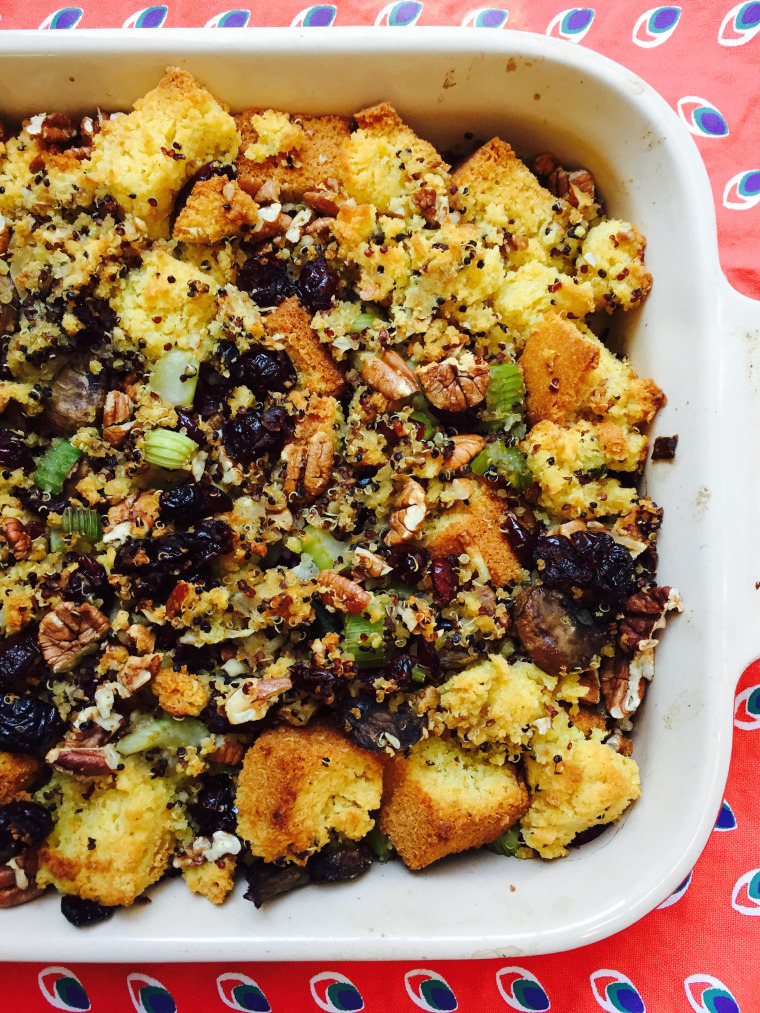 Transfer the toasted cornbread and quinoa to a large bowl. Add the cooked vegetables and gently combine. Stir and add the pecans, cranberries, broth and wine. Transfer to the reserved baking dish and bake for 50 minutes, until golden brown on top. Serve warm.
Frances Largeman-Roth, RDN, is a nutrition expert, writer and best-selling author. Her books include Feed the Belly, The CarbLovers Diet and Eating in Color. Follow her @FrancesLRothRD