TODAY Table is sponsored by Walmart. Our editors independently created this recipe. If you purchase the ingredients through our links, we earn a commission. Learn more about Shop TODAY.
Ingredients
1

small red onion, thinly sliced

1/4

cup plus 1 tablespoon cider vinegar, divided

1/4

boiling water

2

teaspoons honey

1/2

teaspoon salt, divided

6

slices thick-cut bacon, cut into 2-inch pieces
4

slices sourdough bread, cut into 1-inch cubes

1/4

cup mayonnaise

6

tablespoons buttermilk

2

tablespoons vegetable oil

1

head romaine lettuce, cut into 1-inch pieces

2

cups halved cherry tomatoes
Chef notes
I've never been big on sandwiches for dinner. They just seem so, well, lunch-like. A meal-sized salad, on the other hand, makes me happy: all those vegetables and crunchy things, with a nice tangy dressing. I feel virtuous, even if the bowl is full of less-than-virtuous items. This particular salad takes the things we love about the classic BLT sandwich—crisp bacon, of course, along with lettuce and juicy tomatoes and good bread—and puts them into forkable form. 
For a bit of extra zing, I like to add red onions, pickled super-fast while you prepare the rest of the ingredients. They're best with a 30-minute soak in the simple brine, but in as little as 20 they've got a distinctive pickle-ness. The longer the onions steep, the softer and mellower they get; store the extras in the fridge and you'll find yourself putting them on everything.
Preparation
First, make the pickled onions: Put the onion into a non-reactive bowl. Combine 4 tablespoons cider vinegar with the water, honey, and 1/4 teaspoon salt and pour over the onions. Set aside while you make the rest of the salad (20-30 minutes), stirring occasionally.
In a large frying pan, cook the bacon over medium heat until crisp. Drain on paper towels. Remove all but 1-2 tablespoons of the fat from the pan, and add the bread cubes. Cook over medium-low heat, turning often, until browned, 5-8 minutes. Transfer the croutons to the plate with the bacon.
In a medium bowl, whisk together the mayonnaise, buttermilk, oil, and remaining 1/4 teaspoon salt and set aside.
Place the lettuce on a platter; drain the pickled onions and scatter them on top along with the tomatoes, bacon, and croutons. Drizzle with dressing, toss gently, and serve.
Debbie Koenig is the author of the cookbook Parents Need to Eat Too. She lives with her family in Brooklyn.
How to shop TODAY recipes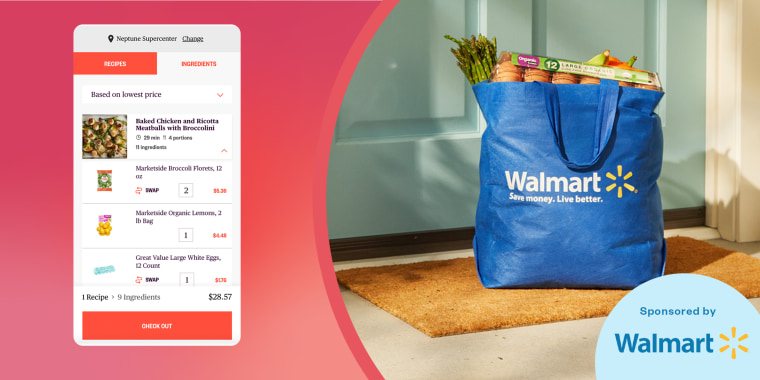 Here's everything you need to know about the cool new feature.