Ingredients
Roasted Pumpkin
1

small sugar pumpkin or other large squash
Olive oil (optional)
Pumpkin pie spice (optional)
Pumpkin Spice latte Syrup
1

cup granulated sugar

1/4 and 1/2

cup water, divided

1/2

cup canned pumpkin (not pumpkin pie filling) or fresh roasted pumpkin puree

1/2

teaspoon cinnamon
1/2

teaspoon ground cloves

1/2

teaspoon ground allspice

1/2

teaspoon freshly grated or ground nutmeg

OR 2

teaspoons pumpkin pie spice
Preparation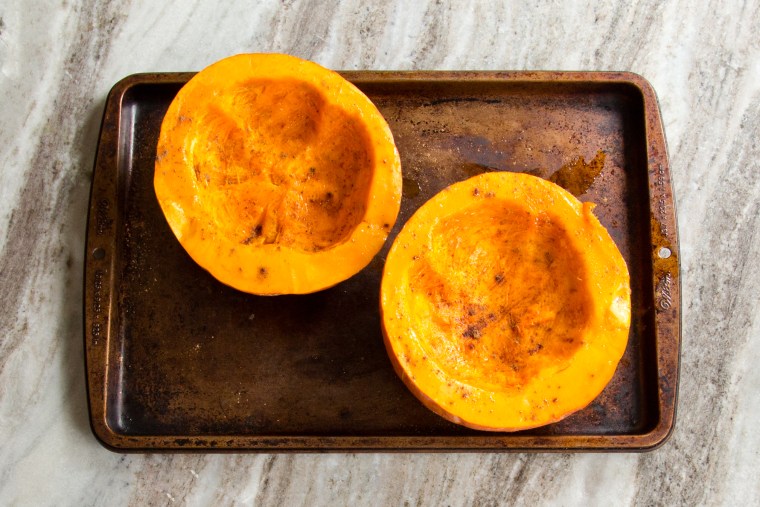 To make the roasted pumpkin:
Preheat the oven to 400 degrees F. 
Carefully cut the pumpkin in half horizontally around its "equator" and scoop out the seeds. (These can be roasted just as you would jack o' lantern seeds!). Place cut-side up on a baking sheet. Rub the cut sides lightly with olive oil and sprinkle with pumpkin pie spice, if desired. 
Roast for 40-60 minutes, until the pumpkin flesh is tender enough that a fork or paring knife will pierce all the way through to the rind. Timing will vary based on the size of the pumpkin. 
Let cool until the pumpkin can be easily handled without burning your fingers. Scrape the soft pumpkin flesh off the rind and into a food processor. Pulse to puree and remove any lumps. 
Pumpkin can be roasted 2 days in advance of making the syrup.
To make the pumpkin spice latte syrup:
Add the sugar and 1/4 cup water to a medium (2-quart) heavy-bottomed saucepan over medium heat. Stir just enough to wet all the sugar crystals. Continue to heat without stirring, swirling the pan occasionally to help the sugar dissolve completely, until the liquid comes to a rolling boil. 
Continue to cook without stirring, swirling the pan as needed as the liquid bubbles. Watch carefully and don't walk away, because the sugar will begin to caramelize within 10 minutes. You'll smell it first, then the bubbles will slow and the edges of the syrup will turn golden. Very quickly, all the syrup will darken to amber.
As soon as the syrup is amber, remove the pot from the heat and very carefully whisk in the pumpkin puree, spices, and remaining 1/2 cup water. The syrup will hiss, bubble, and give off hot steam as you add the ingredients, so you may want to wear an oven mitt for this part. 
Transfer to a heatproof jar and cool to room temperature, then cover and refrigerate for up to 1 month. 
To make a pumpkin spice latte:
Add 1 tablespoon of syrup to a double shot of espresso or about 1/2 cup strong brewed coffee. Add 1 cup foamed 2 percent milk and, if you're feeling indulgent, top with whipped cream, caramel sauce, and/or a sprinkling of pumpkin pie spice (make your own blend using the ratio above and keep it in the cabinet for the holidays).