Ingredients
For the Marinade
1/2

cup extra-virgin olive oil

4

cloves garlic, minced

4

tablespoons red wine vinegar

2

tablespoons fresh lemon juice
2

teaspoons dried oregano
kosher salt and freshly ground black pepper

1½

pounds pork loin, trimmed of silver skin and excess fat, cut into 1-inch cubes
For the Tzatziki
1½

cups Greek yogurt

1

Persian cucumber, finely chopped

3

cloves garlic, minced
2

tablespoons freshly chopped dill

2

tablespoons lemon juice
Chef notes
Anything that makes me feel like I'm in the Mediterranean is my favorite. This succulent skewered pork is loaded with flavor from the marinade and charred to perfection. Once you add the tzatziki - it's truly a match made in heaven.
Special Kitchen Equipment Required: Indoor grill pan 
Technique Tip: Make sure to squeeze out any air from the airtight plastic bag when you marinate the pork. This will ensure that all the pork is getting as much flavor as possible from the marinade! 
Swap Option: If you want to do a different dipping sauce, a garlic labneh would be delicious. 
Preparation
1.
In a small bowl, mix all marinade ingredients together. In a large plastic bag, add the pork and pour the marinade mixture over the meat. Remove any excess air, seal the bag and toss to coat pork evenly with the marinade. Place the bag in the refrigerator for at least two hours or overnight.
2.
In a medium bowl, combine the tzatziki ingredients. Cover and place in the refrigerator overnight overnight.
3.
Soak the wooden skewers in water for at least 30 minutes prior to use. Remove the pork from the marinade and thread the cubes of marinated pork onto the skewers.
4.
Preheat an indoor grill pan to medium-high heat. Grill the pork skewers until they browned on all sides and cooked through, 8 to 12 minutes, turning so each side gets direct heat during cooking. Transfer the skewers to a plate and rest for 5 minutes. Serve with tzatziki, fresh pita and extra lemons, as desired.
How to shop TODAY recipes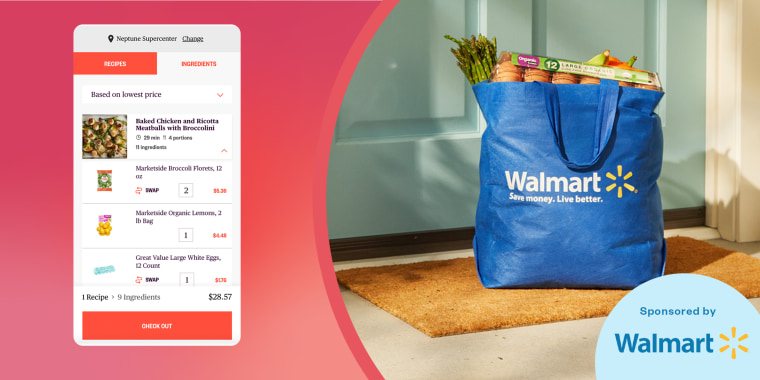 Here's everything you need to know about the cool new feature.