Ingredients
1

3-5-pound beef brisket

2

tablespoons ground chili powder

3-5

teaspoons kosher salt (1 per pound)

2

teaspoons ground black pepper

1

tablespoon brown sugar
1-2

medium yellow onions, peeled and quartered

6-8

cloves garlic

1

6-ounce can tomato paste

3-5

cups pomegranate juice (1 per pound)
Broth or water (as needed)
Chef notes
Make this brisket over the weekend and you'll be able to turn it into dinners and lunches all week long. You'll thank yourself later!
Preparation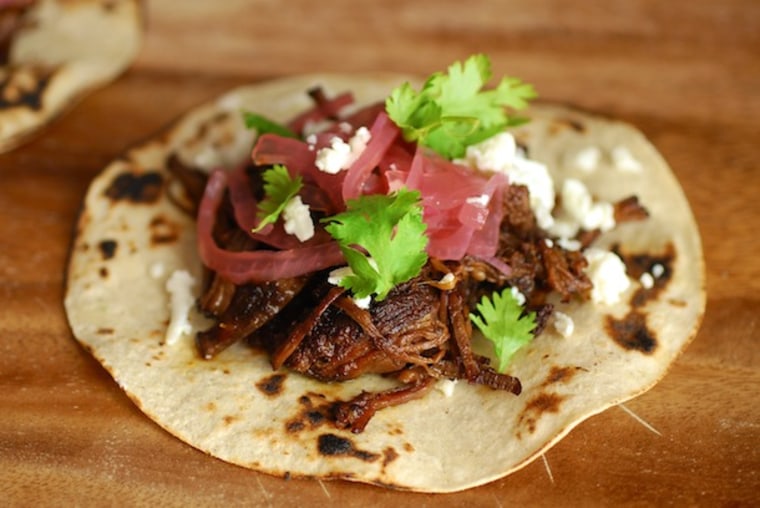 Preheat oven to 350 degrees.
Mix chili powder, salt, pepper, and brown sugar.
Place brisket in a roasting pan and rub on all sides with chili powder mixture. Turn so brisket is fat-side up, and scatter quartered onions and garlic cloves around the sides.
Whisk together pomegranate juice and tomato paste, and pour in around brisket. Add enough water or broth to the pan so that the liquid comes 3/4 up the side of the meat. Cover pan tightly with foil and braise in oven about 5-6 hours, or until meat is tender.
Scrape off and discard the fat. Use a fork to mash in garlic cloves and shred the brisket. Stir meat into the pan sauce. Taste and adjust seasoning with additional salt and pepper, as desired. 
TIPS:
For crispy meat, pop under the broiler for five minutes after shredding.
This recipe can also be made in a slow cooker on low for 8-10 hours. Do not add additional water if using a slow cooker.
Pomegranate juice can be replaced with cranberry juice or red wine.
Serving suggestions: As tacos on soft corn or flour tortillas with your favorite toppings; in sandwiches with a bit of BBQ sauce and pickles or coleslaw; over salad greens, or along with mashed potatoes, mac and cheese, or rice.