Chef notes
Every Easter, my mom would make her famous Pizza Rustica (a.k.a. Italian Easter Pie) a double-crusted meat, cheese, and ricotta pie. Loaded with prosciutto, salami, pepperoni, ham, fennel sausage, mozzarella and ricotta, we waited in giddy anticipation for it to cool enough to cut into, which was always too long for us impatient kids. She used the above-mentioned meats, but feel free to use other types of salumi—soppressata, chorizo, mortadella, capicola or coppa all sound yummy! Just be sure you use about 2 pounds total. Have your deli guy cut the salami and ham into 1/2-inch slabs and the prosciutto into a 1/4-inch thick slice.
The crust is made a bit more sturdy and workable with the addition of baking powder and eggs, which give it a slightly bready texture. Flaky pastry would be too rich and delicate to stand up to that meaty filling. And while it's tempting to cut into it right away, resist the urge—you'll be grateful when it comes time to slice!
Make-Ahead Tip: The pizza rustica can be refrigerated for up to 5 days. Gently rewarm slices in the microwave or oven.
Ingredients
Crust
3

cups all-purpose flour, plus more for dusting

3/4

teaspoon baking powder

1/2

teaspoon salt
8

tablespoons unsalted butter, cut into cubes, chilled

2

large eggs

1/2

cup ice water
Filling
8

ounces sweet Italian sausage, casings removed, meat crumbled

1½

pounds ricotta

3

large eggs

8

ounces packaged mozzarella, cut into 1/2-inch dice

8

ounces Genoa salami, cut into 1/2-inch dice

8

ounces pepperoni, cut into 1/2-inch dice
4

ounces smoked ham, cut into 1/2-inch dice

2

ounces prosciutto, cut into 1/4–inch dice

2

tablespoons grated Parmesan

2

tablespoons parsley, chopped

1

large egg yolk mixed with 1 tablespoon water
Preparation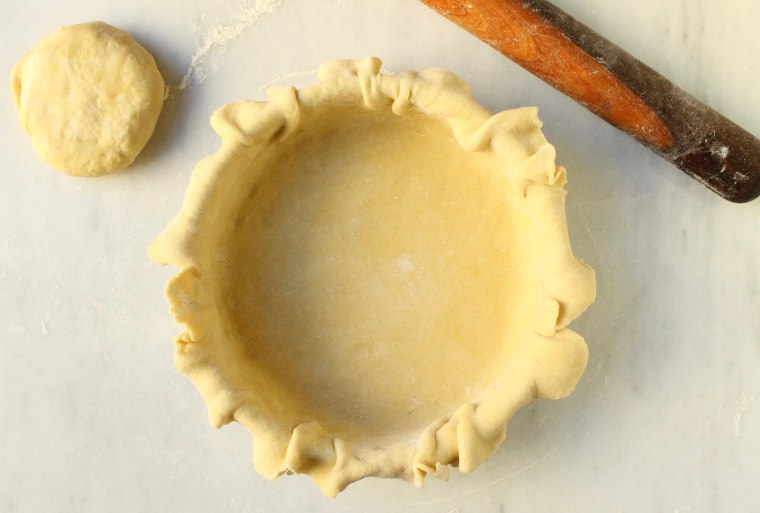 For the Crust:
1.
In a food processor, combine the flour, baking powder and salt. Add the butter and pulse until the mixture resembles coarse meal. Add the eggs and water and pulse until evenly moistened and just coming together. Turn the dough out onto a board and knead several times. Divide the dough into 2 pieces (one is 1/3 and the other is 2/3). Wrap and let sit at room temperature for 15 minutes.
2.
Preheat the oven to 375° and butter and flour a 9-inch spring form pan. Roll the larger piece of dough on a floured surface, to a 15-inch round. Ease it into the pan without tearing and tuck it into the corners. Refrigerate while you make the filling.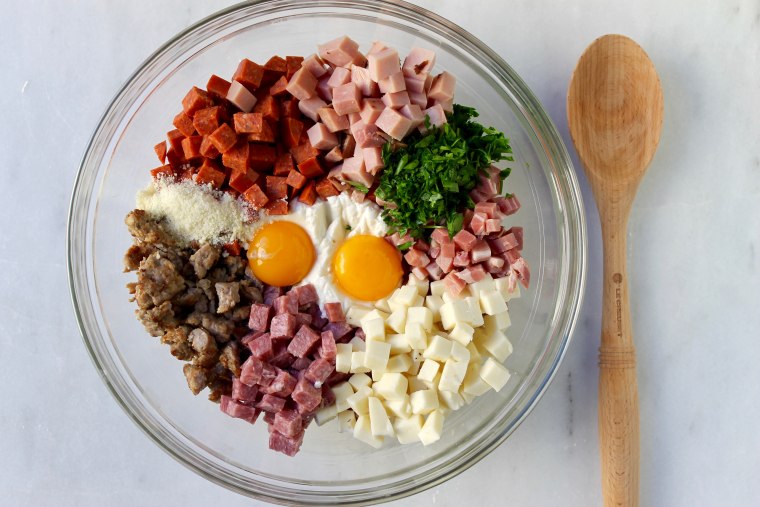 For the Filling:
3.
Meanwhile, cook the sweet Italian sausage in a medium skillet over moderately high heat, breaking it into small lumps, until lightly browned, about 8 minutes. Drain and transfer to a large bowl. Add the ricotta, the 3 eggs, mozzarella, salami, pepperoni, ham, prosciutto, Parmesan and parsley and stir to combine.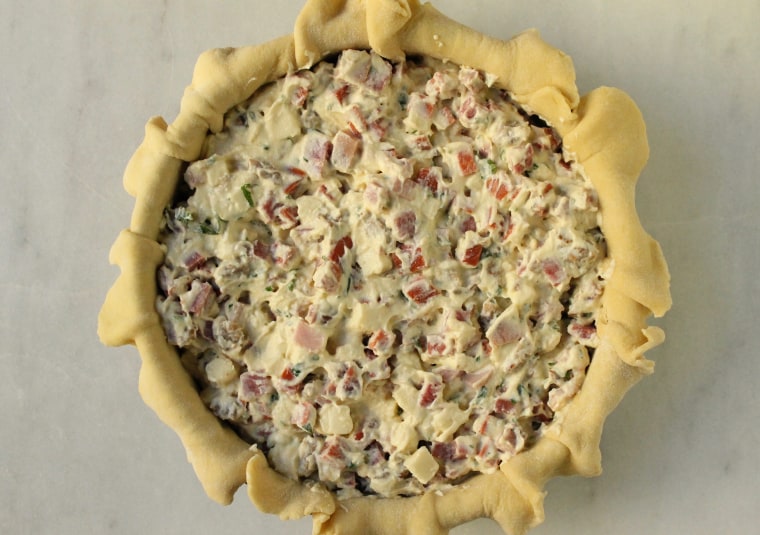 4.
Scrape the mixture into the crust and spread to an even layer. Brush the edges of the crust with some of the egg yolk mixture.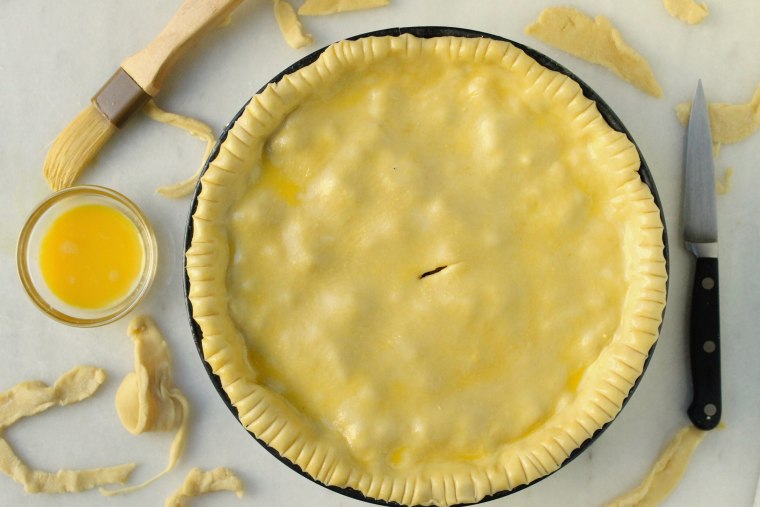 5.
On a floured surface, roll the remaining, smaller piece of dough to a 10-inch round. Place on top of the filling, pressing the pastry edges together. Trim the edges to 1/2-inch and tuck the overhang underneath. Crimp with a fork and brush the surface with the egg yolk mixture. Cut a small steam vent.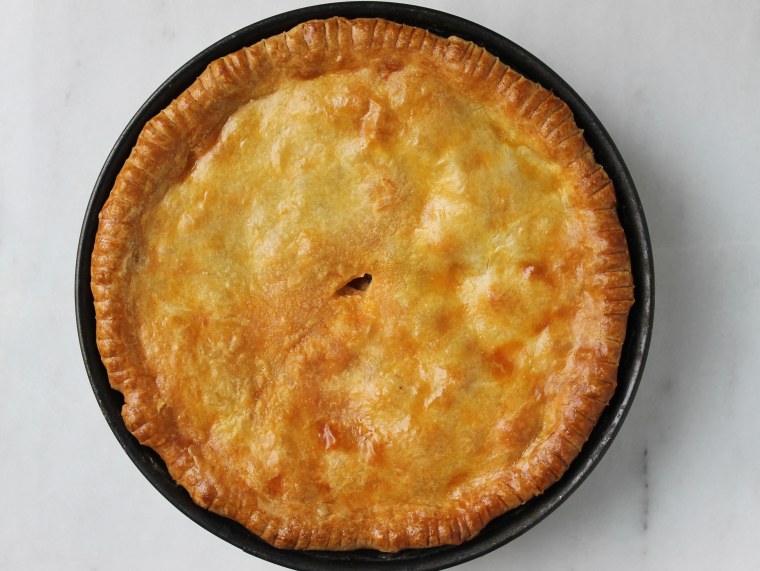 6.
Bake on the bottom rack until golden and the filling is bubbling, about 75 minutes.
7.
Loosely cover with foil halfway through to prevent over browning. Transfer to a rack to cool, then refrigerate for at least 3 hours. Remove the ring and slide the pizza rustica onto a cutting board or platter.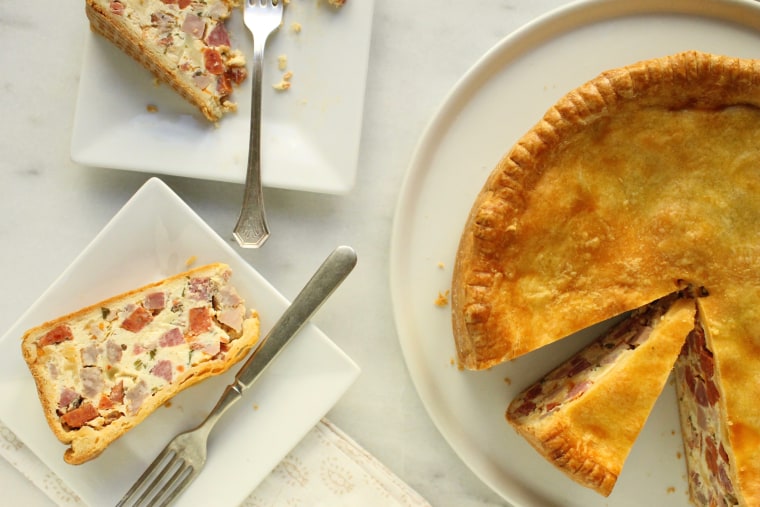 8.
Cut into wedges.
9.
Serve.
Grace Parisi is a New York City-based food writer, cookbook author and food stylist. Her book, Get Saucy, was nominated for a James Beard award. Her latest book, Quick Pickles comes out in Spring 2016. Follow her on Instagram and Twitter.