Chef notes
Arayes, pita bread stuffed with a mixture of beef, lamb and spices and then grilled, are popular throughout the Israel and the Middle East. Here, Israeli chef Ruthie Rousso serves the dish with a refreshing herb salad and creamy tahini sauce.
Ingredients
Pita stuffed with meat (arayes)
2/3

pound (300 grams) ground beef

5

ounces (150 grams) ground lamb (preferably front shoulder)

2

ounces (50 grams) lamb fat

1/2

cup onion, finely chopped

2

cups (50 grams) parsley leaves, finely chopped

3/4

teaspoon salt
1

teaspoon black pepper

1

pinch cardamom

1

pinch nutmeg

1

pinch cinnamon

4

pita breads
Olive oil
Herb salad with pine nuts
8

cups (200 grams) parsley leaves

8

cups (200 grams) cilantro leaves

1

green chile or jalapeño, finely chopped

1

lemon, zested
3

tablespoons olive oil

1/2

cup roasted pine nuts
Salt
Preparation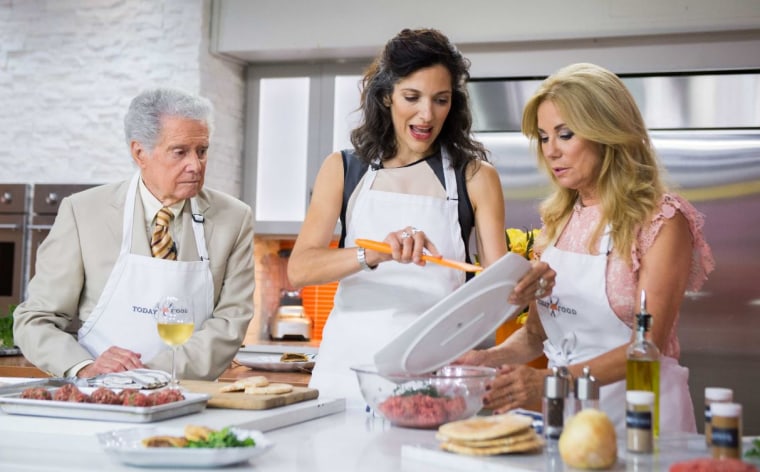 For the pita
In a large bowl, add the meat, onion, parsley, salt, pepper, cardamom, nutmeg, and cinnamon. Stir to combine, then knead the mixture together to incorporate the flavors for 1 minute. Roll out eights balls from the meat mixture.
Cut each pita in half. Place a ball of the seasoned meat mixture in each half and flattened it gently so the meat spreads all over the pita. Brush the pita with olive oil (lots of it) from the outside.
Heat the grill. Place pita on very hot grill, open side down first so the meat will get most of the heat. Then grill it on both sides to get a nice charcoal Mark. Cut each pita in half (to a quarter). Transfer to a plate and serve with tahini and herb salad with pine nuts.
For herb salad
Combine all ingredients in a bowl and toss lightly. Salad should remain fluffy and airy and leaves should not wilt.