Ingredients
1

pound seedless red grapes

1

cup red wine vinegar

1

cup sugar

1

2-½-inch stick cinnamon
1 1/2

teaspoons yellow mustard seeds

1 1/2

teaspoons whole black peppercorns

1

teaspoon whole cloves

¼

teaspoon salt
Preparation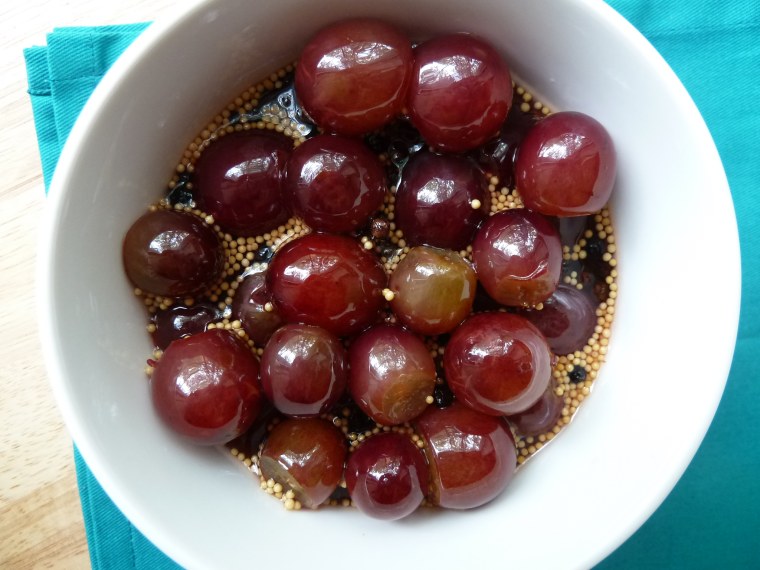 Trimming the ends off the grapes helps the brine penetrate the fruit. Serve these alongside roasted or grilled meat, as an accompaniment for cheese or as a crostini topping. 
Use a small sharp knife to cut a small slice off the stem end of each grape. Place the trimmed grapes in 1 clean glass quart jar or 2 clean glass pint jars. 
In a small saucepan, bring the vinegar, sugar, cinnamon, mustard seeds, peppercorns, cloves and salt to a boil, whisking occasionally to dissolve the sugar. Let cool for a few minutes. Pour the brine over the grapes, leaving about ½ inch of space at the top. Let cool at room temperature for about 1 hour. Screw on the lid, turn the jar upside-down a few times to distribute the brine and refrigerate at least overnight and up to 1 week. If possible, occasionally flip the jar over to mix the brine and grapes around a bit.