TODAY Table is sponsored by Walmart. Our editors independently created this recipe. If you purchase the ingredients through our links, we earn a commission. Learn more about Shop TODAY.
Ingredients
Quick Pickled Red Onion
3/4

cups red wine vinegar

1

tablespoon granulated sugar
1

teaspoon kosher salt

1

large red onion, sliced
Basil-Mint Vinaigrette
1/2

cup olive oil

1/4

cup Champagne vinegar

1

tablespoon honey

1

cup loosely packed basil leaves

1/2

cup loosely packed mint leaves
1

lemon, juiced

2

cloves garlic, roughly chopped

1/2

shallot, roughly chopped
kosher salt and freshly ground black pepper, to taste
Salad
kosher salt

1

cup uncooked pearl couscous

2

cups watermelon, chopped into 1-inch cubes or scooped into small balls
1

cup crumbled feta, plus more to garnish

1½

cups cucumber, chopped into 1/2-inch pieces

1½

cups cherry tomatoes, quartered
Chef notes
When eating outside during the hot summer months, it's essential to have light and refreshing dishes. This salad not only checks that box but also holds up in the fridge for days before you're ready to serve it. So, if you're looking for a salad that brightens up your whole spread, toss this one up.
Technique tips: Keep the tossed salad and pickled onions separate until right before serving. This maximizes the onion's flavor and allows them to continue absorbing the pickling liquid.
If making one or more full days in advance, keep the dressing separate and mix in before serving. 
When on the go, distribute the salad into small drinking cups and wrap tightly with plastic wrap for easy transportation and serving.
If you are making this ahead of time, reserve half of the Basil-Mint Vinaigrette and allow guests to finish off dressing their own salad while serving.
Preparation
For the quick pickled red onion:
1.
In a saucepan, add in red wine vinegar, sugar and salt. Bring to a simmer over medium heat.
2.
Once it begins to simmer, remove from the heat and add in the sliced onions. Allow the onions to soak in the vinegar until they become a bright purple color.
3.
Remove from the saucepan, place the entire mixture into an airtight container and reserve for later use.
For the Basil-Mint Vinaigrette:
Add olive oil, Champagne vinegar, honey, basil, mint, lemon, garlic, shallot, kosher salt and black pepper in a blender or food processor. Blend until smooth. Once complete, remove from the blender and reserve for later.
For the salad:
1.
Bring a large pot of water to a boil and salt heavily. Add couscous into the pot and cook for 10 to 12 minutes, or until tender. Drain any additional water.
2.
Once slightly cooled, place the couscous into a large bowl and toss with watermelon, feta, cucumbers, cherry tomatoes and vinaigrette.
3.
Remove the onions from the vinegar and garnish with pickled onions and additional feta cheese.
4.
Serve in a large serving bowl or place it into an airtight container and store in the fridge for up to five days.
How to shop TODAY recipes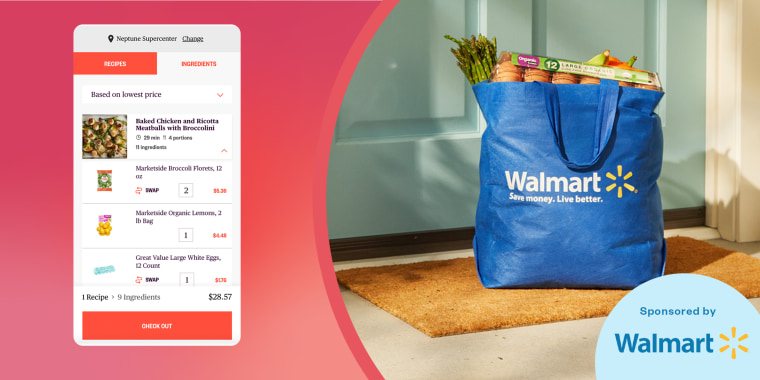 Here's everything you need to know about the cool new feature.