Chef notes
This colorful salad is filled to the brim with summer flavor. Chewy pearl couscous mingles with crunchy cucumbers, juicy cherry tomatoes, sweet watermelon, quick-pickled red onion and salty feta crumbled in a dish that's sure to be the talk of your next cookout or picnic.
What makes this salad stand out among others is the basil-mint vinaigrette. The simple homemade dressing comes together by blending fresh basil and mint leaves with olive oil, Champagne vinegar, honey, lemon, garlic and shallots. It's a vibrant green dressing that tastes like a summer garden. We suggest you consider making a double batch because it's delicious beyond this salad, too. Try it drizzled on a platter of thickly sliced summer tomatoes, tossed with greens, spooned over grilled fish or steak or even used as a marinade for chicken.
The best part about this salad is that it can be made up to a day or two ahead of time — just keep the pickled onion separate from the rest of the ingredients to allow them to continue to pickle in the brine until you're ready to serve. If you're making it ahead, toss the salad with only half of the the vinaigrette, as the couscous and vegetables will soak up alot of it as the salad sits in the refrigerator. When it's time to eat, let the salad sit out at room temperature for an hour or so to take the chill off, then toss it with the remaining vinaigrette and garnish with the pickled onion and more crumbled feta cheese.
Ingredients
For the Pickled Onions
3/4

cups red wine vinegar

1

tablespoon granulated sugar
1

teaspoon kosher salt

1

large red onion, sliced
For the Basil-Mint Vinaigrette
1/2

cup olive oil

1/4

cup Champagne vinegar

1

tablespoon honey

1

cup loosely packed basil leaves

1/2

cup loosely packed mint leaves
1

lemon, juiced

2

cloves garlic, roughly chopped

1/2

shallot, roughly chopped
kosher salt and freshly ground black pepper, to taste
For the Salad
kosher salt

1

cup uncooked pearl couscous

2

cups watermelon, chopped into 1-inch cubes or scooped into small balls
1

cup crumbled feta, plus more to garnish

1½

cups cucumber, chopped into 1/2-inch pieces

1½

cups cherry tomatoes, quartered
Preparation
For the quick pickled red onion:
1.
In a saucepan, add in red wine vinegar, sugar and salt. Bring to a simmer over medium heat.
2.
Once it begins to simmer, remove from the heat and add in the sliced onions. Allow the onions to soak in the vinegar until they become a bright purple color.
3.
Remove from the saucepan, place the entire mixture into an airtight container and reserve for later use.
For the Basil-Mint Vinaigrette:
Add olive oil, Champagne vinegar, honey, basil, mint, lemon, garlic, shallot, kosher salt and black pepper in a blender or food processor. Blend until smooth. Once complete, remove from the blender and reserve for later.
For the salad:
1.
Bring a large pot of salted water to a boil. Add couscous into the pot and cook for 10 to 12 minutes, or until tender. Drain any additional water.
2.
Once slightly cooled, place the couscous into a large bowl and toss with watermelon, feta, cucumbers, cherry tomatoes and vinaigrette.
3.
Remove the onions from the vinegar and garnish with pickled onions and additional feta cheese.
4.
Serve in a large serving bowl or place it into an airtight container and store in the fridge for up to five days.
How to shop TODAY recipes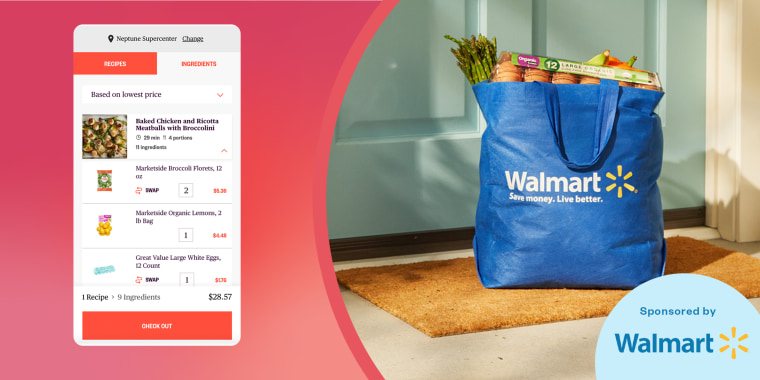 How to shop TODAY recipes
Here's everything you need to know about the cool new feature.
Learn More