Chef notes
My dear, sweet, loving husband was born on June 22nd. Happy birthday, Carson!!! If you are unfamiliar with June 22nd (weird thing to say), it is the day after the first day of summer. It is often the last day of school for many. And, AND, it happens to be VERY close to Father's Day. One year, the two dates were actually one day apart. Why am I writing things that are obvious? Because I'm trying to justify my lack of enthusiasm for baking two cakes for two great occasions in such a short (busy) period of time.
That's why this year, I tried to combine things that I know Carson loves (mainly ice cream and the chocolate/peanut butter combo) in a dessert that was very easy to pull off. Enter this ice cream cake (adapted from Lovely Little Kitchen): a mouth-watering crowd-pleaser that anyone can throw together, and I mean ANYONE (especially if you have kids willing to unwrap all the peanut butter cups in exchange for one or two or five).
It begins with an Oreo crust. Yes, I said that: One whole package of Oreos, crushed together, combined with melted butter and pressed into a cake pan. Then, the ice cream. Best part? You can choose your favorite flavor, brand, make your own, etc. I decided to layer my cake with a Chocolate Peanut Butter Cup and a Vanilla Bean (this brand). There is hot fudge and crushed peanut butter cups in between the two layers, more hot fudge on the top, and MORE crushed cups on top of that. All that's really time consuming is letting your layers melt in between, but I think at the end of the day, we all have patience for that. After all, ice cream cake is worth the wait — as would my husband's birthday be if he could move it just, you know, a wee bit further away from Father's Day.
Ingredients
1

package Oreos

6

tablespoons butter, melted

1

pint chocolate peanut butter ice cream

1

pint vanilla ice cream
1

bag Mini Reese's Peanut Butter Cups, chopped and divided

1½

cups semi-sweet chocolate chips

1/2

cup heavy whipping cream
Preparation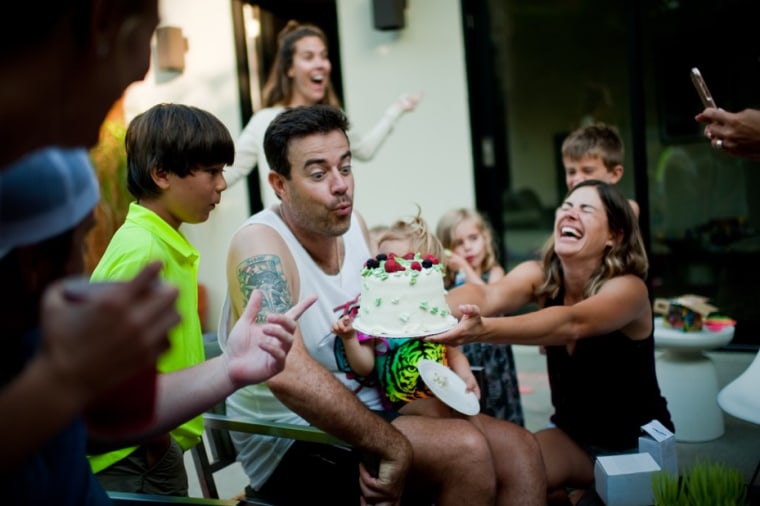 1.
Spray an 8 or 10-inch cake pan (preferably one that is 3 inches deep) with baking spray. Line the bottom with parchment paper.  
2.
In a food processor or blender, process Oreos until finely crushed.  Place in a bowl and add melted butter. Stir to combine until fully incorporated. Using a rubber spatula, place mixture in cake pan and evenly spread over the bottom and up the sides of the pan. Place in freezer for about 10 minutes.
3.
Scoop out the chocolate peanut butter ice cream into the cake pan and evenly spread. Sprinkle half of the chopped peanut butter cups on top. Freeze for one hour.  
4.
Scoop out the vanilla ice cream on top of the peanut butter cups and evenly spread. Freeze for one hour.
5.
About 15 minutes before removing the cake from the freezer, pour the chocolate chips into a heatproof bowl. Place the heavy whipping cream in a small saucepan and bring to a boil. Pour hot cream over the chocolate chips and let stand for a few minutes, then stir until chocolate has melted. Pour over cake, top with the rest of the peanut butter cups, and freeze for 30 more minutes.